Veteran journalist Gitta Sereny dies age 91
Cahal Milmo
Monday 18 June 2012 18:42 Comments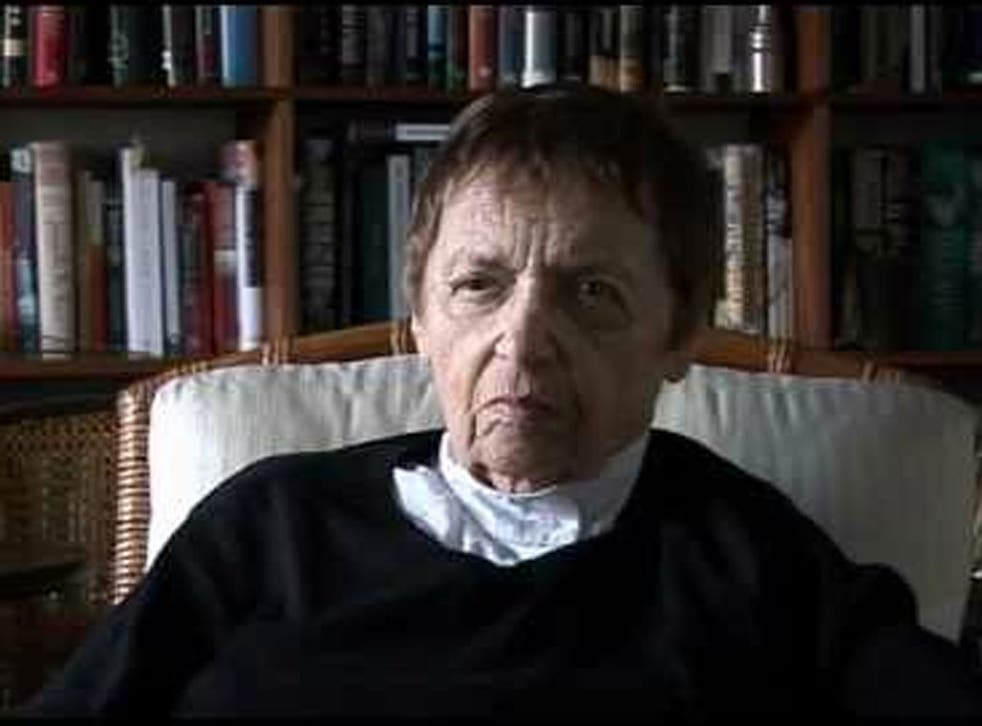 Gitta Sereny, the daughter of a Hungarian aristocrat who dedicated herself to explaining in writing the monstrous acts of individuals from a concentration camp commander to a child murderer, has died. She was 91.
The veteran journalist and writer built a reputation as a fearless pursuer of uncomfortable truths with a series of books that confronted the authors of some of the most reviled acts of the 20th century and in so doing became a controversial figure herself, in particular for her decision to pay the child killer Mary Bell for co-operating on a biography about her crimes.
Ms Sereny died last week at Addenbrooke's Hospital in Cambridge after a long illness. Her death came almost a year after that of her husband of more than 60 years, the photographer Don Honeyman, who was awarded for bravery as a US Army cameraman in the Second World War and created the famous poster image of Che Guevara.
The author became renowned for the depth of her research into her subjects, often spending many months interviewing them. She spent 60 hours over more than a year interviewing Franz Strangl, the Nazi commandant of the Treblinka death camp. He died shortly after a final interview in which he had finally accepted responsibility for his part in the Holocaust.
Rachel Calder, Ms Sereny's literary agent for 20 years, told The Independent: "The aim of her writing was always a quest for the deepest understanding of the motivations of people who carried out horrific acts of violence and her books will be remembered as some of the most important and significant writings on the Nazis and on violence towards children."
Ms Sereny had a life-long fascination with the Third Reich. Born in Austria in 1921 to a Hungarian nobleman and a German actress, Ms Sereny attended one of the Nazis' Nuremberg rallies while en route to boarding school in England and was given a copy of Mein Kampf to read by a teacher who wanted her to understand what she had seen.
After the war she worked with survivors of the death camps, gathering details of their lives during the Holocaust. She later said that this experience had been crucial in her later efforts to tackle the actions of senior Nazis, including Hitler's friend, Albert Speer, whom she decided had known about the Holocaust despite his protests to the contrary.
The author admitted she questioned whether her in-depth methods meant she got too close to her subjects but her anti-Nazi credentials were underlined when she was sued for libel along with The Observer by the then Holocaust-denying historian David Irving.
Although much of her work concerned the Third Reich, Ms Sereny became perhaps best known for her investigations into Mary Bell, who served 12 years' imprisonment for the manslaughter of two young boys in the late 1960s when she was aged between ten and 11.
An acclaimed study by Ms Sereny at the time of the killings was followed in 1998 by a second book, Cries Unheard, which became highly controversial after it emerged that the author had shared her publishing fee with Ms Bell, by then a mother-of-one who had been granted an anonymity order.
In a letter to the mother of one of Bell's victims, Ms Sereny, who used the book to explain for the first time the child killer's account of the abuse she herself suffered, said her purpose had been "not to re-live these terrible crimes, but to find some understanding of how they could happen."
In a statement, Ms Sereny's family said she had died peacefully in hospital with her daughter, Mandy, at her side. She is also survived by her son Christopher, two grandchildren and one great-grandchild.
Register for free to continue reading
Registration is a free and easy way to support our truly independent journalism
By registering, you will also enjoy limited access to Premium articles, exclusive newsletters, commenting, and virtual events with our leading journalists
Already have an account? sign in
Join our new commenting forum
Join thought-provoking conversations, follow other Independent readers and see their replies