The Independent's journalism is supported by our readers. When you purchase through links on our site, we may earn commission.
Bryce Williams Virginia shooting: WDBJ7 anchor Chris Hurst reveals he was in relationship with gunned down colleague Alison Parker in heartbreaking tweet
'Alison Parker and I were very much in love. We just moved in together. I am numb.'
Christopher Hooton
Thursday 27 August 2015 07:33 Comments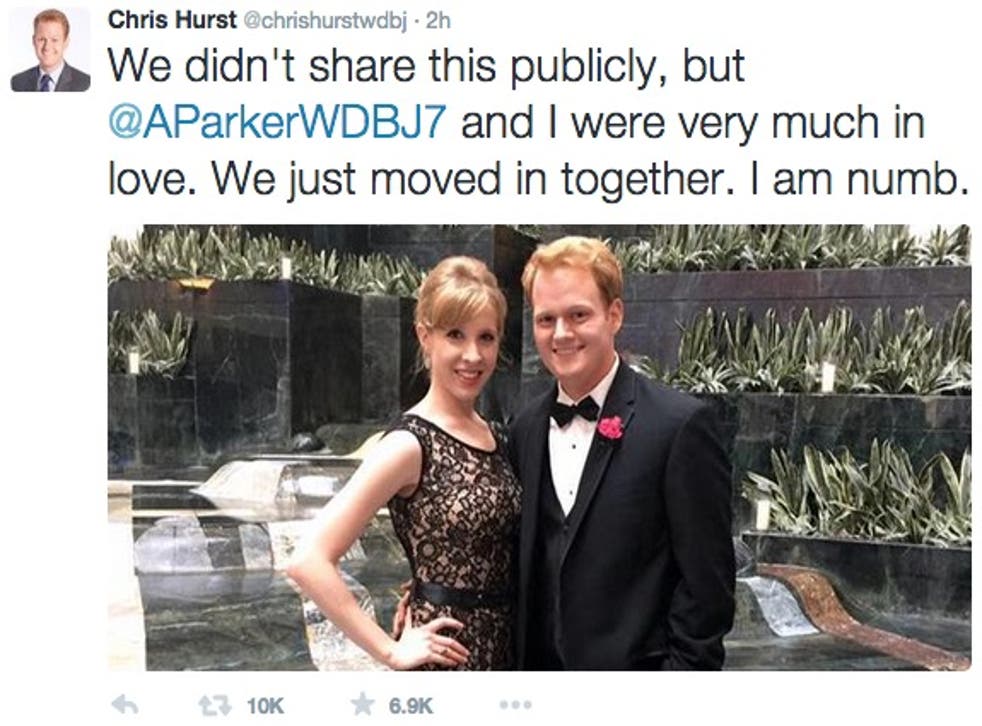 WDBJ7 anchor Chris Hurst has revealed that he had been dating reporter Alison Parker and the couple had moved in together just days before she was killed.
Parker, 24, along with cameraman Adam Ward, 27, were shot dead during a live TV broadcast at 6.45am this morning in Moneta, Virginia.
At the time of writing the gunman - reportedly a 'former disgruntled employee' at WDBJ7 - is still on the loose (we're live blogging the attack here).
Hurst shared a host of photos of himself with Parker on Facebook, writing alongside them:
"We didn't share this publicly, but Alison Parker and I were very much in love. We just moved in together. I am numb. We were together almost nine months. It was the best nine months of our lives. We wanted to get married. We just celebrated her 24th birthday. She was the most radiant woman I ever met. And for some reason she loved me back. She loved her family, her parents and her brother. I am comforted by everyone at WDBJ7. We are a family. She worked with Adam every day. They were a team. I am heartbroken for his fiancee. She is our morning show producer. This is unconscionable. But I WILL share her story because it is one full of life, dreams, love and amazing journalism. She just finished working on an incredible special on child abuse and it was fantastic. We will get through this and there will be justice. Your thoughts and prayers mean the world to me."
Update: Suspect Bryce Williams has tweeted videos of himself appearing to conduct the shooting. Following a police man hunt, he shot himself and later died in hospital.
Register for free to continue reading
Registration is a free and easy way to support our truly independent journalism
By registering, you will also enjoy limited access to Premium articles, exclusive newsletters, commenting, and virtual events with our leading journalists
Already have an account? sign in
Join our new commenting forum
Join thought-provoking conversations, follow other Independent readers and see their replies