Nick Jonas on going solo, social media and why Last Year Was Complicated
The Jonas brother talks to the Independent about all that's come with his transition to solo artist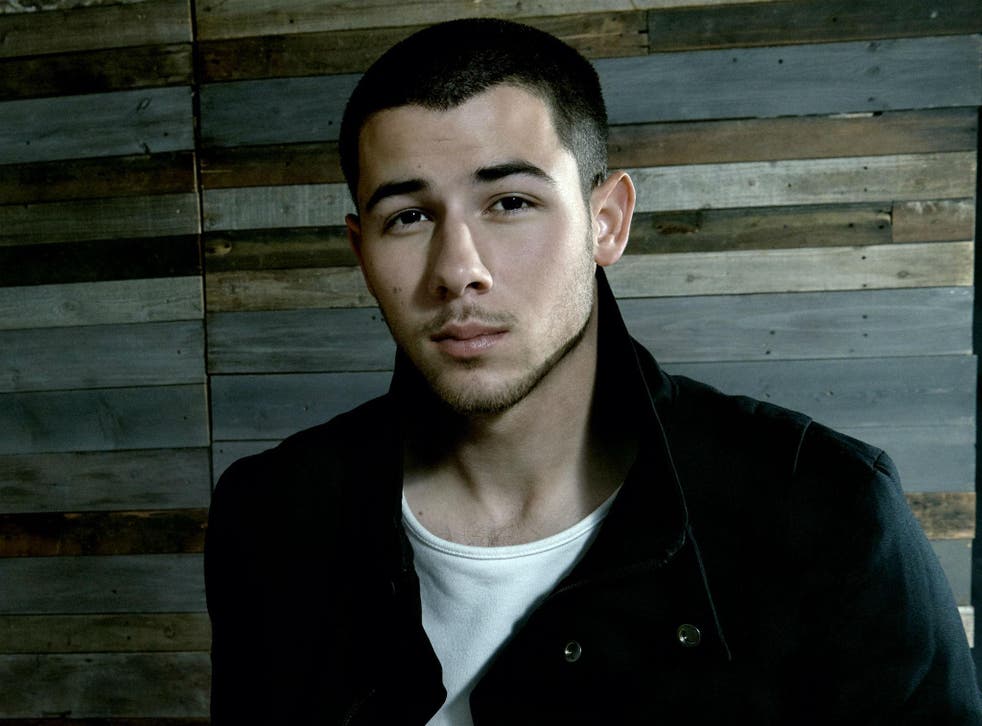 Nick Jonas can't make up his mind as to whether he's tired or not when we meet in a gaudy office at the London headquarters of his record label to discuss his new album.
It wouldn't be surprising if he is tired given that he seems to be just about everywhere at the moment. A day or so before we meet he was spotted at the GLAAD awards handing out the Vanguard award to his good friend and tour companion Demi Lovato. Yet, as is the biggest pitfall of the internet for high-profile artists, Jonas' coverage the day we meet was dominated by a joke from Lovato centering around his manhood.
Since we met, his schedule hasn't eased up. Over the last few weeks, he and Lovato starred in what must now be the most sought after car seat in Los Angeles, aka James Corden's Carpool Karaoke. He's also co-hosted the Radio 1 Breakfast show with Nick Grimshaw, guest edited the Sun's celebrity Bizarre column, performed at the Billboard Awards and attended one of the fashion calendar's biggest and most exclusive events, the Met Gala.
Despite his hectic schedule and the steady succession of obligatory media interviews, Jonas is polite, friendly and very professional (he interrupts my question at one point to check my phone is still recording the interview after a text message flashes up).
But Jonas is well accustomed to the demands that accompany fame and fortune. He was just 10 when he starred as Gavroche in the Broadway production of Les Miserables. Superstardom arrived at 13 when Jonas and his brothers Joe and Kevin exploded onto the scene with the Jonas Brothers in 2005. The purity-ring wearing trio officially split in 2013 but hadn't released an album since 2009, citing a "deep rift" within the band for their decision to split. Since then, they have all gone on to different ventures. Eldest brother Kevin appeared in a Kardashian-style fly-on-the-wall E! documentary, Married with Jonas, while Joe found fame with his new band DNCE. Nick and Joe recently moved in together in Los Angeles, suggesting this deep rift was perhaps more shallow than they initially thought.
One of the things he misses about being in a group is the company, especially while travelling. "Going from being with your best friends to being by yourself all the time which was a pretty big adjustment," he admits.
His new material is a far cry away from the 'JoBros' days not only in terms of music, but also style. His most recent video for single "Close" with Tove Lo features the pair performing contemporary dance and rolling across each other, showing Jonas taking yet another step away from the clean-cut pop-rock image promoted by the famously chaste Jonas Brothers (Jonas has since ditched his purity ring).
A softly-spoken Jonas explains his professional transition and reinvention as something that was always waiting under the surface. "It was pretty natural to show people a side to me they hadn't seen before. And it was really important to me that the progression was there and not just being the music but also the look and the other areas outside of the music, the acting stuff I was doing and am doing which has been so incredible for me to get to dive into that creative zone. But I think it's been a little bit of a journey over the last couple of years."
The last couple of years has seen Jonas start a record label with his manager and Lovato in a joint venture with Island Records. He's also starred in TV hit Scream Queens with Ariana Grande and Emma Roberts, as well as James Franco's independent film GOAT which premiered at the prestigious Sundance film festival last year. A number of his songs have received a positive reception from critics. The singles "Jealous" and "Chains" have both gone 3x platinum and "Close" has been viewed on Youtube over 92 million times.
June marks the release of his most recent work, Last Year Was Complicated, the title being as literal as it sounds and down, in part, to Jay Z.
"I had a meeting with Jay Z […] I played him the record and I had a different title picked out and he said, 'You know I love the music and the direction but I don't think the title's quite right, we should think of some other ones'.
"So he said: 'Tell me about the last year of your life,' and I said 'Last year was complicated'."
People news in pictures

Show all 18
But what made it so complicated? Primarily, a breakup [with former Miss Universe Olivia Culpo], he explains candidly.
"The biggest piece to all of it I think was a break up that I had over the summer last year that would then really inform a lot of the writing and direction of the music", he says. "I think it was important for me just to be honest with the layout and stories and journey that I was on in a very real way and [it was] nice to have that outlet, to be able to share."
Jonas has had several high-profile relationships which have been the subject of media speculation. His teenage years and early adulthood were marked by his involvement with Miley Cyrus, Selena Gomez, and Delta Goodrem. More recently, he has been linked to Kate Hudson, although the pair deny being anything more than good friends.
The Jonas Brothers' fan base seems to have adapted to the new Nick, giving him a solid foundation to build his solo career on. The older fans "embraced" the idea of all three brothers going in different directions, according to Jonas.
"I think the fans were truly fans regardless whether we were together or separate which meant a lot and was a good foundation to build my steps on," he says. "I had to build a lot of new fans and go on that journey but I'm thankful that they've stuck with me for the most part."
Like any savvy emerging artist, Jonas is a keen social media user. The 23-year old mainly enjoys the benefits social media but admits the negatives, including trolls, are "tough" to deal with and it's clear he finds the hate difficult to filter out.
"There are days where people are just assholes and you kind of have to deal with that […] and people [are] able to voice their opinion which is not something you had 10 years ago," he says. "It gives people a pretty big platform and maybe they shouldn't have it."
Candid he may be about the negatives of social media, the loneliness he experiences and his love life, politics is an area where he doesn't want to speak on. In contrast to frequent collaborator Lovato, who has endorsed and campaigned for presumptive Democrat presidential candidate Hillary Clinton, Jonas's political view is something he won't be drawn on. The only thing he will admit is that proceedings so far have been "pretty fascinating" to say the least.
Last Year Was Complicated is out 10 June.
Join our new commenting forum
Join thought-provoking conversations, follow other Independent readers and see their replies