Nicola Sturgeon: How a solicitor from Ayrshire became one of the most powerful woman in politics
From her standout performances in the general election debates to vowing to keep Scotland in the EU, the Scottish First Minister continues to establish herself as a formidable leader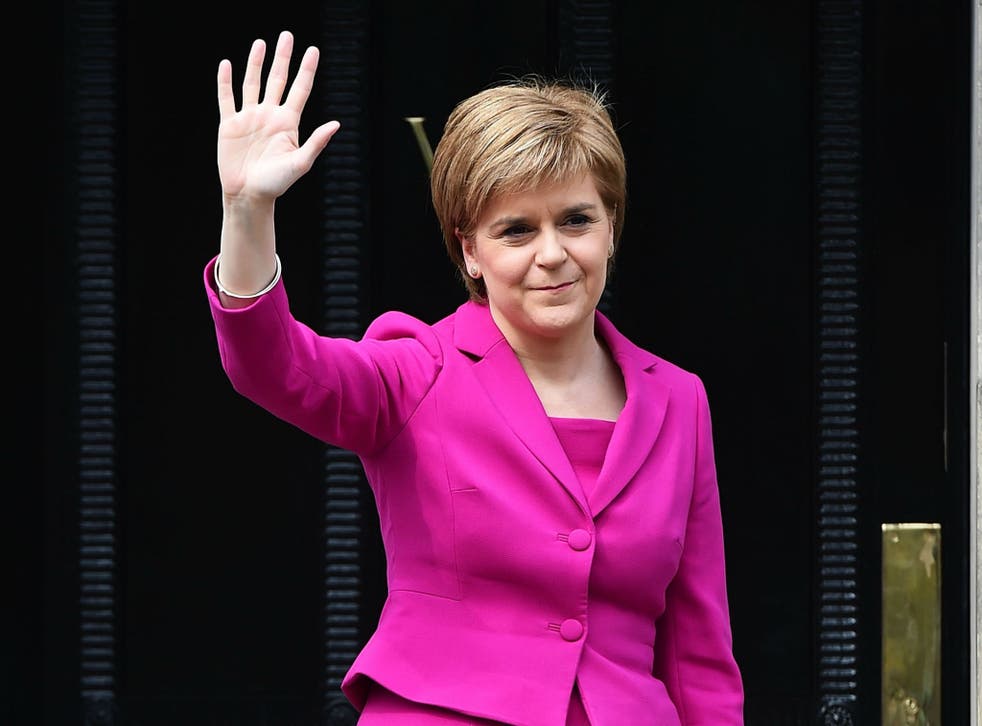 As Westminster descends into chaos and political parties reel from the vote to leave the EU, Nicola Sturgeon has emerged as one of the few political leaders with a considered Brexit strategy.
The Scottish First Minister has made it clear she will do all she can to keep Scotland in the EU and has called for a second referendum on Scottish independence after two-thirds of Scots voted to remain in last week's divisive vote.
Meeting with European Commission President Jean-Claude Juncker on Wednesday evening, Ms Sturgeon discussed her plans for Scotland to remain. While the process remains in its early stages, Ms Sturgeon has vowed to keep Scotland in the European Union.
Ms Sturgeon, 45, is rapidly cementing her position as one of the most powerful women in British politics. As the first female First Minister of Scotland, she led the Scottish National Party to a triumphant victory in Scotland in the 2015 general election. Her personal popularity ratings are consistently high and she was a standout star of the general election leadership debates.
Brexit XI: Who would miss out?

Show all 11
Humble beginnings
Born in 1970 in Irvine in Ayrshire, Ms Sturgeon is the eldest of three daughters. Her mother was a dental nurse and her father electrician. "A fairly standard, normal, working-class family" is how she has described her upbringing.
She went on to study at the University of Glasgow where she read Law and became an active member of the Glasgow University Scottish Nationalist Association.
After this foray into student politics, she then went on to train as a solicitor, working for two firms in Glasgow.
Young politico
Ms Sturgeon was the Youth Affairs Vice Convener and Publicity Vice Convener for the Campaign for Nuclear Disarmament. At the age of 16 she joined the Scottish National Party and within a few years she became the youngest parliamentary candidate in Scotland at the 1992 election - at the age of 21 - but failed to win the seat.
A month later she failed to win Irvine North in the district council elections and was unsuccessful again in 1994 and 1995 when she fought for seats on Strathclyde Regional and Glasgow City councils.
In 1997, she was selected to fight Glasgow Govan for the SNP in the general election. Although she failed to win the seat, she was placed first in the SNP's regional list for the Glasgow region and was there afterwards elected as a Member of the Scottish Parliament. Within a few years she had become Deputy Leader - second in command to Alex Salmond.
Unwavering campaigner
Ms Sturgeon has emerged as a staunch campaigner for Scottish independence, the scrapping of Trident and against austerity.
She is also a feminist and has pushed for the SNP to introduce quota measures such as all-women shortlists. She has publicly supported the Women 50:50 campaign which lobbies for at least 50 per cent representation of women in Parliament. In her own words, "the time has come for quotas" of women in politics and beyond "because the pace of change, without that, is too slow".
Ms Sturgeon has previously said she was inspired by Margaret Thatcher. In her own words: "Thatcher was the motivation for my entire political career. I hated everything she stood for." She cites Hilary Clinton as a key role model.
Nicola Sturgeon warns 'Scottish parliament could block Brexit'
Duran Duran fan
Ms Sturgeon hasn't become the most powerful woman in British politics by accident. She has worked industriously, with civil servants commending her for putting in the hours.
She lives in Glasgow with her husband Peter Murrell, the SNP's chief executive. They have been together and married in 2010 and have no children.
On the rare occasions Ms Sturgeon takes a break from politics, she enjoys watching Borgen, the Danish political drama which follows a female PM running a coalition government against the odds. She once interviewed the star of Borgen for STV's Scotland Tonight show.
She is also a massive fan of eighties pop and has Duran Duran, Wham!, and Culture Club posters on her wall. As she told GQ: "I am a child of the Eighties".
When Ms Sturgeon isn't running Scotland, her drink of choice is gin and tonic and red wine but she only drinks "moderately and responsibly".
Register for free to continue reading
Registration is a free and easy way to support our truly independent journalism
By registering, you will also enjoy limited access to Premium articles, exclusive newsletters, commenting, and virtual events with our leading journalists
Already have an account? sign in
Register for free to continue reading
Registration is a free and easy way to support our truly independent journalism
By registering, you will also enjoy limited access to Premium articles, exclusive newsletters, commenting, and virtual events with our leading journalists
Already have an account? sign in
Join our new commenting forum
Join thought-provoking conversations, follow other Independent readers and see their replies