Nicolas Cage interview: Still wild at heart
The unashamedly original Hollywood leading man on taking risks and why he never set out to be liked
Kaleem Aftab
Friday 25 July 2014 00:53 Comments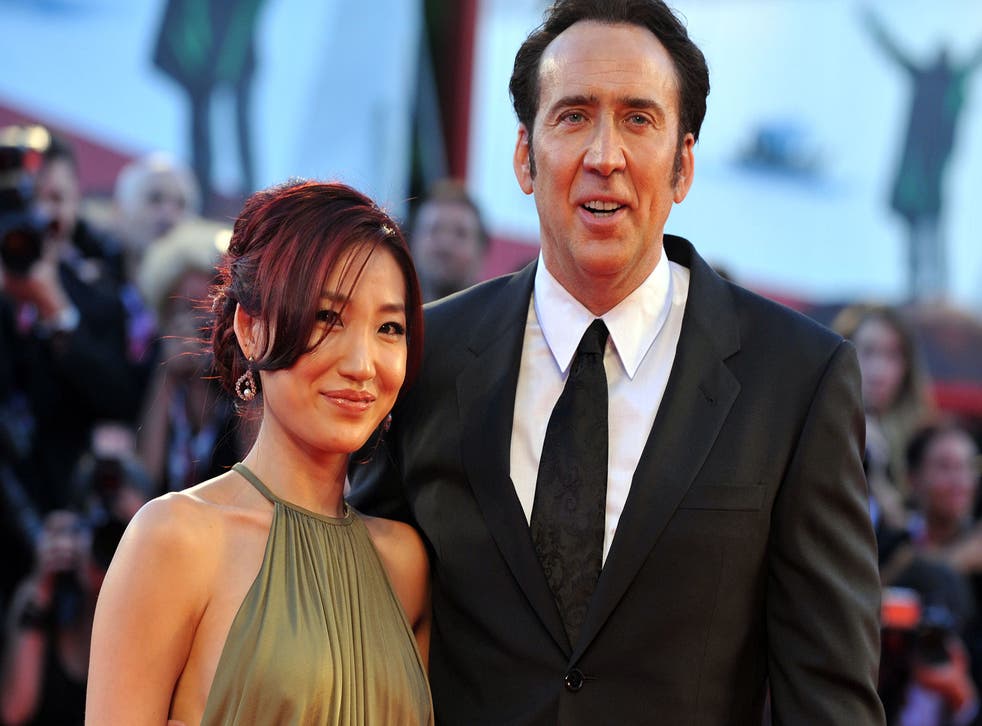 Love him or hate him, you can't help but admire Nicolas Cage. With his mannered speaking and exaggerated gesticulations, he is the king of offbeat. When paired with directors willing to embrace his quirks, he excels. He was hilarious for the Coen brothers in Raising Arizona, lovable as the Elvis-loving romantic in the David Lynch classic Wild at Heart and mind-blowing as the drug-addicted cop in Werner Herzog's The Bad Lieutenant. In his new film, Joe, directed by David Gordon Green, the 50-year-old actor beguiles as a contractor employed to poison trees.
Ethan Hawke has pointed out that Cage is, "the only actor since Marlon Brando who has successfully done anything new with acting." It's a style that came about by design rather than accident. "There was an architecture to it," he explains. "I was reading books by Stanislavsky, [like] An Actor Prepares, and I was interested in the idea of opening doors of performance in film, so you don't have to get stuck in one style, which is naturalism, photo-realism. I'm not the first one to do it. Look at James Cagney – was he real? No. Was he truthful? Yes. You can design a performance in terms of the size of it, go outside the box, what I like to call operatic. It hasn't always been met with appreciation, but that is the beauty of the challenge, you have to stick to your beliefs."
Cage to be clear, has an unshakeable self-belief. "I think if someone does something really unique they are going to get criticised and are not going to win awards," says the actor. His Oscar in 1996, for his turn as an alcoholic Hollywood writer in Leaving Las Vegas, was confirmation that American cinema had finally embraced him.
"A lot of my heroes in the past, like Edvard Munch and Stravinsky, were heavily criticised for being different. These are people that broke the mould. Sometimes when you are getting criticised you may be doing something right, by virtue of the fact that you are getting someone to think. It's not always best to be loved. Sometimes it's good to be hated, because you have done something that has got under their skin."
His individualism can also be seen in his decision to take a stage name. Born Nicholas Kim Coppola in California in 1964, his father, August Coppola, a literature professor, was the brother of The Godfather director Francis Ford Coppola. Two of his early roles were for his uncle; in the teen classic Rumble Fish in 1983 and soon after as the leading man in Peggy Sue Got Married.
"I have to be careful about what I say. I am still legally Nicholas Coppola but I am Nicolas Cage. I had to reinvent myself. I love my family and I love all their accomplishments. I have great respect and admiration for each and every one of them. The thing is, for me as a young actor going into casting offices it was all about that. In auditions there was pressure. As soon as I went into the casting office under a new name and they didn't know that there was a connection, I got the part. I felt liberated. It gave me the freedom to become what I wanted to be in my dreams." Why Cage? "I was looking for a name that was unique and simple. I wanted people to remember an exotic name that was short and sweet. Tom Cruise changed his name and we came up together. 'Cage' came from a comic book and I also liked the avant-garde composer John Cage. I thought it was interesting as it had two sides, the popcorn side and the more thoughtful side."
It's when Cage veers into the popcorn side of acting that he stumbles. He followed up his Oscar win by taking on big-budget studio films, many more of them misses – Drive Angry, Gone in Sixty Seconds – than hits. A comic-book geek, he is a fan especially of Superman. He almost played him once up to having a costume fitting for a film that was to be directed by Tim Burton. He even named his son Kal-El, after the superhero. Kal-El's mother is his third wife Alice Kim Cage, with whom he lives half of the year on the slopes of Windmill Hill in Somerset, where six ley-lines are said to converge. He has previously been married to Patricia Arquette, and Lisa Marie Presley and had a child, Weston Coppola, with actress Christina Fulton.
In the Noughties Cage's career veered off track as newspapers became more concerned with stories of his spending than his career. After a tax investigation into his affairs, he had to sell off several of his properties and his prized Action Comics No 1, which raised $2.16m at auction in November 2011. On the day we meet, he looks dapper in a blazer, and is wearing an eye-catching watch. When I say that he famously likes expensive things, he snaps: "Yeah. They don't have to be expensive for me to like them. They just have to be artistic. They just have to have a certain kind of style. A creativity to them. Hand-made, I like that kind of stuff. I like creative people. I like what they do. Paintings. Now my life is different. I don't spend my money on a lot of things. I spend my money on my food, I think that is important, and my family. But I've gone through a lot of changes and lived a lot of lives and I'm on life nine now."
In Joe, Cage tones it down a notch to play a contractor who poisons trees so that developers can legally cut them down and replace them with more valuable trees like pine. Ever the showman, he relates how he had to act opposite "the most poisonous American snake", a copperhead.
"They had a snake that had no poison and they had a snake that if you it bit you, you are going to die. I actually said: 'I think we really need to take a chance here and use a real snake and pick it up and use it in the scene. It's a big scene and I think it will relax me.' I'm one of those people that when I do stunts or drink a lot of coffee it calms me down. The adrenalin that you need to get above and beyond the fear actually helps me to relax."
It's that need for adrenalin that Cage has tapped into throughout his career. Sometimes, it's only Cage that understands why he is doing it. But we wouldn't want him to be any other way.
'Joe' is on general release
Register for free to continue reading
Registration is a free and easy way to support our truly independent journalism
By registering, you will also enjoy limited access to Premium articles, exclusive newsletters, commenting, and virtual events with our leading journalists
Already have an account? sign in
Join our new commenting forum
Join thought-provoking conversations, follow other Independent readers and see their replies