Nigel Farage: NHS 'almost killed me' after mistaking 'lemon-sized testicle' for an infection instead of cancer
Ukip leader urges anyone who can afford to pay for medical care to get privately insured
Heather Saul
Saturday 14 March 2015 12:59 Comments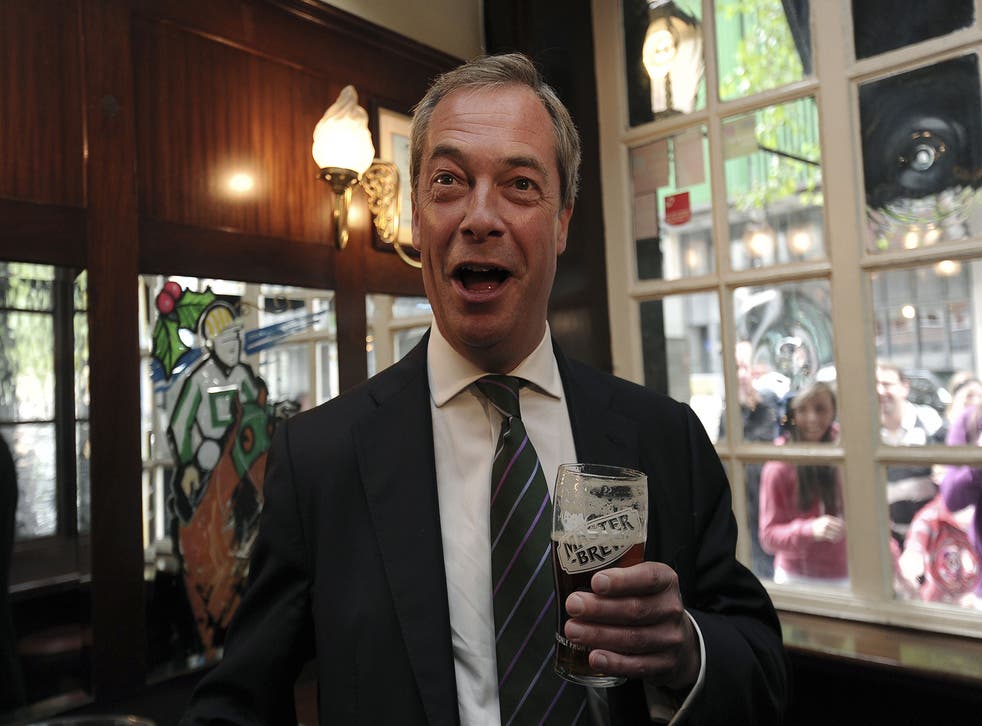 Nigel Farage has claimed the NHS almost killed him when he was misdiagnosed with an infection which actually turned out to be testicular cancer nearly 30 years ago.
In extracts published by The Telegraph from his forthcoming book, The Purple Revolution: The Year That Changed Everything, the Ukip leader encourages anyone who can afford to pay for private health care to do so, warning: "The NHS is so over-stretched that if you can afford private health care, you should take it, particularly for diagnostics and preventative medicine."
He claims a cancerous tumour was missed by a series of NHS doctors when he was 21, who first concluded he had a twisted testicle.
Farage said this process of misdiagnosis continued when an "Indian doctor" incorrectly told him the source of his pain was actually an infection and prescribed antibiotics, a diagnosis his GP also agreed with six weeks later. "'Keep taking the antibiotics,' he preached, and that was that."
The 50-year-old says he was eventually forced to visit a private GP when the pain became so severe he had difficulty walking and was left with a testicle "as large as a lemon and rock hard".
It was this doctor, he says, that referred him for scan and discovered the tumour in his testicle.
Ukip's confusing policies

Show all 7
Farage later underwent an operation to have the testicle removed, a process he joked was not something he was all too pleased about. "It doesn't matter how much people tell you that you have a surplus with two, I certainly didn't want one of them removed."
He continued: "It was astonishing. For the best part of two months I had been fobbed off by one NHS doctor to the next — apart from my own GP, all the rest thought I had nothing more serious than a common cold.
"All they had had to do that first night in A&E was to have me referred for a scan. I remember feeling the most profound sense of fury, that my cancer was just so unfair."
He argued his three close brushes with death throughout his life make him better qualified to criticise the NHS than other politicians.
Farage also said that the the health service has on other occasions saved his life.
"I have now had three near-death experiences - cancer, an accident and a plane crash - and I've seen the best and worst of the NHS," he wrote.
"When I had cancer, the incompetence and negligence of the NHS almost killed me, but it has also saved my life. I am certainly not taking any flak from gutless politicians who claim that I am no fan or supporter of the NHS."
A combination of these accidents and a serious car crash left him with the body of a 70-year-old, he added.
Register for free to continue reading
Registration is a free and easy way to support our truly independent journalism
By registering, you will also enjoy limited access to Premium articles, exclusive newsletters, commenting, and virtual events with our leading journalists
Already have an account? sign in
Join our new commenting forum
Join thought-provoking conversations, follow other Independent readers and see their replies