Noel Fielding on the last days of The Mighty Boosh, the end of his youth, and his Camden camel
He worked 'incredibly hard' to elevate the Mighty Boosh to arena-filling world tours. Then they imploded, 'Luxury Comedy' got cancelled and so did 'Never Mind the Buzzcocks'. Noel Fielding frets to Alice Jones about being 'in limbo', the possibility of children and being the next Spike Milligan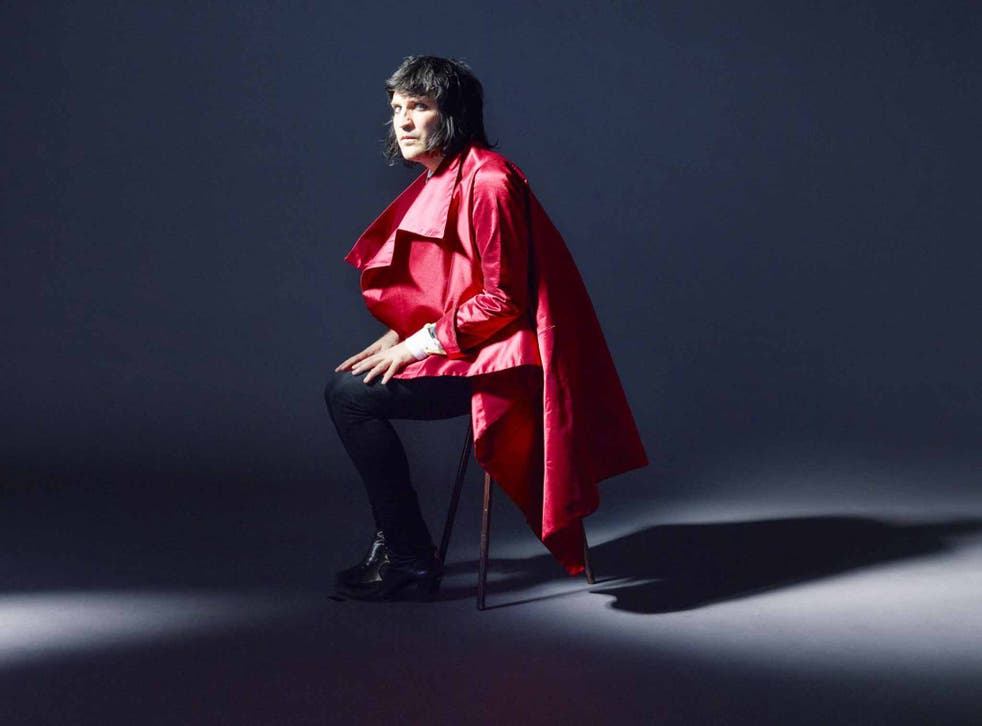 "I'm not Mr Weird," says Noel Fielding. "I don't go home and live in a psychedelic castle made out of bubbles, you know." So what is his house like? "It is quite psychedelic, actually. It's like Yellow Submarine in there." He guffaws and throws himself back on the sofa, kicking his silver pixie boots into the air.
The boots are the least outlandish element of the comedy star's look today, comprising as it does tight jeans, a shaggy black fur coat with a Chanel logo spray-painted on the back, a giant patent handbag in the shape of a watermelon and, painted across his face, some bright Bowie zig-zags. Does he ever have a dress-down day, slob out a bit? "What, when I put big shorts on? Don't do my hair?" He looks a bit baffled. "I don't go out like that." When he was younger, he saw Jarvis Cocker in the street, looking cool in top-to-toe corduroy, "and I remember thinking, if you ever become famous, you have to maintain your image. If you saw Nick Cave in the supermarket in tracksuit bottoms, you'd kill yourself. I'm not particularly a slippers and dressing gown type. I don't have that wiring. I don't have a weird tracksuit I put on when I get in… That's not my zone."
Noel Fielding's zone, as most people know by now, is surreal, funny, psychedelic and a little bit rock'n'roll. (The day after we meet, he interviews Ronnie Wood in Waterstone's about his new book and posts a picture online; they look like father and son – all angles and bouffant hair.) He attained cult comedy status as one half of the Mighty Boosh and mainstream fame on Never Mind the Buzzcocks. His rival team captain on the show, Phill Jupitus, dubbed him a "gothic George Best"; his best friend, Serge Pizzorno of Kasabian, called him a "modern-day Dali". He is a playful polymath, hopping about in his pointy boots from sitcoms to animations to stand-up, acting to art exhibitions. "Just say I'm a genius," he drawls.
He is about to go on tour for a second UK leg of his solo show, An Evening With Noel Fielding, having already taken it around the UK, Australia and New Zealand. "I start getting bored and misbehaving if I don't work hard. It's fine when you're younger, you go out a lot and muck around with your mates and drink and stuff, but I'm a bit over that now." When the Boosh was at its height – the final arena tour in 2009 played to more than a quarter-of-a-million fans – Fielding would party all night with his younger brother Mike (aka Naboo from the Boosh), then get up at 6pm in time for the next show's soundcheck. His current tour, still featuring Mike in a variety of daft roles, including Fielding's fictional wife, has, by contrast, been the "peppermint tea tour". "We're too old. I'm too old," he says.
Fielding is 42 and feeling it a bit. There is more than one moment in the show when he wonders why he's still prancing around pretending to be a chicken boy, or a herbal teabag, or the moon (which he plays, memorably, by covering his face with half a can of shaving foam). Is he worried about getting older? "Forty-two, Jesus Christ. Peter Pan… When you're young, people say, 'Yeah, he's young, he's daft, he does all this weird stuff,' and then you have success and people say, 'Oh right, he's good.' And maybe in 10 years, I'll be seen as eccentric, like Vic Reeves or Spike Milligan, which would be amazing. But I suppose I'm in this weird transitional period between having some success doing weird stuff and not being eccentric yet. I'm in limbo!"
He cackles, but limbo is on the nail. Earlier this year, Never Mind the Buzzcocks was axed. Fielding, who had been on the show since 2009, found out when the press did. "If a show has lasted that long and people like it, why would you get rid of it? It wasn't losing ratings. People liked it, it wasn't an aggressive male panel show. I liked it before I was on it." Would he have carried on? "Yeah! I loved doing it – it was very easy… I never know the thinking behind television."
He is still smarting, too, from his last solo foray on E4, Luxury Comedy. In fact, it is all he wants to talk about, though the second series was broadcast more than 18 months ago and there won't be a third. "No! It was too harrowingly stressful. Someone called the show the second 9/11," he says with a sad little grin. "We live in strange times."
He had "absolute freedom" to do what he liked on the show. So there were cartoons and characters such as Roy Circles, a chocolate finger with shellshock; Secret Peter, who is made out of melted Jelly Tots; and Fantasy Man, who rides a porcelain unicorn called Arnold 5. Why didn't it work? "Maybe there were just way too many characters and not enough time to digest them all. What I liked was that it didn't adhere to any rules. It was like, 'Well, we're doing this and then this and then this and then this and then it's over. Bye!'" he sighs. "We shouldn't have called it Luxury Comedy, we should have called it something weird. The problem with calling it a comedy is that it's got to be funny, first and foremost. And we paid as much attention to the visual side of it. I would maintain, regardless of what people thought of it, that there were more ideas in one episode than in most things. It was brave."
Where do his ideas come from? "I don't know what's wrong with me. There is something wrong with me," he says. "I don't know if it's just because my mum and dad were into a lot of psychedelic stuff in the 1960s and 1970s. You know in Asterix when Obelix fell into the magic potion? I think I fell into a pot of LSD. I've always had a good imagination. If I saw a sitcom and everything was made out of cheese, I wouldn't go 'WHAT?!' I wouldn't get angry. I'd think, 'Right, OK, all cheese? Amazing…'"
Born in London to young, liberal parents, Fielding grew up a "painfully shy" child who loved drawing. No one ever thought the young Noel would become a comedian, but he adored Vic and Bob, and while he was at art college in Buckinghamshire in the mid-1990s, he started writing odd little stories. One night he decided to perform them, at his first gig, in Cambridge; as it happened, his future colleague Jupitus was on the bill. "I was going to run away because I couldn't handle it but he gave me a big hug and said, 'They're just people, it's fine. Just do it.' And it went really well."
He met Julian Barratt soon after, and the Boosh was born. They won the Perrier Award for Best Newcomer at the Edinburgh Fringe in 1998, landed a Radio 4 series, and their TV show began on BBC3 in 2004. Would it still be commissioned now, in these risk-averse, online-BBC3 times? "Yeah. I thought we were good. We were one of the best live acts around. We worked so incredibly hard. There was no option of not getting on. I was so driven."
At the height of the Boosh's popularity, Mike Myers wanted to write a film with them, and, Fielding tells me, Jack Black and Ben Stiller were desperate to work with them. Robin Williams came to their show. They had offers to go to America. "Maybe we should have gone – that would have been a way of sustaining it. [But] we needed a break. We'd worked together for 15 years, every day. We were sick of each other."
Did they argue? "No, that's the problem, slightly. It was just a lot of tension. Like a marriage. All of a sudden it was just POWWWW and everyone was sick of each other. It was mental. We didn't have a day off in 10 years. It was like being in The Beatles."
The end came in 2009, after a 100-date tour. They were making a lot of money and there were a lot of people with a vested interest in keeping it going. "So we tried to write a film, and it all sort of imploded."
Barratt now has eight-year old twin boys with his partner, the comedian Julia Davis. Fielding and he are still friends; they live on the same street in north London and play tennis together. "The possibility of us doing something together is always still there," says Fielding. Ideally, a Boosh film. "The combination of us two was a once-in-a-lifetime thing. You meet someone and you just work, you have chemistry on stage, and writing. That will never happen again for me, I don't think. Which is a real shame. I work with a lot of good people in a good way, like Russell [Brand] and Richard Ayoade, but I don't think I'll ever have that again."
He is just back from a month in France where he was writing a family film – "a Time Bandits/Labyrinth thing" – and two TV shows (one for America). He'd like to write a children's book, and to act. "But not a part that someone would give me; something people wouldn't imagine." He struggles to focus on one thing at a time. "If I was rich, it would be fine..." He must be quite rich. "I'm all right. But it goes pretty quickly."
He lives with his long-term girlfriend, the XFM DJ Lliana Bird, and is at once intrigued and horrified by the idea of having children: "My friends who have kids look like they haven't been to bed for a year. They all look like they've been shot in the legs, or have typhoid or something," he says. "Because of the Boosh, I got trapped. It takes 10 years to get where you want to get and then you have 10 years there and you think, fuck, I'm this age, all my friends have 10-year old kids… I suppose if it happens, I'll concentrate on that. It's a selfish life being a comedian, isn't it? Bit self-obsessed, really."
Does he find real life a little boring? "Yeah. Painfully dull. I guess I've carved out a style and once you have some success with that, then there's an expectation that you will do something slightly different. You can't just abandon it, it's part of what you do. It's hard to change. I'd like to do something more real, I've never tried that. That's what I'm trying to write next – something simple." How's that going? He hoots. "Well, it's a story about a camel. Who lives in Camden."
Alice Jones is deputy arts editor of The Independent. 'An Evening with Noel Fielding' tours the UK from 12 November to 13 December; a DVD of the live show is out on 16 November
Beyond Boosh: How the mighty have moved on
Julian Barratt
Barratt, who played Howard, has continued to act on TV (Little Crackers, Being Human) and on stage (The Government Inspector at the Young Vic, NSFW at the Royal Court) while also directing, and narrating several BBC documentaries.
Mike Fielding
The Boosh took its name from a Spanish friend's description of the childhood hairstyle ("mighty bush") worn by Noel's brother, who played Naboo. He moved to Australia after the Boosh toured there. He will appear in the film Zombie Women of Satan 2 in 2016.
Dave Brown
In addition to being a comedian and actor, Brown (Bollo the ape) is an art director who designs books and DVD covers – including those for the Boosh's live tour and boxset – and has mounted photography exhibitions of fellow comedians.
Rich Fulcher
The American comedian, who played Bob Fossil, co-wrote and starred in BBC3 sketch show Snuff Box, with Matt Berry. He also adapted his 2009 book Tiny Acts of Rebellion into a sell-out stage show at the Edinburgh Fringe.
Don Connigale
Join our new commenting forum
Join thought-provoking conversations, follow other Independent readers and see their replies