The Independent's journalism is supported by our readers. When you purchase through links on our site, we may earn commission.
Noor Tagouri becomes first hijab-wearing Muslim woman to feature in Playboy magazine
Her inclusion in the magazine has divided opinion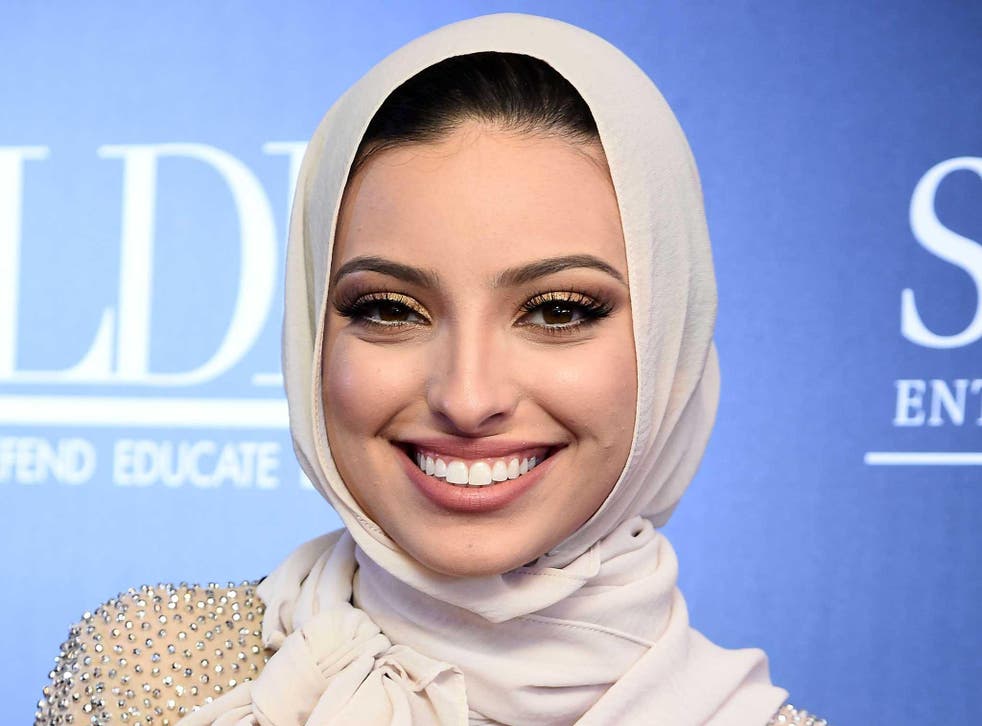 A Muslim woman has made history by becoming the first woman to wear hijab in Playboy magazine.
Noor Tagouri, a journalist at Newsy, stars as part of the men's magazine's Renegades issue which features eight men and women "who aren't afraid to break the rules. In addition to Tagouri, it features the singer Sky Ferreira and the adult actress Stoya.
In the issue, Tagouri wears her hijab, leather jacket, t-shirt, jeans and trainers and is described by Playboy as making a "bold case for modesty".
Her appearance in the controversial magazine has divided opinion. Many have supported and praised the journalist for breaking the mould and shaping her own narrative through her appearance and empowering words in the magazine.
Others have criticised the West Virginia native for choosing a platform which has long been associated with misogyny and the objectification of women. She has also faced criticism over her modest dress code being at odds with the historically risqué magazine. Playboy stopped publishing fully nude photos of women earlier this year.
In the interview, Tagouri discusses her career aspirations to become the first hijab-wearing news anchor on American television and says she doesn't read or pay any attention to any hate or criticism she receives.
Muslim fashion designer features hijabs at New York Fashion Week

Show all 8
"It's just negative energy and unhealthy," she told the magazine. "I make sure to keep a great circle of people around me who keep me grounded […[ I just do the best I can to not worry about people who get upset because they don't like something I wear or say."
The reporter said she feels wearing a hijab has been an asset as it encourages people to trust and confide in her more when sharing to tell their stories.
"I think being a hijab Muslim woman helped me gain that trust," she said. "I know what it's like to have the narrative of our community be skewed and exploited in the media. I was like, 'Hey, I know what it's like to be misrepresented in the media. I won't do that to you.'"
Aside from reporting, Tagouri is also a prominent campaigner having delivered a TED talk last year where she discussed wearing the hijab, reinforcing that it does not mean she is "submissive" or "oppressed and that it actually empowers her "in demystifying the stigma that surrounds Muslim women".
Tagouri says she will think she's had a positive effect and achieved her mission when "all girls realise they can do anything they want without having to sacrifice who they are as a person".
"I may dress a little different – I'm a reporter who happens to wear a headscarf and I live in my hoodie – but being a story teller, motivational speaker, entrepreneur and unapologetically myself has opened so many doors for thousands of people," she says.
Register for free to continue reading
Registration is a free and easy way to support our truly independent journalism
By registering, you will also enjoy limited access to Premium articles, exclusive newsletters, commenting, and virtual events with our leading journalists
Already have an account? sign in
Register for free to continue reading
Registration is a free and easy way to support our truly independent journalism
By registering, you will also enjoy limited access to Premium articles, exclusive newsletters, commenting, and virtual events with our leading journalists
Already have an account? sign in
Join our new commenting forum
Join thought-provoking conversations, follow other Independent readers and see their replies