The Independent's journalism is supported by our readers. When you purchase through links on our site, we may earn commission.
Kim Jong-un impersonator tricks North Korean athletes into believing he is supreme leader at the Rio Olympics
The Independent spoke to the lookalike about why he chose to become an impersonator and what happened when he deceived spectators in Rio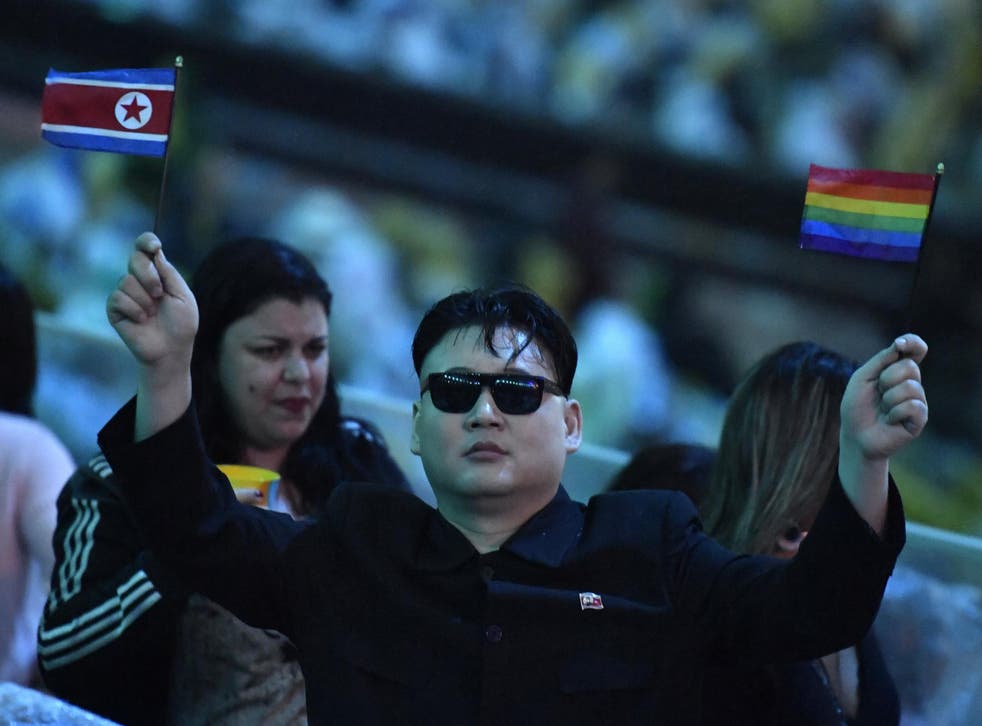 From his signature bowl cut to his rotund cheeks and love for swiss cheese and tight-fitted black suits, it would be fair to say Kim Jong-un is one of the most instantly recognisable individuals on the planet.
This probably explains exactly why so many onlookers and even North Korean athletes themselves were fooled when they spotted someone looking just like the supreme leader in the crowds of the Rio Olympics. From proudly waving his North Korean flag to sternly raising his hand in press shots to taking a keen interest in all the basketball games, you would be forgiven for thinking he was the real McCoy.
Going by the name of "Kim Jong-um", the lookalike who gave his name only as Howard, has been professionally impersonating the head of one of the world's most authoritarian and isolated regimes since April 2013. The Independent spoke to the impersonator to find out more about why he decided to take up this somewhat unconventional career path and what he got up to at the Rio Olympics.
Inside the daily life in North Korea

Show all 19
"I decided to impersonate Kim when I realised that I looked liked him and I could use my natural born features to impersonate him, make some money and have a good laugh," he explains.
Based in Hong Kong, Howard, who is in his 30s but prefers not to give out his exact age, is so dedicated to his get-up he travelled all the way to Rio to attend the games and confuse spectators. It is was in the crowd for the closing ceremony that he says he stumbled across two North Korean delegates dressed in DPRK tracksuits. He says the delegates were left befuddled after they glimpsed him in the audience.
"I think they thought I was Kim Jong-un for a few moments when they saw me from afar," he says. "However, when they shook my hand and I spoke to them in my bad Korean accent they realised I was an impersonator". The fact he had been simultaneously waving both a North Korean flag and a rainbow flag may have given the game away, too.
"Most people at the games realised I was an impersonator. But some people were saying things like what is he doing without his bodyguard?" he recounts.
As well as the obviously comical element, Howard also chose to take up the act of impersonation as a protest against the North Korean regime which he says he finds "completely disgusting". This is unsurprising when you remember that a UN report has accused North Korea of crimes against humanity, including systematic extermination, torture, rape, forced abortions and starvation for the country's 25 million citizens.
But fortunately, the fake leader has never found himself in hot water for his work. "I have never got in any sort of legal trouble or got arrested, after all, I am not in North Korea! I've had plenty of weird reactions - usually, it's that sudden shock that they think they are in the presence of the real guy," he explains.
As you would guess, Howard keeps a watchful eye on Mr Kim's movements so he can best mimic him. "I have been into North Korea since I was at University, especially when Kim Jong-il died and all these pictures were coming out of NK showing all the people crying in public," he says. "I do keep a close eye on what's happening in the country and Kim's latest trends." To top matters, he even has a suit custom made based on studying photos of Mr Kim.
Of course, Howard cannot dedicate the entirety of his life to impersonating and when he is not, he is one of the producers of a group called Bossa Negra, a Chinese/Australian/Brazil collaboration that performs Brazilian music sung in Chinese and English. He used to live in Rio for more than six months.
"I have been to Rio many times over the last 13 years during the carnival and the world cup," he said. "The Olympics was the best time to be in Rio, it had a great vibe".
Join our new commenting forum
Join thought-provoking conversations, follow other Independent readers and see their replies