The Independent's journalism is supported by our readers. When you purchase through links on our site, we may earn commission.
Olivia de Havilland turns 100: 'Gone With The Wind' star gives her younger self some advice
The five-time Oscar nominee took on the Hollywood contract system in the 1940s - and won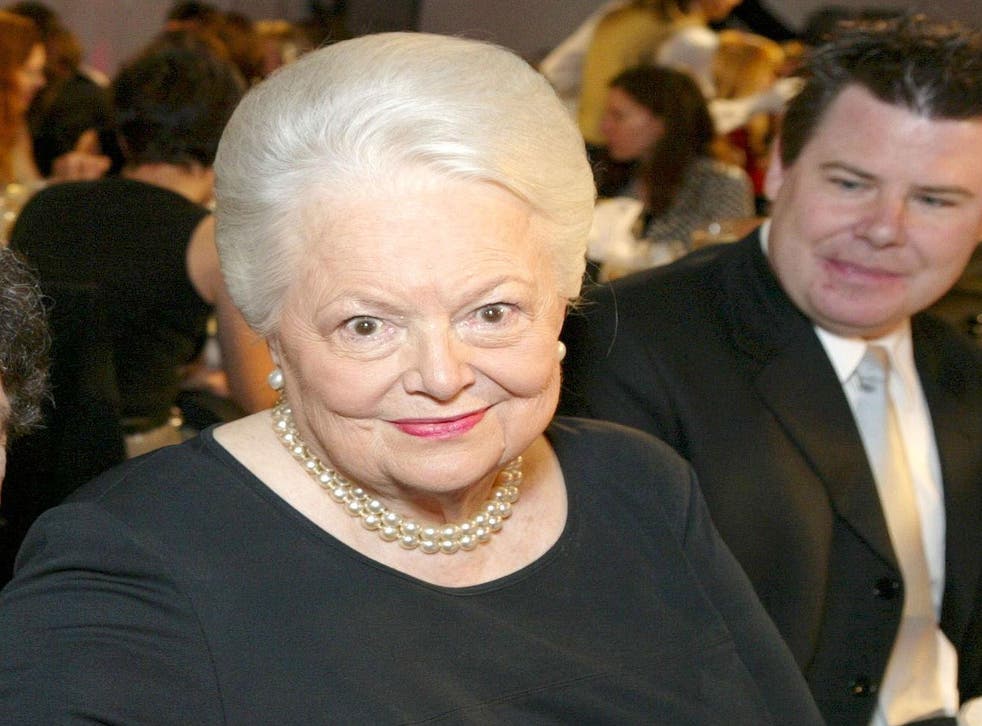 One of the last women stars of the Golden Age of Hollywood and 'Gone with the Wind' actress Olivia de Havilland is celebrating her 100th birthday by having drinks with "dear, dear friends".
The centenarian, who has lived in Paris for more than six decades, said she is content with the role that life has given her.
But the five-time Oscar nominee has played many roles over a century, starting in 1935 at the age of 19 with a "Midsummer Night's Dream" alongside James Cagney and Mickey Rooney.
She starred opposite Bette Davis in "Hush Hush Sweet Charlotte" and with James Caan in "Lady In A Cage".
She is likely best known, however, for playing the sweet Melanie Wilkes in "Gone With The Wind", and has played many on-screen romances with Errol Flynn.
Yet in the industry she became known as anything but "sweet".
Asked if she had any advice for her younger self, she told People Magazine: "Take a long leave of absence from the Warner contract and go to Mills College, where the scholarship I had won in 1934 is still waiting for me!"
The former contract system was one that had enchained many of the greats, from Marilyn Monroe to Tippy Hedren. Stars were told who to date, how to talk, what to wear and which films they had to play in.
Ms de Havilland had been suspended from her seven-year contract multiple times for refusing various roles - including "It's A Wonderful Life" and "A Streetcar Named Desire" - and when her contract expired, Warner Brothers claimed she owed them another six months to make up for the time she was suspended.
The actors fighting against sexism in Hollywood

Show all 12
She challenged Warner Bros in court and won her case. It became known as the 1944 de Havilland Decision, and she became known as the rebel of Hollywood, continuing to win oscars and segueing into television work with her final appearance in the late 1980s.
The law - Labor Code Section 2855 - was used decades later by Jared Leto and his bandmates in 30 Seconds to Mars to exit from a recording contract, which sparked a lengthy correspondence between the pair.
"It's wonderful knowing that the Decision continues to be useful to artists and other professionals these many years later," Ms de Havilland told People.
In 1953 she was invited to attend the Cannes Film Festival. On this journey she married the first Frenchman she met, had a daughter with him and bought the Parisian townhouse in which she still lives and occasionally has champagne garden parties. In 1965 she became first woman to be named President of the festival jury.
She continued to appear in public and travel back and forth to the US, picking up the National Medal of Arts in 2008 from former president George W Bush.
To celebrate her 100 years, publishers Crown Archetype and Random House are re-issuing her 1962 memoir, "Every Frenchman Has One".
Former French president Nicholas Sarkozy told the actress: "You honor France for having chosen us."
Join our new commenting forum
Join thought-provoking conversations, follow other Independent readers and see their replies