Oscar Pistorius asks journalist 'do you have no soul' in text message as he is denied right to appeal murder conviction
Pistorius will be sentenced for murder on 18 April, which carries a minimum 15-year prison sentence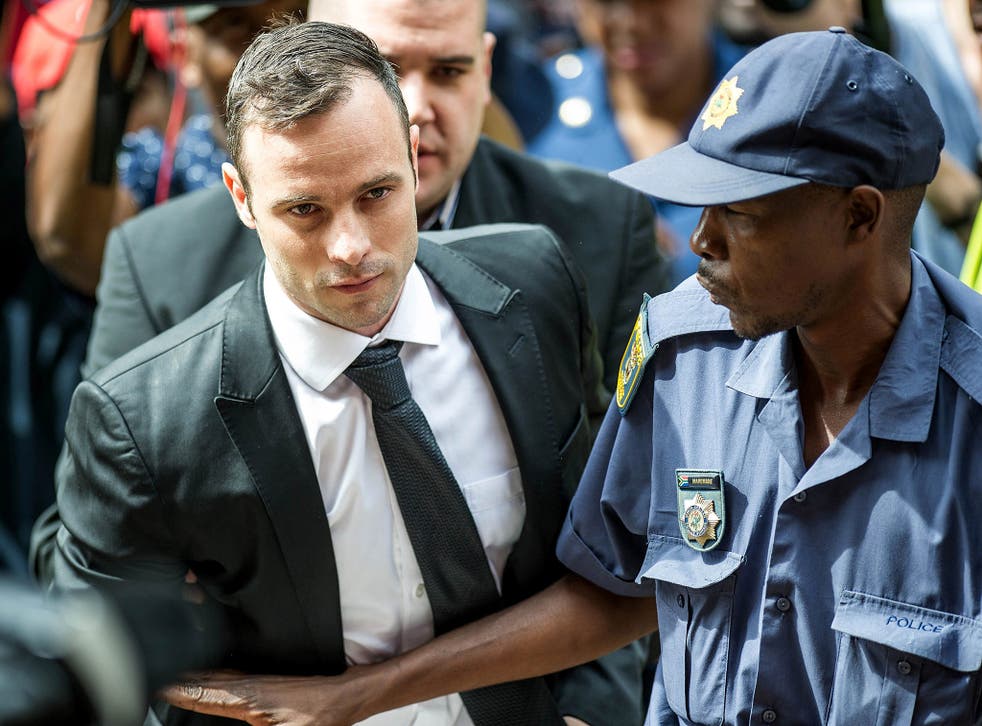 Oscar Pistorius has spoken out for the first time since he was denied leave to appeal his conviction for killing his girlfriend Reeva Steenkamp, asking a journalist: "Have you no soul?"
Pistorius has served one year of his five-year sentence for manslaughter and was due to spend the rest of his sentence under house arrest.
While he was convicted of culpable homicide for killing his girlfriend Reeva Steenkamp by shooting her four times through a locked bathroom door on Valentine's Day in February 2013, his sentence was overturned by the Supreme Court of Appeal to murder in December.
Defence lawyer Andrew Fawcett said the court will proceeding with sentencing on 18 April. A murder conviction carries a minimum 15-year prison sentence.
Oscar Pistorius trial: The verdict in pictures

Show all 33
Hours after the former Paralympic athlete was denied leave to appeal his conviction, his brother tweeted the single word: "Shattered".
Nine constitutional court judges, led by Chief Justice Mogoeng Mogoeng, considered the application before turning it down.
Pistorius has not been seen in months, and is currently staying at his uncle's mansion on bail.
When asked by a reporter from South Africa's Times newspaper how he was feeling, he text back: "I have asked you not to call me.
"Do you have no soul to respect someone in a time like this that all you can think of is your career?"
The only remaining hope for Pistorius to minimise his time behind bars would be to make an appeal against sentence.
Register for free to continue reading
Registration is a free and easy way to support our truly independent journalism
By registering, you will also enjoy limited access to Premium articles, exclusive newsletters, commenting, and virtual events with our leading journalists
Already have an account? sign in
Register for free to continue reading
Registration is a free and easy way to support our truly independent journalism
By registering, you will also enjoy limited access to Premium articles, exclusive newsletters, commenting, and virtual events with our leading journalists
Already have an account? sign in
Join our new commenting forum
Join thought-provoking conversations, follow other Independent readers and see their replies