Oscar Pistorius released from prison, placed under house arrest 'a day early to avoid media attention'
Parole conditions say the former athlete must now undergo psychotherapy and is not allowed to own a gun
Kashmira Gander
Monday 19 October 2015 22:59 Comments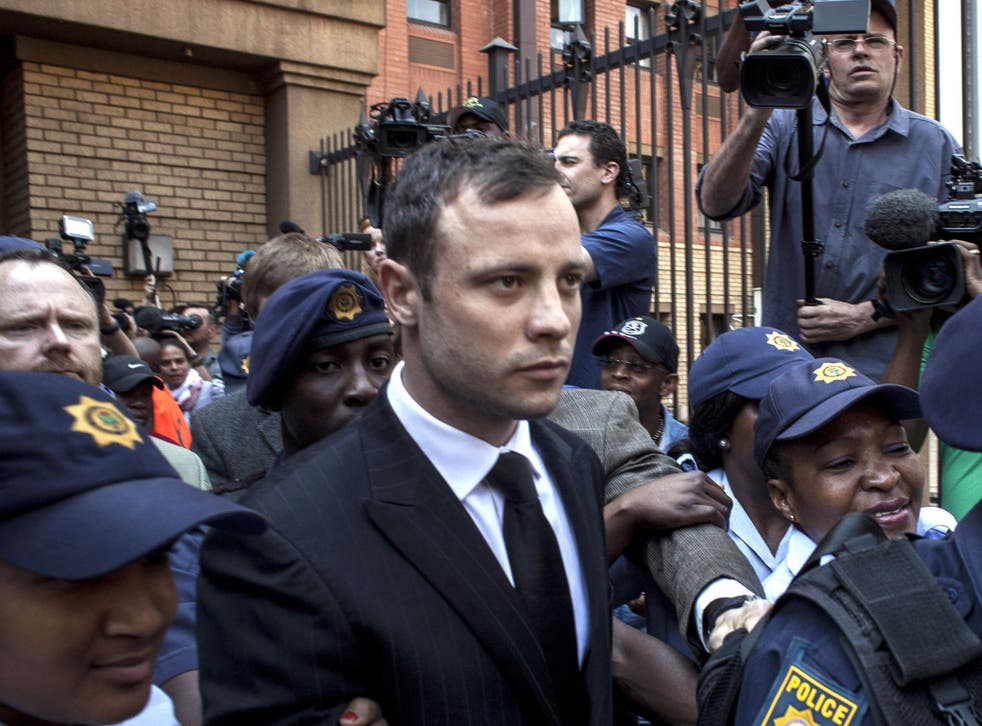 Oscar Pistorius has been released from prison and put under house arrest, almost a year after he was jailed for killing his girlfiend Reeva Steenkamp.
Released under the cover of darkness from Kgosi Mampuru II prison in Pretoria late on Monday night, despite authorities saying he would leave today, the move avoided the scrum of television cameras and journalists that became commonsight during his trial last year.
"The handling of the actual placement is an operational matter of the local management, and how they handle it is their prerogative that is carried out in the best interest of all parties concerned, the victims, the offender and the Department of Correction Services," a spokesman for South Africa's correctional services department said in a text message to journalists.
The former athlete will serve the remainder of his five-year prison sentence at his uncle's home in a wealthy suburb of Pretoria, the South African capital, according to officials.
Pistorius shot and killed Ms Steenkamp, a model and his girlfriend, on Valentine's Day in 2013 when he fired four shots through a locked bathroom door. He later argued that he feared she was an intruder.
A court last year found him guilty of culpable homicide, also known as manslaughter.
However, the Paralympic champion still faces an appeal by prosecutors who want see his conviction upgraded to murder, which carries a minimum sentence of 15 years in prison.
After serving 10 months of his sentence, Pistorius became eligible to be moved to house arrest, and was cleared to leave Kgosi Mampuru II prison in the city of Pretoria on 21 August. However, South Africa's justice minister later suspended the decision and ordered a review, which culminated in his release from prison on Monday.
The decision was made according to South African guidelines under which prisoners deemed not to pose a threat to public safety can be released after serving one-sixth of a custodial sentence in a facility.
The former athlete must now undergo psychotherapy and is not allowed to possess a gun, according to his parole conditions.
Oscar Pistorius: The sentencing in pictures

Show all 53
Steenkamp's family have stressed that they feel Pistorius' sentence is too short, and publicly questioned the decision to release him under house arrest.
Reeva Steenkamp's cousin Kim Martin told BBC News that the family may consider visiting Pistorius when the the time is "right", but said she felt he was "getting off lightly".
Tania Koen, a lawyer for the Steenkamp family, told state broadcaster SABC last week: "Nothing is changed in their lives. Reeva is not coming back."
Additional reporting by Reuters
Register for free to continue reading
Registration is a free and easy way to support our truly independent journalism
By registering, you will also enjoy limited access to Premium articles, exclusive newsletters, commenting, and virtual events with our leading journalists
Already have an account? sign in
Join our new commenting forum
Join thought-provoking conversations, follow other Independent readers and see their replies