Oscar Pistorius guilty: He knew someone was in there. He shot to kill. And that is murder
Judge Eric Leach said 'this case involves a human tragedy of Shakespearean proportions,' as he read ruling that could see Paralympian sent to prison for 15 years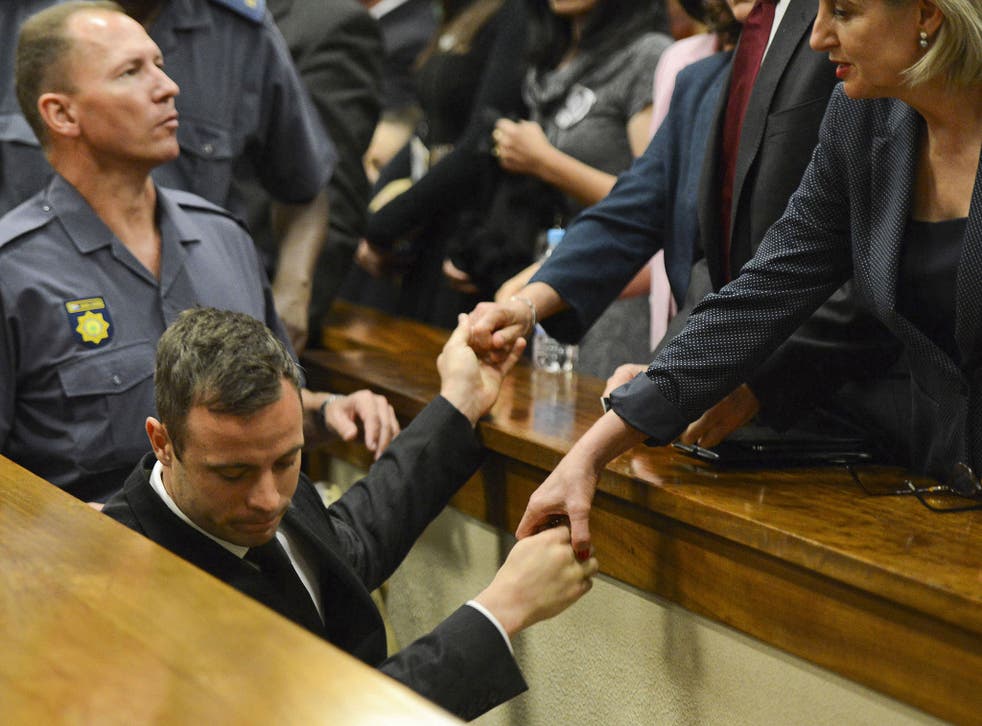 In the early hours of Valentine's Day morning, Oscar Pistorius knew beyond all doubt there was somebody in the toilet cubicle in his bathroom. According to his own version of events, he heard them run in there and slam the door shut.
In the view of South Africa's Supreme Court, when Judge Eric Leach read out its lengthy judgement this morning, the Olympian offered "no proper explanation" of the thoughts that went through his mind before he fired four deadly bullets, of the most vile kind of ammunition, through the door and into a space which he knew contained human life.
Last year at his trial, Judge Thokozile Masipa came to the conclusion that the evidence confirmed he did not know it was his girlfriend, Reeva Steenkamp, behind the door.
But he knew that someone was in there. He had passed a firearm competency examination in which he had written the words in his own hand: "Know your target and what lies beyond."
It was argued, by the state prosecutor, Gerrie Nel, that Pistorius had been so reckless he should have been convicted of murder on the basis that he must have known that the consequences of his actions would be to cause death. And he cannot have known with certainty who he was firing at. He had not seen behind the door.
This was the question of dolus eventualis, a Latin term and complex and confusing concept in South African law so open to interpretation that it has, in all likelihood, added a year to the passage of justice in the Pistorius case, which even now is not at a close.
It was Judge Masipa's conclusion that although Pistorius "should have foreseen" he would kill, it was her view, based on the evidence put before the court, that he "did not" foresee. She convicted him of culpable homicide – manslaughter in our courts – and he served 10 months in jail.
In a ruling that will be devastating to Oscar Pistorius and his family, South Africa's Supreme Court fundamentally and unequivocally disagreed with Judge Masipa's interpretation. It heard no new evidence. No new witnesses were called, but it overturned her decision, and upgraded the conviction to murder.
There had also been a degree of ambiguity over whether dolus eventualis could be applied if the person you killed was not the person you believed yourself to be shooting. Pistorius was on trial for the murder of Reeva Steenkamp, a person he had never knowingly fired a shot at. The five-judge panel dismissed such ambiguity in an instant.
"The identity of the victim is irrelevant to his guilt," Judge Leach said. "In these circumstances, I have no doubt that in firing the fatal shots the accused must have foreseen that whoever was behind the toilet door might die, but reconciled with that event occurring, and gambled with that person's life," he said.
The view of the South African court has been widely shared by South African legal experts since the moment it was announced. That Pistorius shot to kill. He did kill. And that is murder.
Join our new commenting forum
Join thought-provoking conversations, follow other Independent readers and see their replies