Oscar Pistorius breaks Twitter silence in four bizarre posts: 'You have the ability to make a difference in someone's life'
The four tweets were the first posts by Pistorius since the anniversary of Reeva Steenkamp's death on Valentine's Day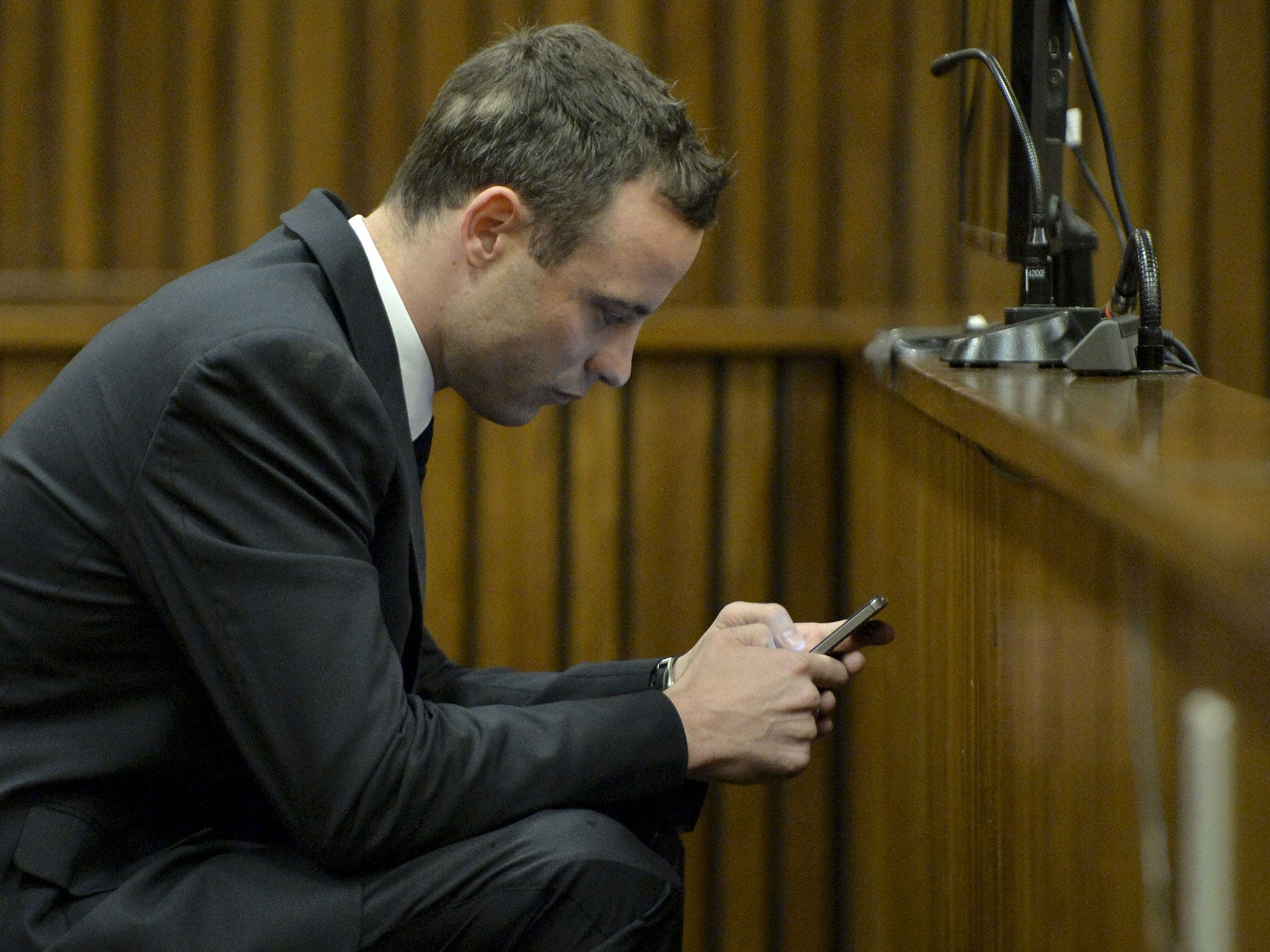 Oscar Pistorius has broken his social media silence with four bizarre tweets - the first since the anniversary of his girlfriend Reeva Steenkamp's death.
The former Paralympic athlete sent out the strange messages to his 354,000 followers on Sunday night (13 July) and Monday morning (14 July), including a collage of pictures of him posing with amputee children and another asking God to "bathe those who live in pain in the river of your healing".
At 17.00 on Sunday, Pistorius began his social media session with a passage from The Bible that read in capitals "THE LORD IS CLOSE TO THE BROKENHEARTED".
He later removed the post.
In pictures: Oscar Pistorius trial resumes
Show all 37
This was then quickly followed by a post that included an assortment of images picturing Pistorius with a young amputees around the message: "You have the ability to make a difference in someone's life."
Pistorius' final tweet on Sunday, included a picture of him pointing to a passage from the Austrian psychiatrist best-selling book Man's Search for Meaning, written by Victor Frankl when he was a prisoner at the Nazi concentration camp Auschwitz.
In the passage, Frankl talks about a man with "nothing left in this world" only being able to "achieve fulfilment[sic]" by "loving contemplation of the image he carries of his beloved."
However, Pistorius was back on Twitter on Monday morning with another pious post.
At 07.59, he tweeted: "Lord, today I ask that you bathe those who live in pain in the river of your healing. Amen."
The tweets are the first public posts from Pistorius since 14 February, when he posted a link to an open letter on his website outlining the "pain" and "sadness" he felt at Steenkamp's death.
Pistorius wrote: "No words can adequately capture my feelings about the devastating accident that has caused such heartache for everyone who truly loved - and continues to love Reeva.
"The loss of Reeva and the complete trauma of that day, I will carry with me for the rest of my life."
Pistorius is currently standing trial for the murder of Steenkamp, who was shot by Pistorius in the couple's home in Pretoria, South Africa.
Steenkamp was in the bathroom when she was shot three times by Pistorius.
Pistorius has pleaded not guilty, claiming he thought Steenkamp was an intruder.
The prosecution alleges that Pistorius shot through the out of anger, knowing it was Steenkamp, not an intruder, hiding inside the bathroom.
The closing arguments of the case will take place on 8 and 9 August at Pretoria High Court before the judge, Thokozile Masipa, considers her verdict, which could take up to a month.