Oscar Pistorius sentencing: Paralympian faces minimum of 15 years in jail for murder of Reeva Steenkamp
Athlete's manslaughter conviction was upgraded to murder on appeal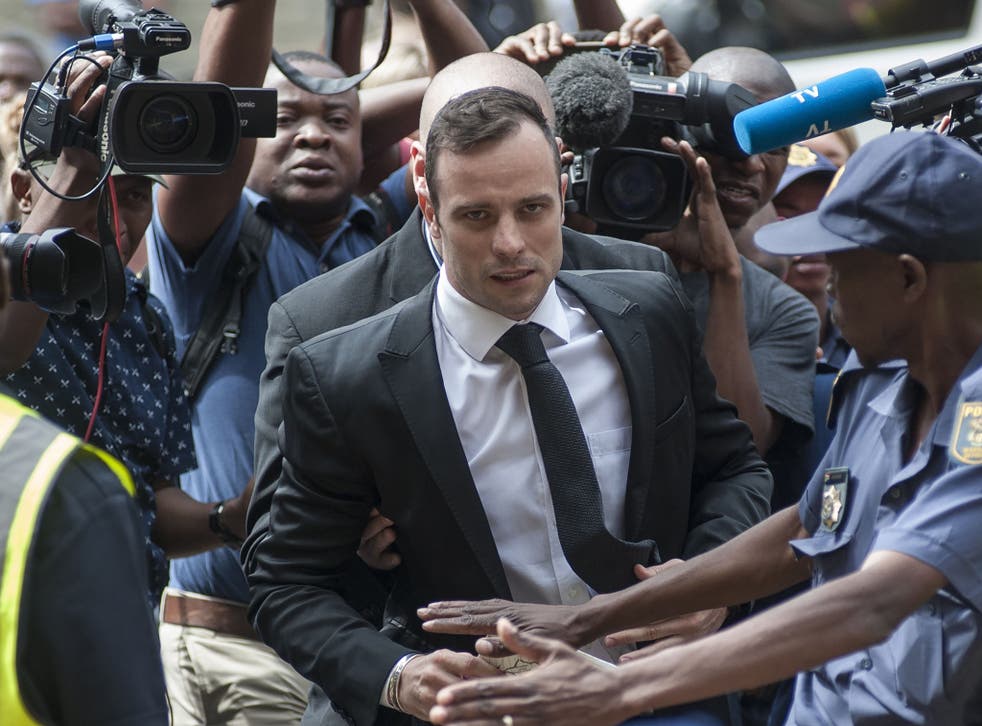 Oscar Pistorius is due to be sentenced for the 2013 Valentine's Day murder of his girlfriend Reeva Steenkamp - facing a minimum of 15 years in prison.
The Olympic and Paralympic athlete's previous sentence for culpable homicide, South Africa's equivalent of manslaughter, carried a five-year sentence, but the conviction was later upgraded to murder after an appeal heard by the Supreme Court.
Judge Thokozile Masipa, who presided over Pistorius's original 50-day trial in 2014, will begin hearing pre-sentencing arguments at Pretoria High Court on Monday, with Pistorius expected to learn the length of his jail term by the end of the week.
South Africa's legal system recommends a minimum of 15 years and a maximum of 20 years in jail "unless there are substantive and compelling" reasons for a reduced sentence.
The former paralympian's legal team is expected to call witnesses who ask for a lenient sentence due to the former athlete's mental fragility, physical disability, and good behaviour in jail since his manslaughter conviction.
The 29-year-old was released from a maximum security hospital cell last October after almost a year behind bars, before being released to continue his sentence under house arrest at his uncle's mansion in Pretoria.
He has been denied the right to appeal the murder conviction after the Supreme Court ruled that he had exhausted all his legal options.
In pictures: Oscar Pistorius trial evidence

Show all 10
Pistorius himself may be called to the witness stand to give evidence. However, an appearance is viewed as unlikely as it would expose him to potentially damaging cross-examination by prosecuting lawyers.
There is also the suggestion that Barry Steenkamp, Reeva's father, may also give evidence, after suffering poor health as a result of his daughter's death and the subsequent trial.
Pistorius denies deliberately killing model and law graduate Steenkamp, saying he mistook her for an intruder when he fired four shots through the locked door of a toilet in his house.
Join our new commenting forum
Join thought-provoking conversations, follow other Independent readers and see their replies