Oscar Pistorius gives first TV interview ahead of prison return for murder of Reeva Steenkamp
Former Paralympian to be sentenced for the murder of his girlfriend within days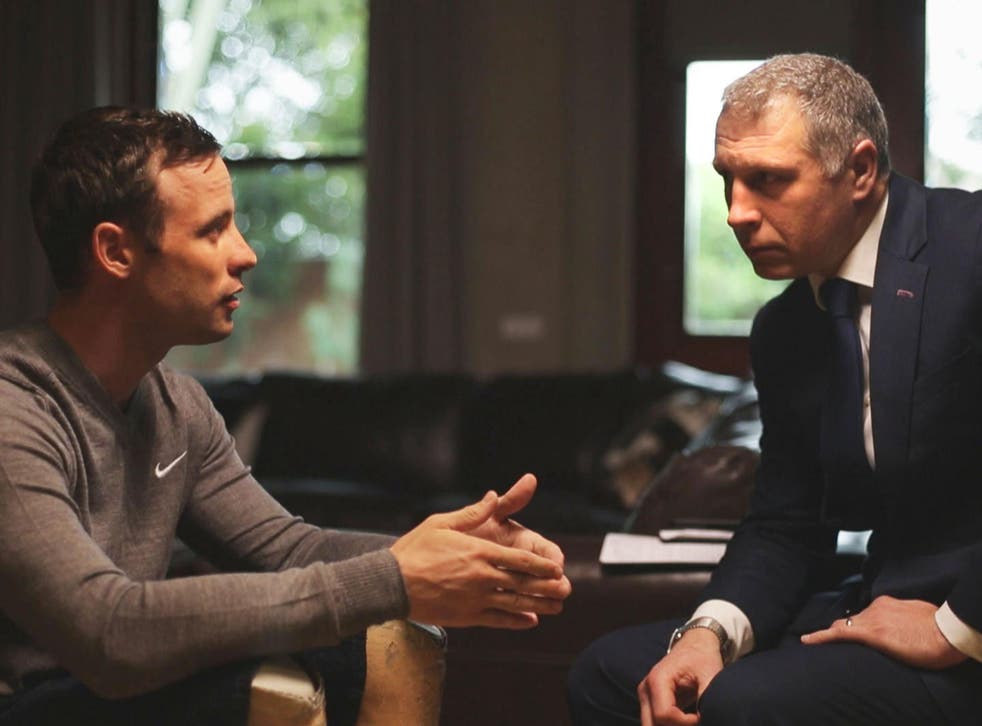 Oscar Pistorius has given his first TV interview after being convicted for the murder of his girlfriend Reeva Steenkamp on Valentine's Day in 2013.
The former Paralympic and Olympic athlete, whose sentencing hearing for the murder conviction will begin on Monday, spoke to journalist Mark Williams-Thomas in a special hour-long programme for ITV due to broadcast on 24 June.
Although there are few details about what he said during the pre-recorded interview, the channel says Pistorius will discuss preparing to return to jail after his original conviction of culpable homicide was upgraded to second-degree murder by South Africa's Supreme Court.
In a statement, ITV said: "In the documentary, Pistorius gives his account of what happened the night he killed his girlfriend and is questioned about key details of the prosecution case which resulted in his conviction.
"He also talks about his relationship with Reeva, the allegations of his previous abusive behaviour towards her and and his previous use of firearms."
The broadcaster said it had invited Ms Steenkamp's family to take part in the programme but that they declined.
The interview was recorded at Pistorius's uncle's home, where the former athlete is currently being held under house arrest until he faces his fresh sentencing hearing on 13 June.
Oscar Pistorius found guilty of murder by court of appeal
The verdict from the five-day hearing is expected on 17 June and Pistorius is facing a minimum of 15 years in prison.
Pistorius shot the model through the bathroom door of his home in Pretoria in the early hours of the morning of 14 February in 2013.
He admitted he had shot her but denied it was murder, saying he had mistaken her for an intruder.
His original conviction for culpable homicide in 2014, on the grounds it could not be proven that he had intended to kill Ms Steenkamp, and his subsequent sentence of five years in prison drew outrage around the world.
In pictures: Oscar Pistorius trial evidence

Show all 10
Fresh controversy was ignited in October 2015 when it was revealed Pistorius was due to be released after serving just 10 months of his five-year sentence before being released under house arrest to his uncle's home once more.
His release coincided with South Africa's "Women's Month", highlighting the prevalence of violence against women and domestic abuse in the country.
But after his release, the South African Supreme Court upgraded Pistorius's conviction to murder because, given he knew someone was behind the door, he should have realised firing shots into the room was likely to kill whomever was inside.
Join our new commenting forum
Join thought-provoking conversations, follow other Independent readers and see their replies