Pandora: No smoke without Ferrero Rocher
Oliver Duff
Monday 04 February 2008 01:00 Comments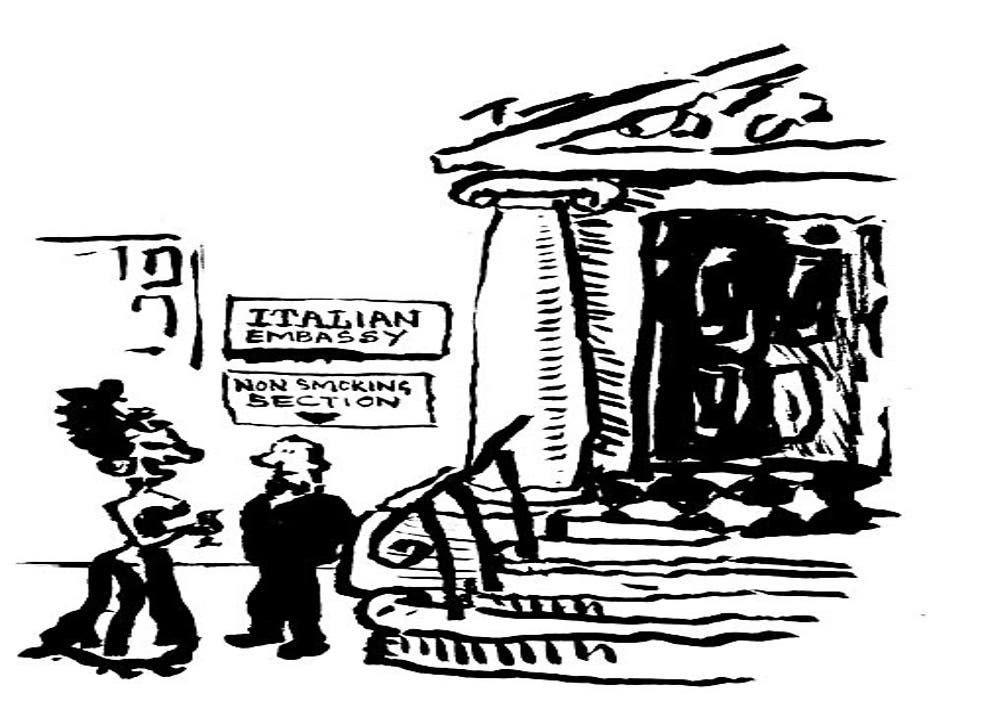 Mamma mia! Smokers peeved at having to huddle together in the wind and rain may be interested to know there are places you can still smoke indoors: the foreign embassies in our capital. The Italian Embassy leads the way, with the sharply-dressed hero in this story His Excellency Giancarlo Aragona, the ambassador who won 2004's "Salami War" with Ken Livingstone over Tube adverts asking commuters to stop eating smelly Italian food.
At a recent book launch – for Alain Elkann's Envy, about a portrait-painting seductionist not dissimilar to Lucian Freud – literary figures choked on their Ferrero Rocher as fellow guests nonchalantly sparked up and cigarette smoke filled the splendid, tapestry-lined Mayfair residence. Embassies count as foreign soil and are exempt from the ban.
Marr backs 'rude' Bevins''Rat Up a Pipe' award
Her Majesty's Press Corps can be cynical about the motivations and behaviour of our elected representatives. Sometimes unfair, yes, but a default position that checks the excesses of a minority of politicians.
Veteran parliamentarians and journalists have joined to institute a new award for "causing trouble", in memory of Anthony Bevins, the fabled political reporter and Buddy Holly lookalike, once of this parish.
"It is a beautifully hand-made rat going up a drainpipe, heavy solid bronze," says the BBC's Andrew Marr, one of those behind the gong.
"Tony was the rudest, most difficult, relentless, energetic reporter I have come across," he adds. "He had a constant string of great scoops offensive to the establishment of the day, among them the secret talks between the Government and the IRA. He was inspirational."
In 1986, Bevins asked Marr to join The Independent's launch staff. Marr recalls: "Sage colleagues said, 'Don't go anywhere near Bevins, he's an absolute madman.' The best decision I ever made was to ignore them."
Marr, the Labour troublemaker Bob Marshall-Andrews MP, Lib Dem peer Lord Razzall, Brian Sedgemore and Bevins's children thrashed out details over dinner. The judges will be announced come summer, with the inaugural prize awarded this autumn.
One reporter likely to be considered is Andrew Gilligan, for his ongoing investigations into the conduct of the London Mayor, Ken Livingstone. The award will be open to all thorny journalists, local and national.
Star support for hip young New York painter
Against a background of rumour about financial apocalypse, Michael Jackson appears to be dabbling in the art market.
The moonwalking musician, cleared of child molesting, seeks a collaboration with the young New York painter Kehinde Wiley, acclaimed for his subversive portraits of urban black men – from Harlem and LA South Central to Africa and China – in classic Renaissance scenes.
Wiley's celebrity following includes Denzel Washington and Sir Elton John, who in December bought his £120,000 Dead Soldier painting.
"Michael Jackson is calling me," Wiley tells The Art Newspaper. "We're discussing exactly what it will involve. He saw my work at the Brooklyn Museum and was taken with it, so he had his people contact me.
"I thought it was a joke at first, so I ignored it for the longest time. Then he contacted a friend of mine who's an actor, so I knew it was for real."
Neve the baby sitter
Neve Campbell is looking broody. The Canadian, 34, whose Hollywood break came in the Scream spoof horror flicks, has been cooing over girlfriends' babies in her Islington local.
"She did a lot of baby cuddling and was nattering away with the two little ones," says a lager lout on the next table. "Her eyes were big as saucers. She only stopped to eat a massive rib of beef and sticky toffee pudding." (Served separately.) Something for her husband, the Royal Shakespeare Company's John Light, to chew on.
Sitting across the Albion boozer was fellow trouper Jonny Lee Miller, who seemed to enjoy the faggots in gravy. In September the pub saw a cracking catfight between Kate Moss and Sienna Miller over the rights to scarecrow actor Rhys Ifans. Said Miller: "I stood up for myself and she was shocked."
Pole dance
The new Secretary of State for Culture, Media and Sport, Andy Burnham – whose passion for his brief is proved by his pitch invasion, aged 14, during a 1984 FA Cup semi-final – has packed his plimsolls, ready to be put through his paces by the Ukrainian pole-vaulting legend Sergei Bubka.
Burnham flies (self-funded) to Kiev in seven days to invite Ukraine's 2012 Olympians to hold their training camp in his Leigh constituency. "I'm told we'll be pitching to Bubka," he tells Pandora. "I can't wait."
Unexpectedly, the Lancashire town had a Ukrainian language society until recently. "Lots of people in Leigh have Ukrainian connections," explains Burnham. "When Stalin chased so many people out, about 100 families came to Leigh because of the mining. We would like to build on those cultural and social links."
Register for free to continue reading
Registration is a free and easy way to support our truly independent journalism
By registering, you will also enjoy limited access to Premium articles, exclusive newsletters, commenting, and virtual events with our leading journalists
Already have an account? sign in
Join our new commenting forum
Join thought-provoking conversations, follow other Independent readers and see their replies