Pandora: Silvio and Tessa's reunion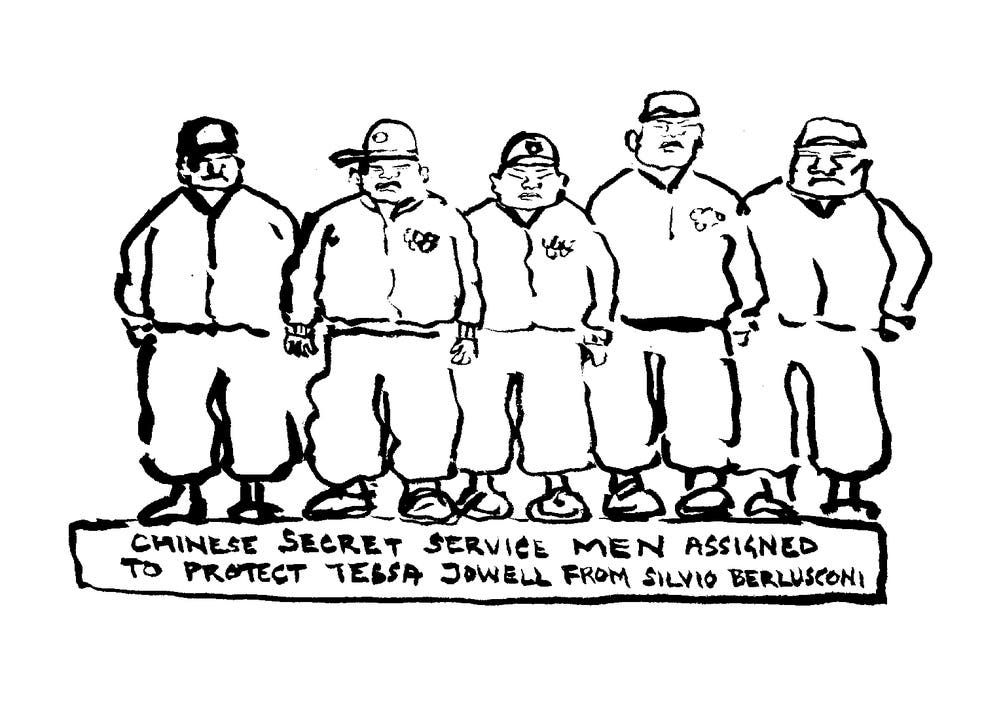 The return to Italian politics of the billionaire media tycoon, Silvio Berlusconi, provides many banana skins for our Olympics minister, Tessa Jowell. In August, she will appear in place of Gordon Brown at the opening of the Beijing Games. Jowell could find herself in awkward photos beside the Italian premier, who faces corruption charges for allegedly bribing her estranged husband, the corporate lawyer David Mills (Jowell, remember, saved her job by separating from Mills). If convicted, both men could face jail.
The Italian embassy says no decision has been made on Berlusconi's attendance, but knowing Il Cavaliere's passions for sport and global hob-nobbing, one ought not to bet against it.
How a Post-it note spelt the end for 'General' Jasper
It is a breach of IT security so severe that it may yet destroy one of the pre-eminent politicians of the last three decades, Ken Livingstone.
The London mayor has stood by his senior adviser, Lee Jasper, despite a flood of leaked Jasper emails which sparked terrible publicity and even police investigations into companies run by Jasper's associates that received public funding from the Greater London Authority.
Embarrassing for Jasper were the steamy messages he sent to married mother-of-three Karen Chouhan before her group, the 1990 Trust, got a grant. Signing himself "General Jasper", he told of his desire to "wisk [sic] you away to a deserted island beach, honey glase [sic] you, let you cook slowly before a torrid embrace."
Bigwigs at City Hall, paranoid about the leak that led to Jasper's messages reaching the journalist Andrew Gilligan, held an inquiry to find the culprit. The police would have been called had illegal hacking activity been unearthed. The inquiry was short. It soon established that Jasper kept his email log-in password on a Post-it note near his computer, so a temp could check his mail.
Livingstone's biographer, Andrew Hosken, adds that someone (presumably a City Hall worker) went to the eighth floor where Ken and his advisers sit, logged in as Lee Jasper and printed the emails.
Ken would not fall in to that trap: he never sends emails and often refuses to let meetings to be minuted. Both the GLA and Jasper declined to comment.
Calling all Hobbits: a show for Bilbo?
The singing Orcs can explode in joyous chorus: the producer of the troubled Lord of the Rings super-musical says he would like to stage a sequel based on The Hobbit.
"I would love to," Kevin Wallace tells Pandora. "The stage rights to The Hobbit are controlled by the [Saul] Zaentz company, my co-producers. I'd certainly like to raise the question. A first-class production of The Hobbit would be very interesting indeed."
The priority is to recoup the £12m invested in the ambitious spectacle at London's Theatre Royal, which finishes in July. The show has split critics but won awards. Wallace's talks to take the production to Cologne continue.
"There is a fund interested in financing the production," he explains. "The authorities are going to construct a semi-permanent building specifically to hold productions of the Lord of the Rings. We are trying to get them to write formally to confirm the site. We hope for such a confirmation by July, with the play opening in November or December 2009."
Is this Brand management?
Disappointment for the Labour MP for Bridgend Madeleine Moon, who – as reported here – wrote to coil-haired comic Russell Brand asking if he might visit teenagers in her constituency, where there has been a spate of suicides, to boost their esteem and describe his own problems.
After seven weeks, Brand's manager, Nik Linnen, has responded. In an email to the agent working with Moon, Richard Hillgrove, Linnen apologises for the delay, saying: "I have been in LA with Russell concentrating on his career and haven't always been in contact with the UK office."
He adds: "Apart from a quick in and out to do the Jonathan Ross show, Russell will be overseas for at least the next six months. Therefore he will not be able to commit.
"Russell works with a number of charities... It is never easy turning down requests but, when you receive so many, unfortunately it is inevitable." Priorities!
Peace meal
The offer by Gordon Brown's spokesman for Britain to host peace talks on the Darfur conflict was timely, coinciding as it did with Sunday's Global Day For Darfur protests.
Let no cynic accuse Downing Street of opportunism, even if the announcement did come as a surprise to officials at the Foreign Office, whose diplomats were, according to the No 10 briefing, already organising the summit. (One paper reported: "British officials have been in contact with the Khartoum regime and rebel groups.")
Brown himself never mentioned a conference in his official statement, and the Foreign Office seems more than a little cautious about the matter.
"It is premature to speculate on the detail," says an FCO spokesman. "It is in the very, very early stages of discussion."
Register for free to continue reading
Registration is a free and easy way to support our truly independent journalism
By registering, you will also enjoy limited access to Premium articles, exclusive newsletters, commenting, and virtual events with our leading journalists
Already have an account? sign in
Register for free to continue reading
Registration is a free and easy way to support our truly independent journalism
By registering, you will also enjoy limited access to Premium articles, exclusive newsletters, commenting, and virtual events with our leading journalists
Already have an account? sign in
Join our new commenting forum
Join thought-provoking conversations, follow other Independent readers and see their replies