Pandora: Walk the plank, ye scurvy dog!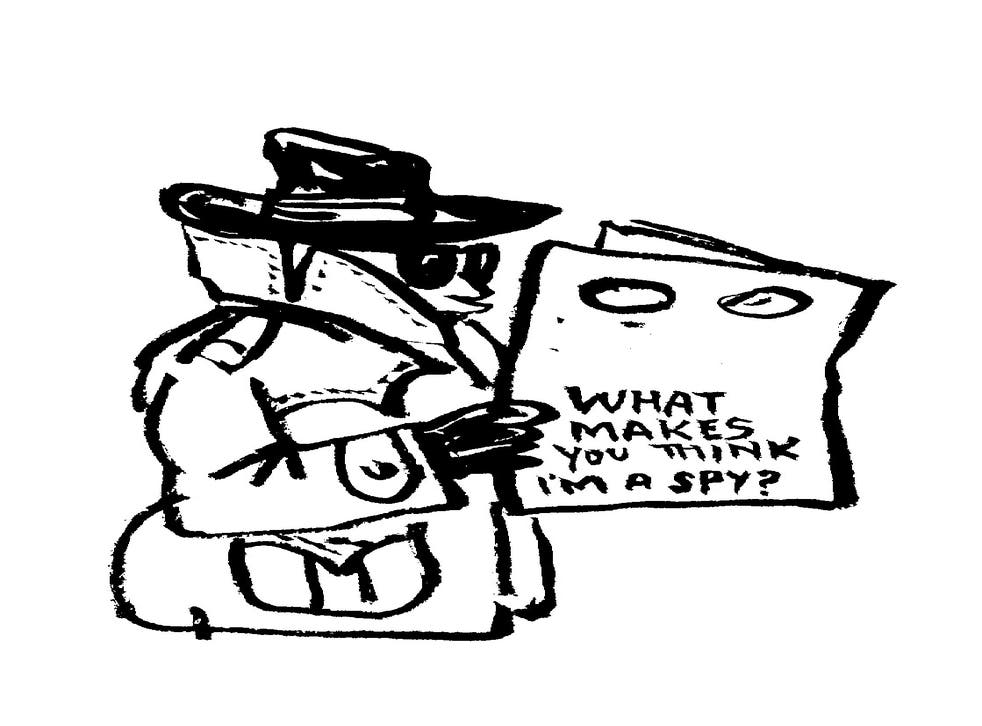 An early frontrunner for twit of the year: check your scorecards, please, for Toby Kendall, recent graduate in Chinese from Oxford. The 24-year-old, who works for the counter-intelligence company C2i International, has been caught in a laughably-bungled attempt to infiltrate the anti-aviation action group Plane Stupid. His errors included: choosing an obviously fake pseudonym ("Ken Tobias"), having a weak background story (I recently returned from China), and wearing Armani jeans with his Palestinian scarf. Swampy he ain't. Who paid him?
The British Airports Authority admits having contact with C2i International, but says it declined the company's "unsolicited" sales pitch.
Pandora learns that Kendall, dressed as a Jolly Roger-waving pirate, also tried to infiltrate Hands Off Iraqi Oil, which targets Shell and BP. His boss at C2i, Justin King, will not return calls. King told the BBC in 2004 that many organisations face espionage: "These people are easy to find... I'm told the going rate to get a cleaner to steal something is £20."
Flintoff struggles to build on sticky Cheshire wicket
The cricketer Andrew Flintoff has been stumped in his designs to develop a huge new home down a leafy Cheshire lane.
The England all-rounder has had to withdraw his planning application for a five-floor mansion (two of them an uber-basement) in the face of curtain-twitching opposition.
"Freddie" and his wife Rachael bought the property in Mottram St Andrew last year for a reported £1.85m from the Blackburn Rovers football manager Mark Hughes. Permission was won for a two-storey abode; the existing building bulldozed; and muddy foundations prepared. However, Flintoff developed more laddish plans, and submitted a new application seeking to build a much bigger house with two swimming pools, a snooker room, a sauna, a gym, a cinema, a "plant room" and a bar. Presumably he could float around the 41ft by 19ft pool on his pedalo while teammates topped up his pina colada. (He was sacked from the national vice-captaincy at the 2007 World Cup. He needed rescuing from a pedalling session on the Caribbean waves after too long at the hooch.)
The proposed height of the revised country pile became a problem. Says Macclesfield Borough Council: "We felt the roof was too high. The planners thought the plans unacceptable."
Long-time Cheshire residents tire of the Dubai-esque construction of sportsmen and their wives. Others to have levelled and rebuilt bigger include Hughes, Wayne Rooney, Ryan Giggs and Roy Keane.
Broadway Plows ahead without Spacey and Goldblum
Kevin Spacey and Jeff "The Fly" Goldblum are enjoying huge success at the Old Vic,starring in the David Mamet-penned satire, Speed-the-Plow.
Any attempt to transfer the play to Broadway, as Spacey did with A Moon for the Misbegotten, would be cut off in a manner worthy of its ruthless plot, however. For already a version of Speed-the-Plow, by the show's producer, Jeffrey Richards, is pencilled in for New York in November. Richards acquired the rights from Mamet to produce the play on Broadway long before Spacey obtained them for the London run. "There is a production due on Broadway, but it's separate from us," says a spokeswoman for the Old Vic. "They got the rights in the US, we got them for the UK. That's all we know."
Maggi won't play the Dame
Warning to the Prime Minister and his Downing Street assistants: if you seek a doyenne of the arts scene to add to the Queen's birthday honours, best avoid Maggi Hambling.
The homosexual (don't say "lesbian"!) 62-year-old painter-sculptor, awarded an OBE in 1995, has publicly denounced the Labour Government's ban on smoking, despite giving up the weed herself.
Talking to fellow guests during a reception at The Dorchester, she suddenly blurted out to Pandora: "You know, I won't let them give me anything. I've always said this."
She added: "Before I become Dame Maggi Hambling, I want to be Sir Maggi Hambling. I mean why not?"
Wonder bra
A shameless but nevertheless welcome plug from Ann Summers. The purveyor of frillies and dildos has persuaded former Big Brother winner Kate Lawler – who once allowed herself to be strapped into an electric chair and zapped for a television science show – to run this Sunday's London marathon sporting just a bra and knickers. It's in aid of the Cystic Fibrosis Trust. Keep up at the back, fellas!
The set has been crafted from "satin and mesh" to reduce chaffing. Let's hope Lawler fares better than reality telly goon Jade Goody. Running the race two years ago on a training diet of curries, Goody collapsed on the Isle of Dogs gasping: "I'm dying".
Register for free to continue reading
Registration is a free and easy way to support our truly independent journalism
By registering, you will also enjoy limited access to Premium articles, exclusive newsletters, commenting, and virtual events with our leading journalists
Already have an account? sign in
Register for free to continue reading
Registration is a free and easy way to support our truly independent journalism
By registering, you will also enjoy limited access to Premium articles, exclusive newsletters, commenting, and virtual events with our leading journalists
Already have an account? sign in
Join our new commenting forum
Join thought-provoking conversations, follow other Independent readers and see their replies