Paralympics 2016: The Syrian refugee who lost a leg rushing to his friend's aid after a bomb blast
Al-Hussein woke up twice during the operation to remove his leg after being injured in a rocket bomb attack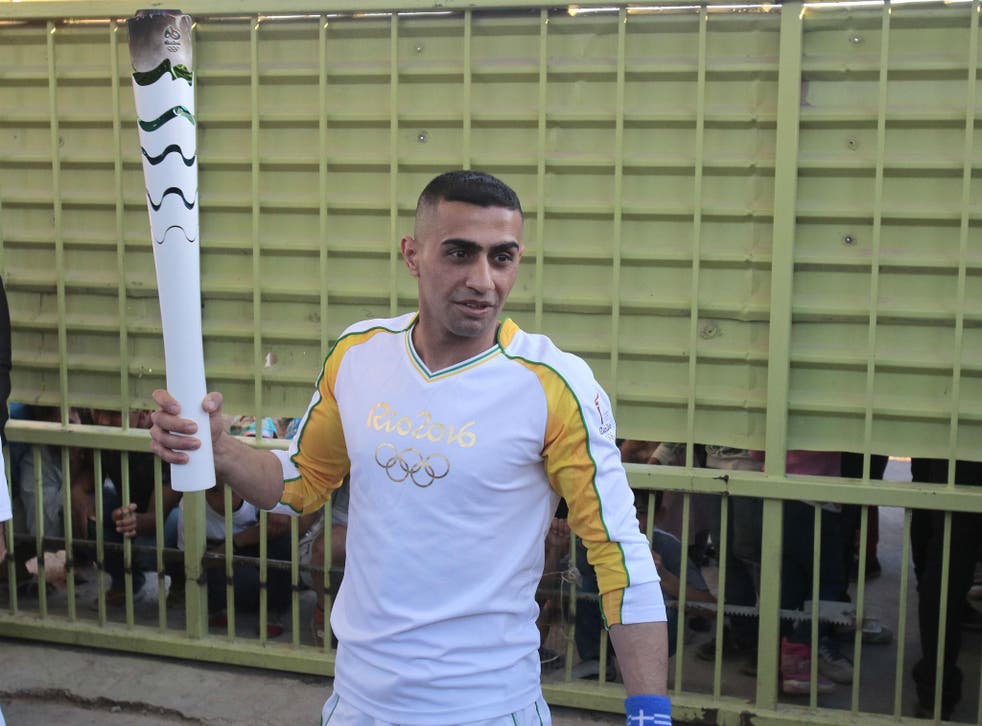 A Syrian refugee who lost his leg in a rocket bomb explosion while rushing to the aid of his friend has been announced as a Paralympic athlete.
On Friday Ibrahim Al Hussein was named as one-half of the Independent Paralympics Athletes Team which is representing refugees and asylum seekers at the Rio Games due to start on 7 September
He is joined by Shahrad Nasajpour, from Iran, who now lives in the US and will take part in the discuss.
The inclusion of refugees in the Paralympic and Olympic teams has served to remind a global audience of the plight of those trapped in war-torn countries and those left with no other choice but to risk their lives in order to try and escape persecution.
Yusra Mardini attracted widespread recognition when competing in Rio after it emerged she once swam for three hours to save the lives of 20 people when the motor on the dinghy she was crossing the Med in failed.
The Olympic Refugee Team

Show all 10
Like Mardini and Rami Anis, Al Hussein will represent the refugee team in swimming events taking on the men's 50m and 100m as a leg amputee.
Syria
Al Hussein grew up in Deir ez-Zor on the Iraqi border and was always athletic swimming, playing basketball and practising judo hoping to one day become an Olympic swimmer. His father was a swim coach and he and his 13 siblings grew to love the water, reports the UNHCR.
In 2012, a year after the civil war broke out in his country, a bomb went off close to his home.
The 27-year-old had taken shelter from the blast inside his house but was soon alerted to his injured friend calling for help. As he ran out of the building and across the street to try and help his friend he too was hit by a rocket, injuring his leg.
He managed to crawl away from the scene and was rescued by some of his friends. However, the damage to his leg was too severe and doctors had to amputate the limb from the mid-calf down.
Amputation
Medical facilities in the war-torn country were by this point so stretched medics were unable to anaesthetize him properly and the swimmer says he "woke up twice during surgery and saw everything".
Al Hussein was sent home the same day after having the bottom half of his leg removed. Due to the increasingly sparse supplies of medicine available in the country, he spent the next few months recovering on essentially no pain relief.
"At first I didn't accept it, but finally I came to terms with it," he said of his amputation. "I lived like there's nothing wrong and I'm still doing that."
Fleeing Syria
Al Hussein left Syria and first travelled to Turkey before reaching the Greek island of Samos, travelling on a rubber dinghy, to seek further treatment for his leg.
After being granted asylum in the country two years ago, Al Hussein settled in Athens and began to rebuild his life. He got accustomed with using a wheelchair and crutches before getting a prosthetic leg fitted. He also went back into sport by joining a league for disabled athletes.
"The external pain makes me want to perform, it gives me energy," he told the Paralympic committee. "Sport is an outlet for that energy. I have no problem not eating or not having a home, but you can't take away my training."
Al Hussein has lost contact with his family back in Syria. He says he chooses not to think of the past for fear of it slowing down his progress.
"My eyes only look forward," he told the UN agency for refugees. "I can't think of the past. If I remember all those things behind me, it will slow me down."
Torch
He was chosen to carry the Olympic torch for Greece in the run-up to Rio. After it was first lit in Olympus, Greece, Al-Hussein carried it through the Elaionas camp which houses 1500 refugees in Athens, something he called a "great honour".
"I am carrying the flame for myself, but also for Syrians, for refugees everywhere, for Greece, for sports, for my swimming and basketball teams," he said at the time. "My goal is to never give up. But to go on, to always go forward. And that I can achieve through sports."
Join our new commenting forum
Join thought-provoking conversations, follow other Independent readers and see their replies