Jesse Hughes 'wasn't kept away from the Bataclan' for Paris attack anniversary event, manager insists
Row comes as Paris marks the first anniversary of the terror attack, which killed 130 people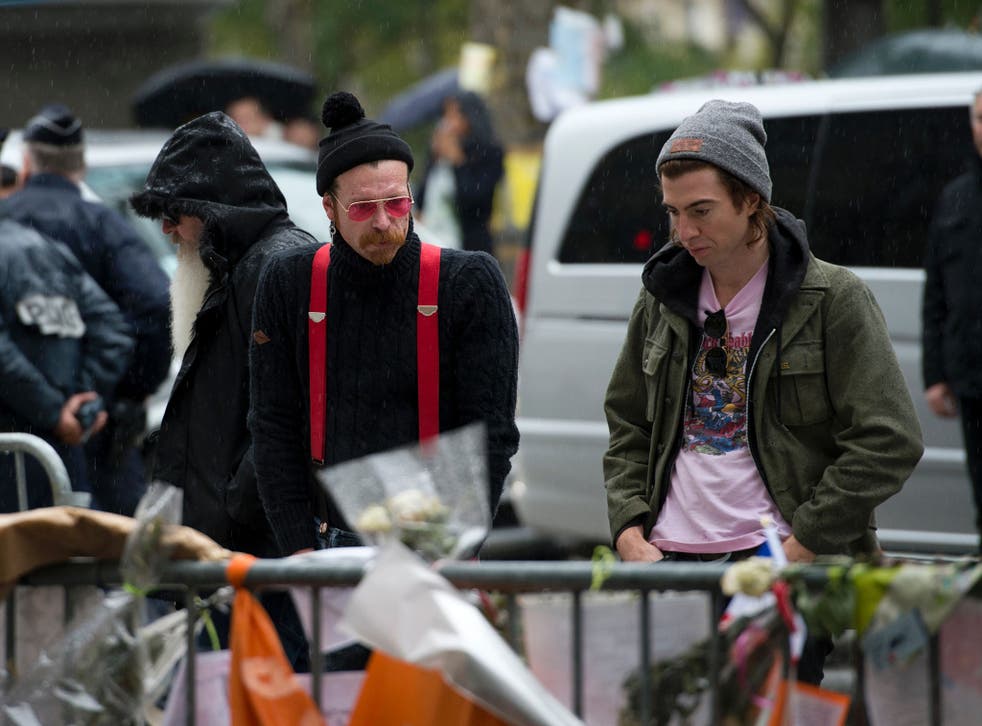 The Eagles of Death Metal were not banned from the Bataclan on the eve of the Paris attacks anniversary, their manager insists.
Reports emerged on Saturday that two members of the heavy metal group, including frontman Jesse Hughes, were barred from the venue's reopening concert over comments made in the aftermath of the string of terror attacks, which killed 130 people last year.
However, the band's manager, Marc Pollack, denounced the co-manager of the venue, Jules Frutos, as a "coward" and claimed they were nowhere near the Bataclan at the time the alleged incident occured.
89 people were killed at the Bataclan Theatre on 13 November after gunmen opened fire during a concert by the US band.
Hughes provoked controversy by suggesting security guards at the venue may have been complicit in the attack as they did not turn up for work on the night of the attack.
He also claimed he had seen "Muslims celebrating in the street during the attack" in an interview with Taki's Magazine.
Mr Frutos is alleged to have said that "they came" but he "threw them out" because "there are things you can't forgive".
He said: "He makes these incredibly false declarations every two months.
Eagles of Death Metal's visit to the Bataclan

Show all 10
"It is madness, accusing our security of being complicit with the terrorists. Enough. Zero. This has to stop," Mr Frutos added.
But Mr Pollack has denied the incident ever took place as Eagles of Death Metal were nowhere near the venue on Saturday.
He told Billboard that Hughes had "never even tried entering the club for Sting's show".
He added: "This day is not about Jesse Hughes or Eagles of Death Metal.
"In fact, Jesse is in Paris to share in remembering the tragic events of a year ago with his friends, family and fans.
"This is about recalling the tragic loss of life that happened right in front of his eyes during his show, and this coward Jules Frutos feels the need to soil his own club's reopening by spreading false tales to the press, and tainting a wonderful opportunity that could've been used to spread peace and love."
Last night, Sting performed the first gig at the 150-year-old venue since the attacks, paying tribute to those who died and calling for a minute's silence in their honour.
Join our new commenting forum
Join thought-provoking conversations, follow other Independent readers and see their replies