Paris attacks survivor writes letter to Eagles of Death metal frontman Jesse Hughes over 'hateful' Bataclan claims
Hughes claimed he saw 'Muslims celebrating in the street during the attack' and made allegations of a Bataclan conspiracy
Lizzie Dearden
Wednesday 25 May 2016 09:08 Comments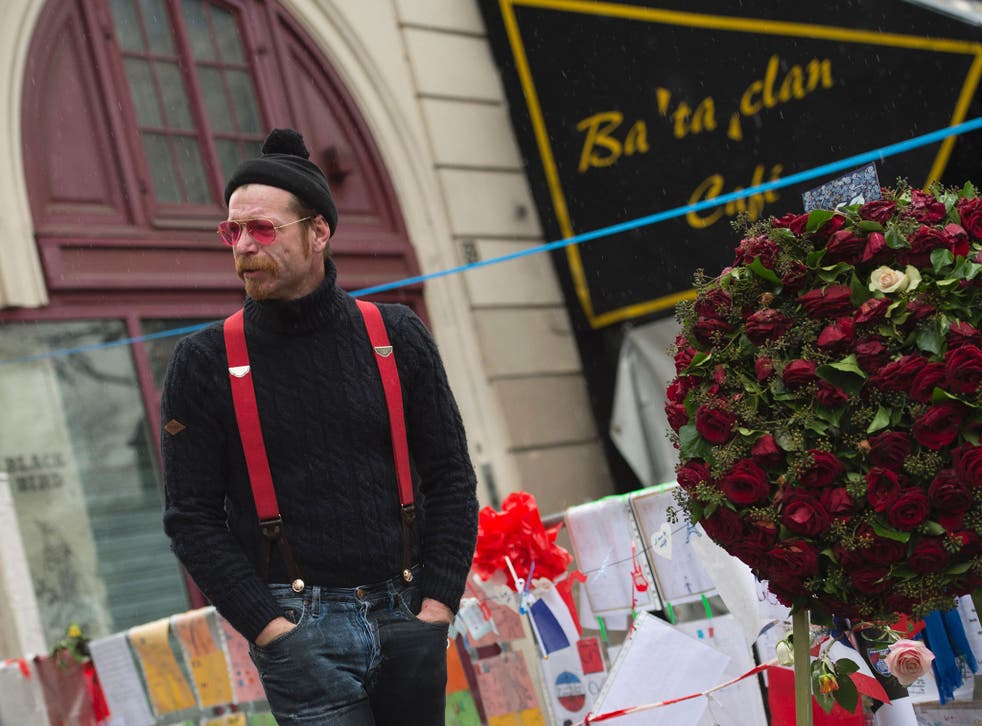 A man who survived the Bataclan massacre during the Paris attacks has written an emotional open letter to the lead singer of Eagles of Death Metal condemning his "stupid and hateful" claims of a Muslim conspiracy.
Ismael El Iraki was among 1,500 fans watching the rock band's performance on 13 November last year when three Isis militants burst in and opened fire, killing 90 people in the ensuing hostage crisis and suicide bombings.
In an open letter, he spoke of his love for Eagles of Death Metal but said his "heart was bleeding" after reading an interview with Jesse Hughes where the frontman claimed the attackers had help from inside that venue and that he saw Muslims "celebrating in the street during the attack".
"I love your music, your concerts mostly (such fun, wild shows) and man, I never thought that you would become one of those spreaders of fear," Mr El Iraki wrote on Facebook.
"You now proved your stupidity to be f***ing dangerous. Your comments reopened a nasty wound.
"So you say the security crew was in on it and was warning every Arab they saw…I happen to be an Arab and to look very much like one. I got a big black curly beard and the skin tone to match it.
"I live and breathe rock 'n' roll, and I could not look more Muslim if I tried. But apparently, the big bad Muslim conspiracy missed me. Damn, they forgot to warn me.
"They also forgot to warn Djamila, and all the other Arabs who got shot and killed that very night.
"They forgot to warn my fellow Moroccan Amin, who was shot that very night.
"Apparently, a few weeks later, the also forgot to warn Leila, another fellow Morrocan, who got killed in the Ouagadougou attack."
Eagles of Death metal's Jesse Hughes says 'till nobody has guns everyone has to have them'
"Silly international Muslim conspiracy. They really cannot do any job well."
In an interview with the right-wing Taki magazine earlier this month, Hughes claimed Bataclan members of staff stared at him with "Arab envy" and that "terrorists were already inside" the venue when the shooting started.
"I saw Muslims celebrating in the street during the attack," he said. "I saw it with my own eyes. In real time! How did they know what was going on? There must have been coordination."
It was the second time Hughes has claimed Bataclan staff were complicit, although the outrage over his initial allegations sparked an apology where he said his "absurd" accusations were a result of trauma.
His latest allegations have provoked fresh condemnation, causing two French festivals to cancel appearances by Eagles of Death Metal.
The Bataclan has strongly disputed his assertions, saying the concert hall's security staff saved hundreds of lives.
The world mourns Paris attacks - in pictures

Show all 25
Mr El Iraki said he would not "dignify" Hughes by recounting his own actions during the massacre, adding that the people he helped "did not care that I was an Arab, nor did I care which origin they were or which imaginary friend they bow to. We all bleed red".
He paid tribute to a security guard known as Didi – a Muslim of North African origin - who has become known for his heroism throughout France.
"What pains me most is that you do not even realise that a huge number of us who managed to get out alive of this horrible ordeal owe our lives to a Muslim guy," Mr El Iraki wrote to Hughes.
"His name is Didi and he opened the left front door most of us got out of. This guy did something that neither you, me, or anyone else I ever met would ever have done."
He described Didi re-entering the Bataclan to save more people, risking his life to open the upstairs exit and save as many lives as we could.
"He was a f***ing hero," Mr El Iraki wrote. "An unarmed, red-blooded, real-life f***ing hero that you just insulted with your hateful comments.
"You, who are not a hero. You who are, just like me, just a regular guy who happened to be caught in an awful situation and did whatever he could to get out of it and try to help some people around him. So no, your comments are not ok. How is insulting heroes ok?"
A petition calling for Didi to be awarded French citizenship and the Legion of Honour has received more than 100,000 signatures since it was started in January.
The 35-year-old, who did not want to give his surname for fear of reprisals, initially shunned the limelight but came forward after scores of people he saved sought him out.
"I told myself, I've got to quickly get as many people out of there as possible because these terrorists have come to kill as many people as they can," he recalled in an interview with NPR.
"Nobody understands why they did what they did."
Mr El Iraki, a film director and screenwriter refuted Hughes' claims that "Islam is the problem", condemning bigotry and the refusal to recognise people as "complex human beings" beyond their ethnicity, race or religion.
"Don't imagine that you are facing that awful fundamentalist deathwave alone," he added.
"Because this is the world we live in now, and we're all in this s**t together. Muslims and Arabs are caught up in it with you, they face dying a random, stupid death like you."
He ended with a plea for Hughes to bring back the "real spirit of rock 'n ' roll", adding: "Try to spread the love.
"The real love, the kind that sees right through people's beards and skin colors and religious s**t and garments, the kind that can unite not only a concert crowd but hopefully a nation, a whole world.
"I hope you can realise how wrong that s**t you spread is, hope you can see all the wrong that you are doing."
Register for free to continue reading
Registration is a free and easy way to support our truly independent journalism
By registering, you will also enjoy limited access to Premium articles, exclusive newsletters, commenting, and virtual events with our leading journalists
Already have an account? sign in
Join our new commenting forum
Join thought-provoking conversations, follow other Independent readers and see their replies