Paul Powlesland: Lawyer who publicly challenged China on human rights during state visit says 'it's been a weird week'
'And it all starts again tomorrow'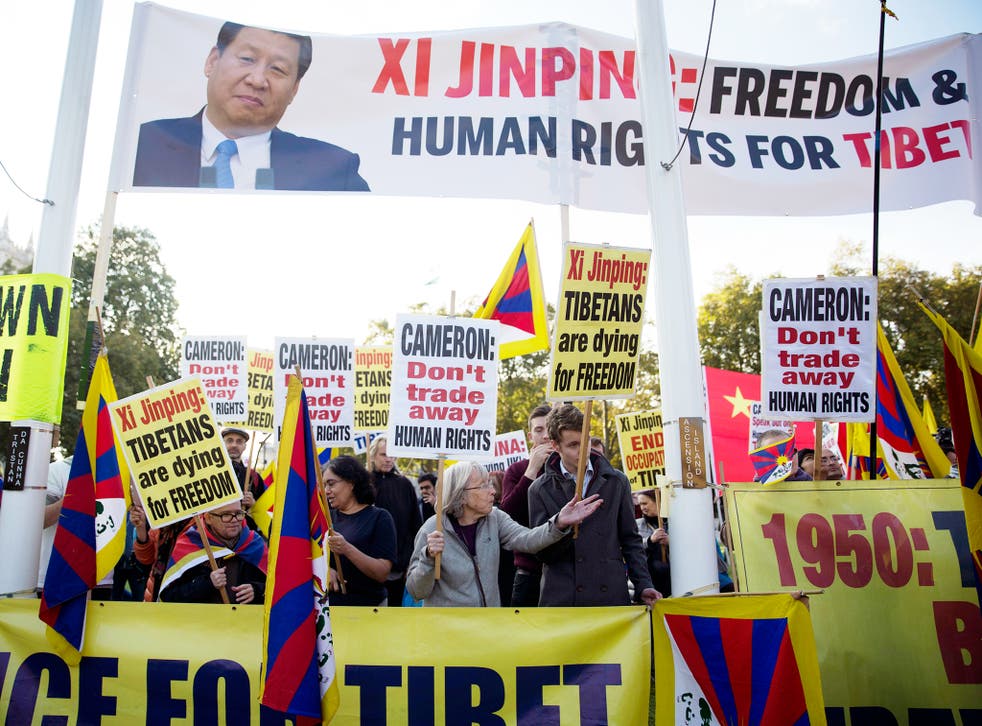 The British government may have been unwilling to publicly challenge the Chinese on human rights during last week's state visit of leader Xi Jinping, which saw billions of pounds in trade deals signed with the communist nation.
But lawyer Paul Powlesland was happy to – and a video of him arguing with pro-Chinese demonstrators near the Guildhall on 21 October has since gone viral on the internet, being viewed more than 800,000 times in four days.
"It's been such a weird week. And it all starts again tomorrow," he said, pulling on his barrister's waistcoat and crisp white shirt.
We are sitting on his houseboat in Clapton, east London, while he tells me about his passionate two-minute speech.
Cycling back from a court case, Mr Powlesland had already talked to one set of Chinese people welcoming the president at Bishopgate.
At Guildhall, he asked a crowd of Chinese students "a really simple question...you're here using your right of freedom of speech, do you think that right should be extended to people in Tibet and Beijing?"
Most of them didn't really want to talk, he says, refusing to tell him where they had got their banners from. One asked him about the UK and Scotland – "which is really a stupid analogy" – prompting him to ask her whether China would give Tibetans the vote
While acknowledging the right of President Xi supporters to demonstrate, he said he was delighted the video drew attention to the fact the protest was "astroturfed".
Alistair Currie of the Free Tibet campaign was filming and asked if he could post the video on Facebook; Mr Powlesland thought nothing of it. The clip quickly became the campaign's most widely shared video. Mr Powlesland has had hundreds of replies to a comment he posted and hundreds of Facebook friend requests from Tibet. There have been lots of responses from Hong Kong democracy activists and, increasingly, critical voices, too. He's resisted the temptation of "going down the rabbit hole" of replying to them.
In the video he said he was "frankly disgusted" at the welcome received by President Xi – "one of the greatest abusers of human rights in the world". "It did disgust me," he said, "the way all the machinery of the British state are willing to not mention the plight of people in Tibet, and also Chinese people oppressed by their government, in return for – they phrase it as investment, but you know, money."
He added: "It's unarguable there are greater rights to freedom of expression here but I am very much a critic of how freedom to demonstrate is being curtailed".
The raiding of the home of Tiananmen Square survivor Shao Jiang, revealed by The Independent last week, highlighted the UK's far from unblemished human rights record, he suggested.
He has not previously been involved in the Tibetan cause. "I'm in favour of freedom and human rights around the world. I'd be equally critical of a group welcoming the King of Saudi Arabia or any of the other evil regimes Britain supports for money." He now hopes to use his platform to give publicity to the Free Tibet campaign.
Aside from frustrating assumptions that "I'm posh, I'm a Tory" he thinks the fact he was dressed for work was an asset, since he didn't look like "someone who would normally be critical of the British government". The bike also caught people's imagination. In Hong Kong he's been given the nickname "Cool bike boy". And he said a lot of the feedback was because he was "civil, not abusive". "If more people engaged politicians and demonstrators that way, it would improve things," he said.
He is engaged on a range of issues – "cycle campaigning, drug law reform" - although says he isn't a diehard activist. "My left-wing politics stems from an optimistic place that the world can be better," he says. "Ultimately barristers are trained to be argue. Of all people raising these things, barristers should be doing it."
'Chinese spy tried to get into royal carriage'
China's state visit to Britain was soured after a "spy" working for President Xi Jinping reportedly attempted to get into the Queen's royal carriage by posing as an interpreter.
The man had to be intercepted by members of the diplomatic protection squad, prompting a tense stand-off between British and Chinese security officials, according to a report in The Sunday Times.
"The bodyguard, or spy, attempted to get in the carriage and was prevented when it was ascertained by our security officials that he was actually a security official rather than the official translator. In other words, they were trying to get someone dodgy into the carriage alongside the President and the Queen," a source told the paper.
An account of the incident is understood to be circulating in Whitehall, prompting concerns that British security services were too accommodating to the Chinese during the visit.
Chris Green
Join our new commenting forum
Join thought-provoking conversations, follow other Independent readers and see their replies