Peter Vaughan dead: Game of Thrones and Porridge actor dies aged 93
Olivia Blair
Tuesday 06 December 2016 14:55 Comments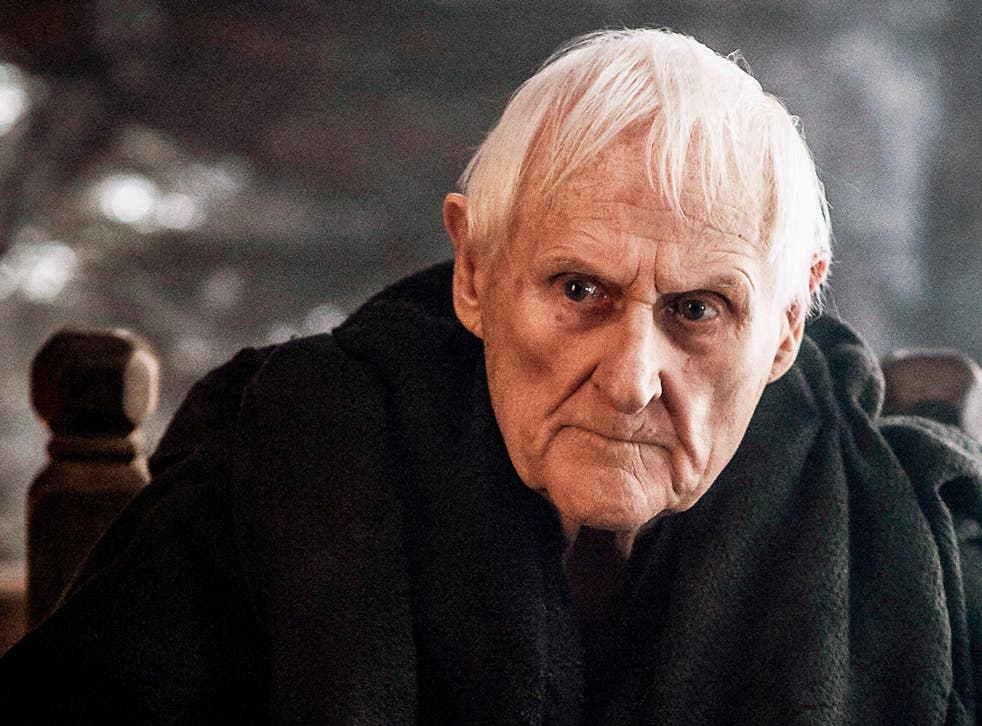 The Game of Thrones and Porridge actor Peter Vaughan has died aged 93.
His agent confirmed his death in a statement, saying: "This is to confirm, very sadly, Peter Vaughan passed away at approximately 10.30 this morning. He died peacefully with his family around him."
Vaughan was best known for playing Harry "Grouty" Grout in Porridge and, more recently, Maester Aemon in the hit HBO series Game of Thrones.
Notable deaths in 2016

Show all 42
Though only appearing in three episodes of Porridge alongside Ronnie Barker and Richard Beckinsale Grouty – the villain who ran HMP Slade and shared a cell with his budgerigar, Seymour – became a memorable character among fans.
"I still get people saying, 'Let you out, have they, Grouty?'" the actor said 40 years later.

Other memorable roles include parts in TV shows The Chancer, Citizen Smith and Our Friends in the North.
He was married twice, firstly to The Omen actress Billie Whitelaw and secondly to the actress Lillias Walker.
Vaughan appeared in four series of Game of Thrones as Maester Aemon, the blind, scholarly mentor and guide to Jon Snow after the young man joins the Night's Watch.
Fellow Castle Black resident Luke Barnes, who played Rast, said he was "absolutely gutted" to learn of Vaughan's death.
He tweeted: "Even in his old age he refused to sit whilst anyone else was standing. Absolute gentleman.
"Not often you get to work with an actual legend. He was so kind and so gentle and so interesting."
Fellow GoT star Eugene Simon, who played Lancel Lannister, said: "Oh folks, our love to the family and memory of actor Peter Vaughn [sic]."
He added: "Reading about Peter Vaughn's career really gave me cause to smile and be in wonder."
Brenock O'Connor, who stars as young Night's Watch mutineer Olly, said Vaughan was a "kind and talented man".
He wrote: "Deeply saddened to hear that Peter Vaughan has passed away at 93. A kind and talented man. His watch is ended."
Daniel Portman, who stars as Podrick Payne, tweeted: "And now his watch is ended. Lucky to meet him briefly once, a wonderful actor and lovely man. Sleep well, Peter Vaughan."
GoT producer and screenwriter Bryan Cogman said it was an "honour to have known" the late actor, adding: "Rest in Peace to our own Maester Aemon, Peter Vaughan, who passed away this morning at age 93."
Sam Westerby, who worked as the actor's publicist for his autobiography which came out earlier this year, said: "Very saddened about Peter Vaughan. It was an honour to know him and a privilege to act as publicist for his superb memoir. A brilliant actor."
Tributes were also paid by famous names across television and film, including Backbeat actor Scot Williams who said: "Peter Vaughan rest in peace and rise in glory."
Former Doctor Who screenwriter Phil Ford said: "Sad to see that Peter Vaughan has died at 93. A superb actor who could be menacing and funny and often both at the same time #RIP."
Television producer Jonathan Sothcott wrote: "RIP fine British character actor Peter Vaughan. Memorable in Porridge, Game of Thrones, Time Bandits, Haunted Honeymoon etc. Great face."
Peep Show actor Jim Howick said: "The brilliant Peter Vaughan. R.I.P. What a career."
Actor Christopher Biggins also appeared in Porridge, and he told BBC Radio London: "If you look back on it, he didn't do that many episodes but his character was so strong that you would think he was in every episode. He was wonderful. He was a joy to work with.
"I didn't have any scenes with him but we rehearsed together at the North Acton rehearsal rooms and he was not only an imposing character and gave the most wonderful performance, but he had a real twinkle in his eye and he was quite naughty."
Additional reporting by the Press Association.
Register for free to continue reading
Registration is a free and easy way to support our truly independent journalism
By registering, you will also enjoy limited access to Premium articles, exclusive newsletters, commenting, and virtual events with our leading journalists
Already have an account? sign in
Join our new commenting forum
Join thought-provoking conversations, follow other Independent readers and see their replies