Phil Hughes dead: Australian cricket 'completely devastated' after batsman dies with messages of support sent to bowler Sean Abbott
The 25-year-old was hit on the head while batting for South Australia against New South Wales
Victoria Richards
,
Jack de Menezes
Thursday 27 November 2014 07:23 Comments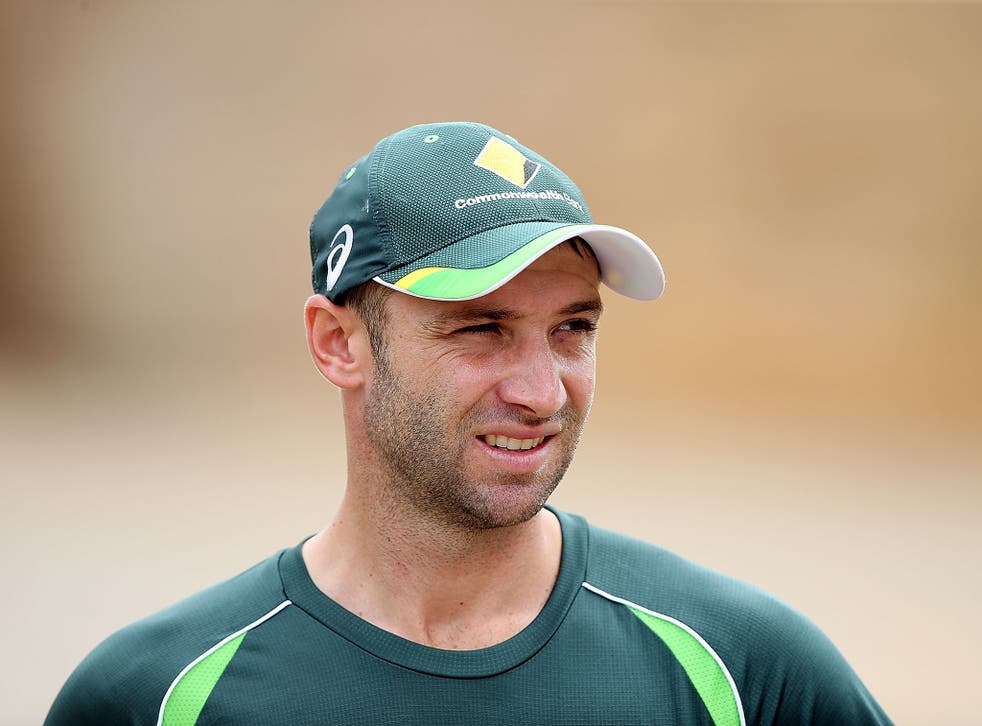 Phillip Hughes, the Australia Test batsman struck on the head by a ball two days ago, has died after succumbing to a serious head injury, Cricket Australia chief executive officer James Sutherland has confirmed.
The 25-year-old passed away after he was hit in the back-left side of the head while batting for South Australia against New South Wales at the Sydney Cricket Ground on Tuesday.
Hughes was an Australian international who had made 26 Test appearances as well as playing in 25 One-Day Internationals for his country, and had been tipped for a recall due to his impressive form of late.
Sutherland announced the tragic news on Thursday morning and said that it was a "real-life tragedy" and had left everyone involved "completely devastated".
"The word tragedy gets used far too often in sport but this freak accident is now a real-life tragedy.
Phillip Hughes: Career in pictures

Show all 10
"It's an understatement to say that we are completely devastated. Our grief runs deep and the impact of Phillip's loss is enormous but nothing compares to the loss felt by those closest to him.
"Phillip was a cherished son, brother, friend and team-mate. In these darkest of hours cricket puts its collective arms around the Hughes family."
In a statement, Australia team doctor Peter Brukner said: "It is my sad duty to inform you that a short time ago Phillip Hughes passed away. He never regained consciousness following his injury on Tuesday.
"He was not in pain before he passed and was surrounded by his family and close friends.
"As a cricket community we mourn his loss and extend our deepest sympathies to Phillip's family and friends at this incredibly sad time.
"Cricket Australia kindly asks that the privacy of the Hughes family, players and staff be respected."
The England cricket team, who are currently in Sri Lanka for a one-day series, have cancelled today's media conference after the shock death.
Hughes collapsed on the pitch after being hit by a ball from pace bowler Sean Abbott as he attempted a pull shot.
The batsman, who was wearing a protective helmet, was rushed to the city's St Vincent's Hospital, where he underwent surgery and was being monitored in the intensive care unit.
Cricket Australia confirmed on its official website that he had been "struck on the back, lower left side of the head" with Dr Brukner confirming he had suffered a "severe" injury. He later confirmed the player never regained consciousness.
Tributes have been paid to the player, including those from Australian Prime Minister Tony Abbott, who said he was "a young man living out his dreams".
"His death is a very sad day for cricket and a heartbreaking day for his family," he said. "What happened has touched millions of Australians.
Tributes have poured in for Hughes who was a very popular figure in the cricket world, while a host of messages of support for Abbott have also been posted on social media sites.
Abbott travelled to St Vincent's hospital to visit Hughes before his passing, and he was pictured leaving earlier today.
Former England cricket captain Sir Ian Botham tweeted: "A very sad day for the world of cricket. So sorry for Phillip Hughes and his family. Spare a thought for Sean Abbott."
BBC cricket correspondent Jonathan Agnew also wrote on Twitter: "Just another ball in just another game. Batsmen are struck all the time & invariably brush it off. A tragedy for Hughes family & Sean Abbott".
"For a young life to be cut short playing our national game seems a shocking aberration. He was loved, admired and respected by his teammates and by legions of cricket fans."
Sutherland added: "'Hughesy, Huey or Hue-Dog - as he was known to many of his mates - was much-loved.
"You only have to sift through the thousands of messages of support, prayers and well wishes for Phillip from cricketers and supporters the world over to understand the affection felt towards him.
"He will forever be remembered as one of the elite few to have worn the Baggy Green cap - cap number 408, to be precise. He was a hero to kids around the nation, particularly those in the region around his home town of Macksville in New South Wales that he did so proud in his 26 Test matches - a tally that looked certain to grow, but now sadly never will.
"He will be sadly missed and forever remembered."
Australia captain Michael Clarke read out a statement on behalf of the Hughes family in an emotional showing of bravery, and he signed off the statement with a heart-wrenching message to Hughes that simply said "we love you."
"We're devastated by the loss of our much-loved son and brother Phillip," Clarke said in the Hughes' family statement.
"It's been a very difficult few days, we appreciate all the support we have received from family, friends, players, Cricket Australia and the general public.
"Cricket was Phillip's life and we as a family shared that love of the game with him. We would like to thank all the medical and nursing staff at St Vincent's Hospital and Cricket New South Wales medical staff for their great efforts with Phillip.
"We love you."
Additional reporting by PA
Register for free to continue reading
Registration is a free and easy way to support our truly independent journalism
By registering, you will also enjoy limited access to Premium articles, exclusive newsletters, commenting, and virtual events with our leading journalists
Already have an account? sign in
Join our new commenting forum
Join thought-provoking conversations, follow other Independent readers and see their replies