Phil Robertson: Duck Dynasty star, who said black people were 'happy' before civil rights, wins freedom of speech award
The right-wing activist will be awarded the "Andrew Breitbart Defender of the First Amendment Award" at the Conservative Political Action Conference
Helen Nianias
Wednesday 18 February 2015 14:28 Comments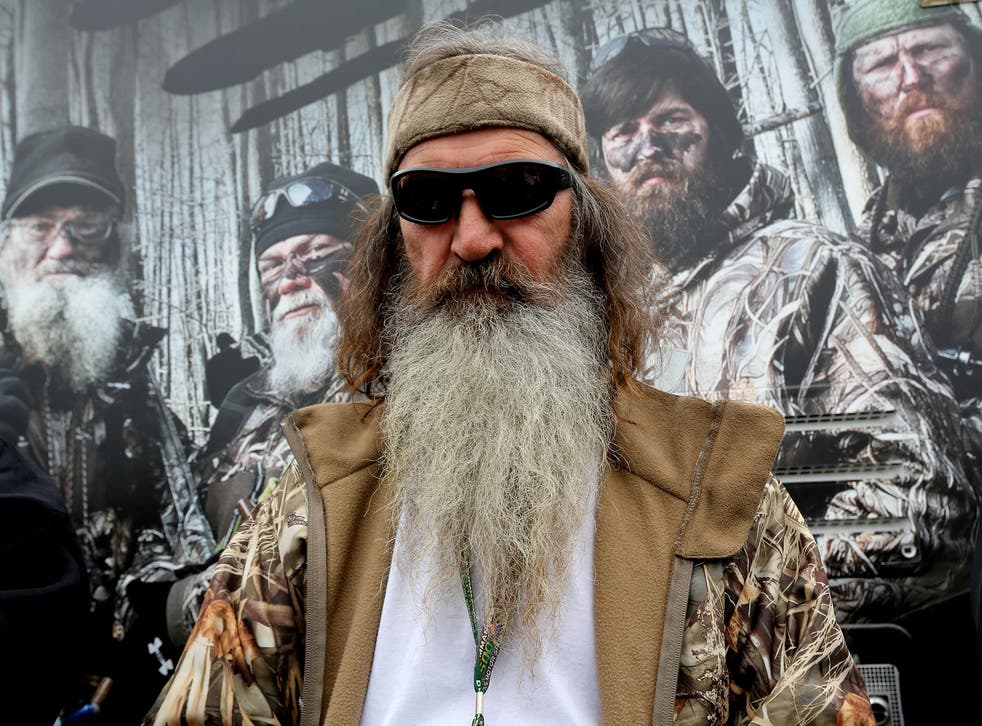 Phil Robertson, who made his name for making outlandish homophobic and racist statements, has been awarded a freedom-of-speech prize.
Robertson is best known for appearing on reality programme Duck Dynasty and will be given the prize by Citizens United, an organisation that aims to "reassert traditional American values".
The Louisiana native has made a number of remarks believed by many to be racist and homophobic.
"Start with homosexual behavior and just morph out from there,"Robertson said. "Bestiality, sleeping around with this woman and that woman and that woman and those men. Don't be deceived. Neither the adulterers, the idolaters, the male prostitutes, the homosexual offenders, the greedy, the drunkards, the slanderers, the swindlers - they won't inherit the kingdom of God. Don't deceive yourself. It's not right."
His opinions about civil rights aren't much better.
"I never, with my eyes, saw the mistreatment of any black person. Not once. Where we lived was all farmers. The blacks worked for the farmers. I hoed cotton with them. I'm with the blacks, because we're white trash. We're going across the field… They're singing and happy," he said.
"I never heard one of them, one black person, say, 'I tell you what: These doggone white people' - not a word!… Pre-entitlement, pre-welfare, you say: 'Were they happy?' They were godly; they were happy; no one was singing the blues."
He was suspended from the TV programme in 2013 but was reinstated.
The CPAC will take place from February 25 in Washington DC. Nigel Farage is set to attend the event.
Register for free to continue reading
Registration is a free and easy way to support our truly independent journalism
By registering, you will also enjoy limited access to Premium articles, exclusive newsletters, commenting, and virtual events with our leading journalists
Already have an account? sign in
Join our new commenting forum
Join thought-provoking conversations, follow other Independent readers and see their replies