Piers Morgan accuses Prince William and Kate Middleton of 'stomach-churning' hypocrisy over rhino photos
'Their palatial homes are packed full of their hunting 'trophies',' says Morgan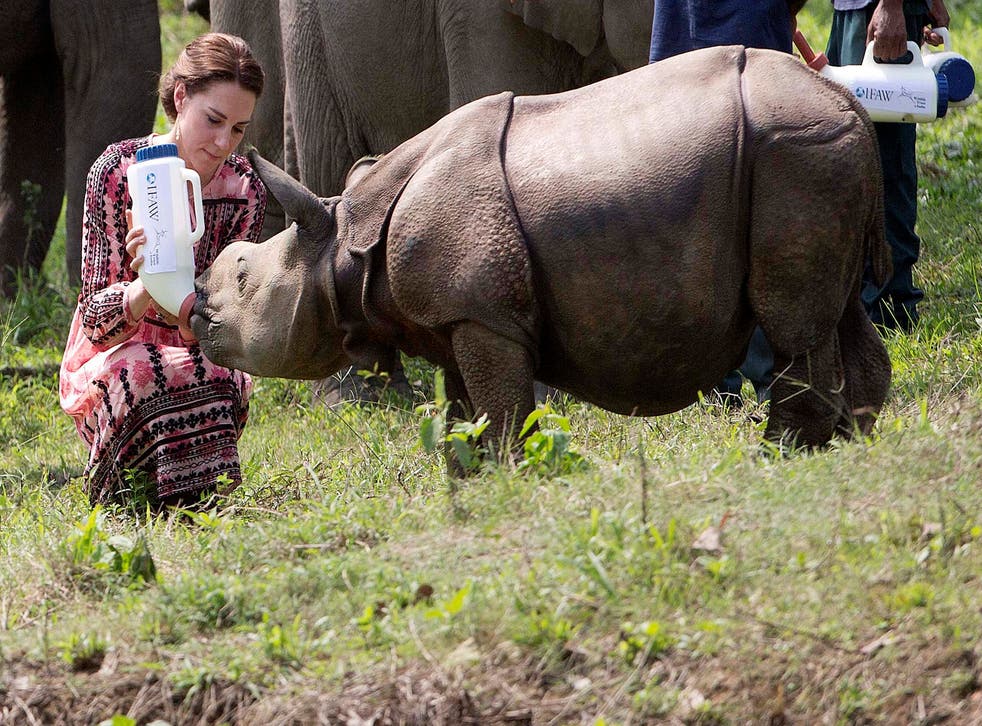 Piers Morgan has rebuked the Duke of Cambridge and Duchess of Cambridge for feeding a baby rhino at an Indian animal sanctuary, claiming the pair have stuffed rhinos in the Sandringham estate.
Writing in his Mail Online column on Wednesday, the Good Morning Britain presenter accused the royal pair of hypocrisy.
The 51-year-old, who currently works as the US editor-at-large for Mail Online, said the picturesque image, which is intended to "make you feel all warm and fuzzy inside", made him "feel sick to the very pit" of his stomach.
Prince William and Kate Middleton's visit to India

Show all 32
"Perhaps it's because Prince William likes rich people hunting down these same beautiful animals, killing them in often elongated torture sessions, posing for repulsively smug photos next to their rotting carcasses, and then severing their heads for their office walls back home," Morgan wrote.
The British journalist also criticised Prince William, who is president of United for Wildlife and patron of the Tusk Trust, for the comments he made about trophy hunting being justifiable in certain circumstances.
In an interview with ITV News last month, the heir to the throne came under fire for saying commercial hunting could, in fact, help to save some endangered species.
Prince William talks poaching
A spokesperson for Lion Aid told The Independent the charity supported Morgan's opposition to trophy hunting.
"LionAid were grateful last month for the opportunity on Good Morning Britain to talk with Piers Morgan about the myth that lion trophy hunting contributes in any way to the conservation of the species," they said.
"We believe that Prince William was very badly advised to make statements in support of trophy hunting and to say that trophy hunters only take old, infirm and post-reproductive animals. This is clearly not true as trophy hunters love to publish their photos on the internet to show that they only want the biggest and the best.
"Piers Morgan has taken an extreme stance against trophy hunting but the fact remains that the vast majority of the UK public agree that trophy hunting has no place in 21st-century conservation".
Morgan also argued Sandringham, the country retreat of Her Majesty the Queen, contained hunting trophies and stuffed animals.
"The British royal family has killed more animals than probably any other family in the world, mostly in the name of 'sport'," he wrote. "Their palatial homes are packed full of their hunting 'trophies'".
"At Sandringham alone, the Queen's home in Norfolk where the family gathers each Christmas, there are 62 stuffed animals including two rare rhinos, a leopard, an Indian tiger, the tusks of an elephant and two lions," he goes on to say.
In 2014, the heir to the throne stirred controversy for going on a deer and wild boar hunting holiday on a Spanish estate just days before he unveiled a high-profile appeal to put a stop to the illegal hunting of wildlife.
Representatives for the Duke and Duchess of Cambridge did not immediately respond to a request for comment.
Register for free to continue reading
Registration is a free and easy way to support our truly independent journalism
By registering, you will also enjoy limited access to Premium articles, exclusive newsletters, commenting, and virtual events with our leading journalists
Already have an account? sign in
Register for free to continue reading
Registration is a free and easy way to support our truly independent journalism
By registering, you will also enjoy limited access to Premium articles, exclusive newsletters, commenting, and virtual events with our leading journalists
Already have an account? sign in
Join our new commenting forum
Join thought-provoking conversations, follow other Independent readers and see their replies