Piers Morgan sparks outrage after commenting on Republican presidential candidate Ben Carson's skin colour
Mr Morgan was embroiled in a war of words with civil rights activist DeRay Mckesson
Kashmira Gander
Thursday 08 October 2015 19:01 Comments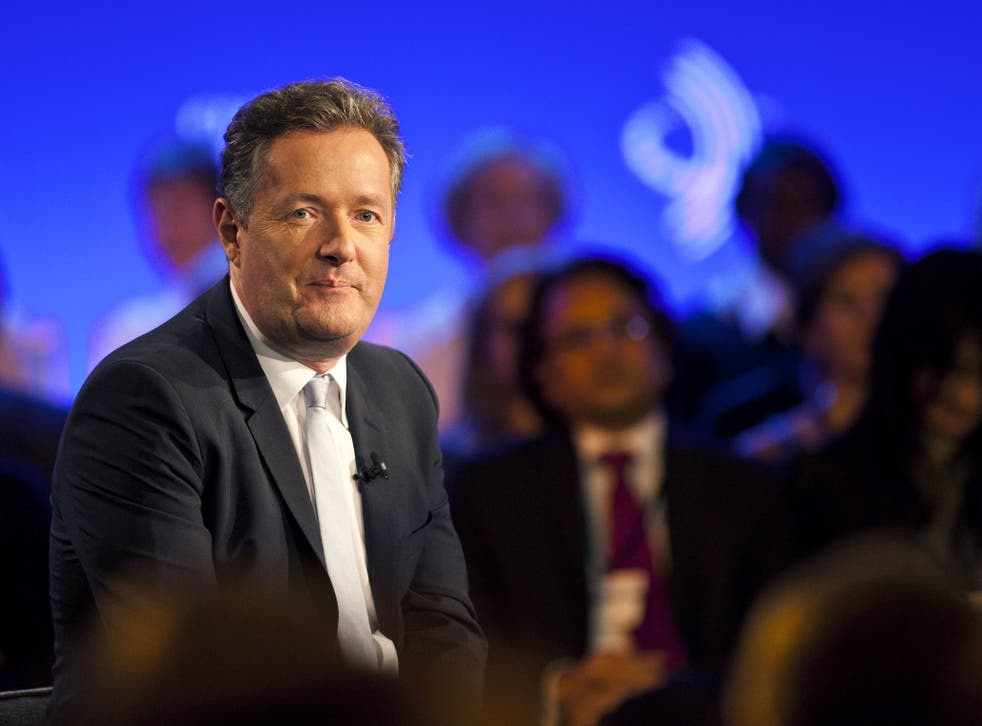 Piers Morgan has sparked a fresh Twitter backlash, after he wrote a scathing article about African American Republican Party candidate Ben Carson.
In an acerbic piece for MailOnline, the former Daily Mirror editor said he hoped Dr Carson would be a "breath of fresh air" for US politics as a "black republican brain surgeon."
"But then he started speaking," wrote Mr Morgan, accusing Dr Carson of homophobia, before outlining other views which he regarded as extreme.
Sharing the article on Twitter, Mr Morgan wrote: "Why Dr Ben Carson would be a really bad president, regardless of his skin colour."
He also tagged media tycoon Rupert Murdoch in the tweet, after the News UK boss apologised for suggesting that Dr Carson would be a "real black" president.
Twitter users questioned why Mr Morgan had referred to Mr Carson's skin colour in the post, and he quickly became embroiled in a race row on the social media website.
Prominent civil rights activist DeRay Mckesson was among those to call out Mr Morgan, tweeting: "Rupert Murdoch reminds me of Piers Morgan."
Mr Morgan jokingly responded to Mr Mckesson with the assertion that both he and Mr Murdoch are examples of a "visionary media genius."
Unimpressed, Mr Mckesson simply replied: "No. Both loud and wrong, often. And arrogant and privileged enough to think that you can define blackness."
The pair then continued their heated debate, with Mr Morgan responding to Mr Mckesson's daily tweet of "I love my blackness. And yours," with "I love my whiteness and yours."
The situation escalated when Mr Morgan directed at message at "#BlackTwitter", an organic online community predominantly used by African Americans to discuss issues of interest.
"Dear #BlackTwitter, Me saying I love white and black people isn't the most scandalous comment of the day. Relax," he wrote.
Twitter user @LakeOnji responded: "Piers Morgan thinks he can just approach #BlackTwitter any way he wants."
"Are there rules then?" hit back Mr Morgan.
Mr Morgan's back-and-forth with angered users lasted over six hours after he first posted the tweet on Thursday morning, and showed no signs of abating by the early evening.
Piers Morgan's Most Pretentious Phrases

Show all 20
The spat comes after Mr Morgan was criticised for responding to a "ALL black lives matter" tweet with "ALL lives matter" in July.
Users argued that the original statement was not a suggestion that people of other races do not matter, but rather that awareness must be raised about the issues black people face specifically, particularly in the wake of fatal police shootings.
Register for free to continue reading
Registration is a free and easy way to support our truly independent journalism
By registering, you will also enjoy limited access to Premium articles, exclusive newsletters, commenting, and virtual events with our leading journalists
Already have an account? sign in
Join our new commenting forum
Join thought-provoking conversations, follow other Independent readers and see their replies