The Independent's journalism is supported by our readers. When you purchase through links on our site, we may earn commission.
James Rosenquist, pop art contemporary of Andy Warhol and Roy Lichtenstein, dies aged 83
'I've never cared for the term, but after half a century of being described as a pop artist I'm resigned to it'
Chantal da Silva
Sunday 02 April 2017 00:46 Comments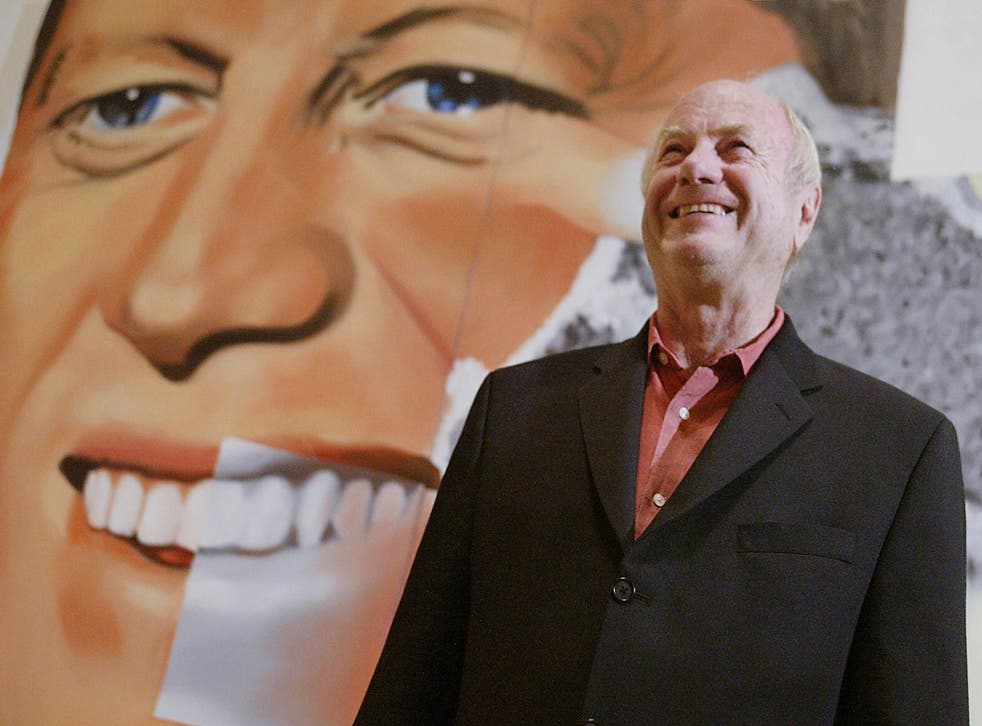 James Rosenquist, a key figure in the pop art movement along with Andy Warhol and Roy Lichtenstein, has died aged 83.
His wife Mimi Thompson, told The New York Times that he died at his home in the city after a long illness.
Rosenquist started by painting signs and billboard advertisements in Times Square and other public places. He later incorporated images from popular culture, from celebrities to consumer goods, into his work.
One of his best-known pieces is "President Elect," a billboard-style painting depicting John F Kennedy's face alongside a yellow Chevrolet and a piece of cake. He created it in the early 1960s.
"The face was from Kennedy's campaign poster. I was very interested at that time in people who advertised themselves," Rosenquist told the art appreciation organisation The Art Story. "Why did they put up an advertisement of themselves? So that was his face. And his promise was half a Chevrolet and a piece of stale cake."
Another popular piece was Rosenquist's "F-111," which superimposes a Vietnam War fighter-bomber on images of children and consumer goods.
Stretching 86 feet across a grid of 51 canvas and aluminium panels, he intended to sell the painting as separate panels.
But the collector Robert Scull bought it whole and it is now in the collection of the Museum of Modern Art in New York.
Born in Grand Forks, North Dakota, his mother was an amateur painter who supported his creative interests early on. His watercolour of a sunset won him an art scholarship to take classes at the Minneapolis School of Art.
He later attended the University of Minnesota before moving to New York City in 1955.
King of Ink Land King Body Art The Extreme Ink-Ite - In pictures

Show all 7
He went to work for a billboard company painting advertisements for a variety of products and he later admitted the "aesthetic of my work comes from doing commercial art".
Despite being bracketed as a pop artist, Rosenquist resisted comparisons to his contemporaries Andy Warhol and Roy Lichtenstein.
"I'm not like Andy Warhol. He did Coca-Cola bottles and Brillo pads. I used generic imagery — no brand names — to make a new kind of picture," Rosenquist said in a 2007 interview with Smithsonian magazine. "People can remember their childhood, but events from four or five years ago are in a never-never land. That was the imagery I was concerned with — things that were a little bit familiar but not things you feel nostalgic about. Hot dogs and typewriters — generic things people sort of recognize."
In his 2009 autobiography, Painting Below Zero: Notes on a Life in Art, he wrote: "Pop Art. I've never cared for the term, but after half a century of being described as a pop artist I'm resigned to it. Still, I don't know what pop art means, to tell you the truth."
Rosenquist's work has been featured in solo exhibitions at the Solomon R Guggenheim Museum, the Museum of Modern Art, the Whitney Museum of American Art and other institutions.
Register for free to continue reading
Registration is a free and easy way to support our truly independent journalism
By registering, you will also enjoy limited access to Premium articles, exclusive newsletters, commenting, and virtual events with our leading journalists
Already have an account? sign in
Join our new commenting forum
Join thought-provoking conversations, follow other Independent readers and see their replies