Pope Francis Christmas Day blessing: Pontiff appeals for peace
The Pope condemned 'brutal acts of terrorism' and called for international efforts to end atrocities in Libya and Syria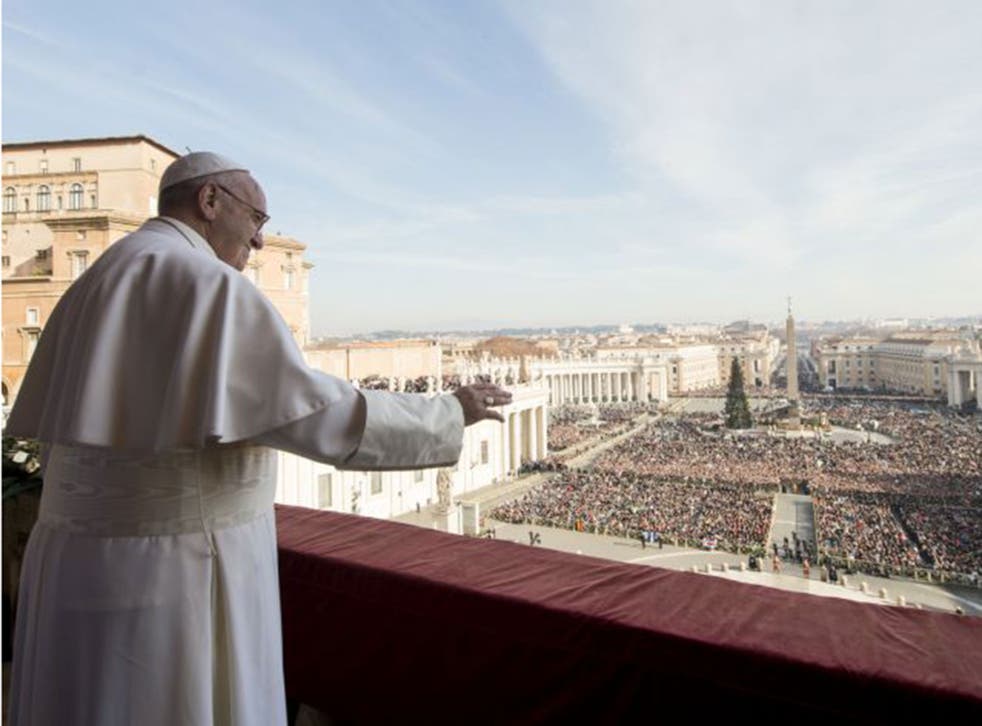 Pope Francis addressed issues of terrorism, the migrant crisis and also appealed for peace in his Christmas Day blessing.
The Pontiff spoke out against "brutal acts of terrorism" in France, Tunisia, Egypt, Lebanon and Mali.
He also urged Israelis and Palestinians to resume direct talks in a quest for peace and called for international efforts to end "atrocities" in Libya and Syria.
Thousands of pilgrims turned out to see the address in Rome, known as "Urbi et Orbi", where he also spoke in support of refugees.
He asked God to "repay all those, both individuals and states, who generously work to provide assistance and welcome to the numerous migrants and refugees, helping them to build a dignified future for themselves and their dear ones."
Pope Francis did not refer to militant group Isis by name but said the international community must crackdown on horrific acts that "cause immense suffering and do not even spare the historical and cultural patrimony of entire peoples" in what appeared to be a reference to the group.
Christmas celebrations around the world

Show all 30
Speaking from the balcony of St Peter's Basilica, the Pope described Christians being persecuted for their faith as "martyrs of today".
Register for free to continue reading
Registration is a free and easy way to support our truly independent journalism
By registering, you will also enjoy limited access to Premium articles, exclusive newsletters, commenting, and virtual events with our leading journalists
Already have an account? sign in
Register for free to continue reading
Registration is a free and easy way to support our truly independent journalism
By registering, you will also enjoy limited access to Premium articles, exclusive newsletters, commenting, and virtual events with our leading journalists
Already have an account? sign in
Join our new commenting forum
Join thought-provoking conversations, follow other Independent readers and see their replies