Pope Francis says the Catholic Church should support families with gay children - but that same-sex marriage has 'not crossed our minds'
'We have to find a way to help that father or that mother to stand by their son or daughter'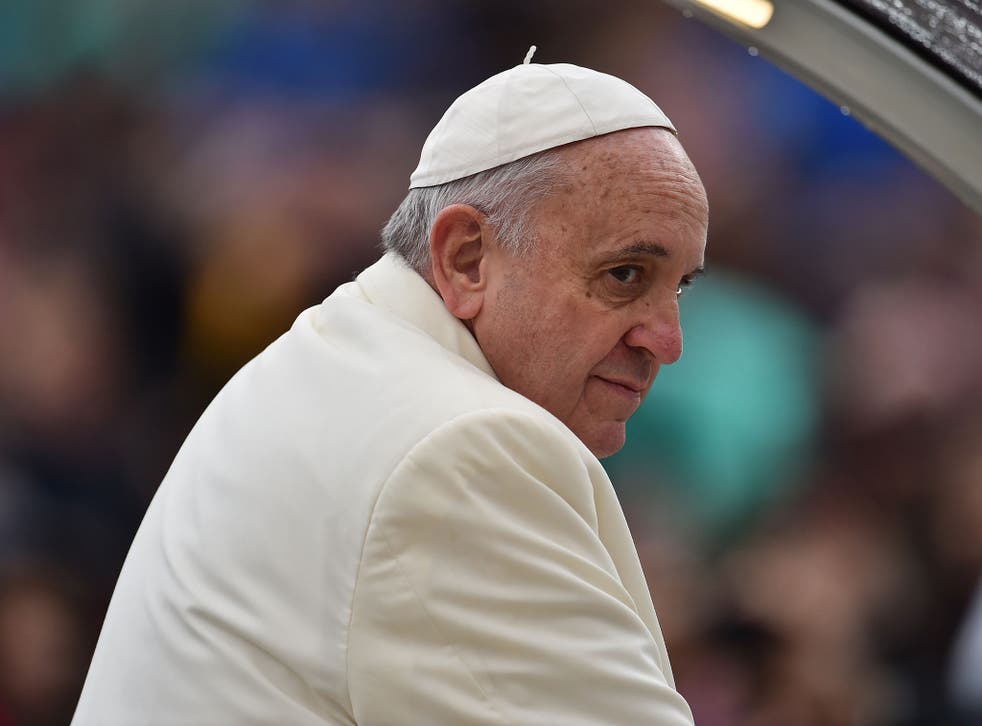 The Catholic Church's stance on gay rights continues to be a source of confusion, as official acceptance of LGBT people emerges on a seemingly intermittent basis.
Following the recent synod, Pope Francis has again spoken out about homosexuals – as he said the Catholic Church must help parents to stand by their gay children.
But at the same time he maintained that gay marriage was still not on the Church's agenda.
The seemingly contradictory statements came in an interview published just a day after Francis urged the Church's top theologians to listen to what ordinary Catholics have to say and pay attention to the "signs of the times".
Speaking to La Nacion, the Pope said that leaders had a duty to help "famil[ies] to deal with that somewhat unusual situation".
"What we did talk about was of how a family with a homosexual child, whether a son or a daughter, goes about educating that child, how the family bears up, how to help that family to deal with that somewhat unusual situation," he said.
"That is to say, the synod addressed the family and the homosexual persons in relation to their families, because we come across this reality all the time in the confessional: a father and a mother whose son or daughter is in that situation. This happened to me several times in Buenos Aires.
"We have to find a way to help that father or that mother to stand by their son or daughter."
But he said that "nobody mentioned homosexual marriage" at the synod because "it did not cross our minds".
In pictures: 'The many popes of Pope Francis'

Show all 12
In October Hungarian Cardinal Peter Erdo read out an interim report at the Synod's General Congregation, which declared homosexuals had "gifts and qualities to offer".
However, conservative bishops distanced themselves from the statement and the Church has since said it is simply a "working document" and was not intended to be an official statement of church teaching on family life.
Francis told La Nacion that the synod was a "process" and stated: "The opinion of a synodal father was just that, the opinion of a synodal father."
Register for free to continue reading
Registration is a free and easy way to support our truly independent journalism
By registering, you will also enjoy limited access to Premium articles, exclusive newsletters, commenting, and virtual events with our leading journalists
Already have an account? sign in
Register for free to continue reading
Registration is a free and easy way to support our truly independent journalism
By registering, you will also enjoy limited access to Premium articles, exclusive newsletters, commenting, and virtual events with our leading journalists
Already have an account? sign in
Join our new commenting forum
Join thought-provoking conversations, follow other Independent readers and see their replies