Presidential debate: Donald Trump remarks on Muslims spark social media backlash
Republican voters are more likely to suggest that the values of Islam are at odds with an American way of life
Sarah Pulliam Bailey
Monday 10 October 2016 14:23 Comments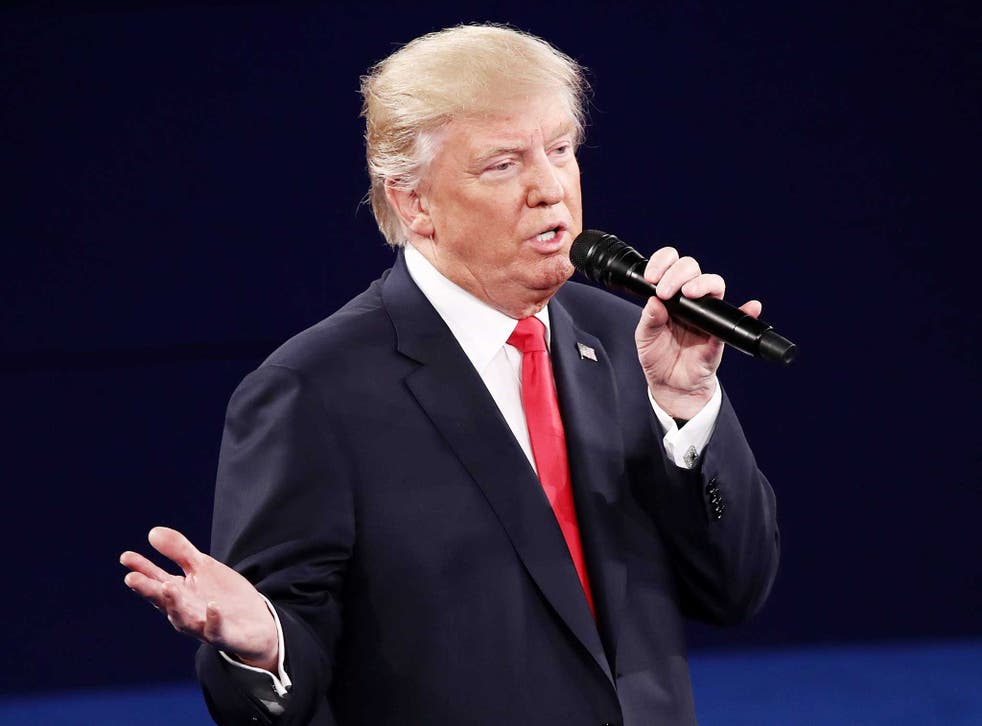 Republican presidential nominee Donald Trump said during Sunday's debate that his proposal to ban Muslims from entering the country has "morphed" into a plan for "extreme vetting" of refugees.
Trump said he was worried that refugees from country like Syria could be a "Trojan horse." Democrat Hillary Clinton denounced Trump and defended bringing refugees to the United States.
"We are a country founded on religious freedom and liberty. How do we do what [Trump] has advocated without causing great distress within our country?" she said. "Are we going to have religious tests when people fly into our country?"
Asked about the issue of Islamophobia, Trump said that while it is an issue, he said Muslims who come into the country must "report when they see something going on".
The FBI says Muslims already do report what they see. This summer, the FBI's director said "some of our most productive relationships are with people who see things and tell us things who happen to be Muslim," according to Reuters.
In response to Trump's suggestion that Muslims report what's going on, several Muslims began to follow his suggestion. First, the following tweet went viral:
Other Muslims were concerned that the candidates only spoke about Muslims in relation to Isis or other terrorists.
Republican voters are more likely to suggest that the values of Islam are at odds with an American way of life. According to a recent Public Religion Research Institute poll, 79 percent of Republicans say this, compared with 42 percent of Democrats, or 57 percent of Americans.
Many Americans (59 percent) believe American Muslims face "a lot" of discrimination, with 74 percent of Democrats compared with 42 percent of Republicans, according to the Pew Research Center.
Here is what Trump said when he suggested that Muslims have to report something going on, according to a transcript of the debate.
QUESTION: "Hi. There are 3.3 million Muslims in the United States, and I'm one of them. You've mentioned working with Muslim nations, but with Islamophobia on the rise, how will you help people like me deal with the consequences of being labeled as a threat to the country after the election is over?"
RADDATZ: "Mr. Trump, you're first."
TRUMP: "Well, you're right about Islamophobia, and that's a shame. But one thing we have to do is we have to make sure that — because there is a problem. I mean, whether we like it or not, and we could be very politically correct, but whether we like it or not, there is a problem. And we have to be sure that Muslims come in and report when they see something going on. When they see hatred going on, they have to report it.
"As an example, in San Bernardino, many people saw the bombs all over the apartment of the two people that killed 14 and wounded many, many people. Horribly wounded. They'll never be the same. Muslims have to report the problems when they see them.
"And, you know, there's always a reason for everything. If they don't do that, it's a very difficult situation for our country, because you look at Orlando and you look at San Bernardino and you look at the World Trade Center. Go outside. Look at Paris. Look at that horrible — these are radical Islamic terrorists.
"And she won't even mention the word and nor will President Obama. He won't use the term "radical Islamic terrorism." Now, to solve a problem, you have to be able to state what the problem is or at least say the name. She won't say the name and President Obama won't say the name. But the name is there. It's radical Islamic terror."
Copyright: Washington Post
Register for free to continue reading
Registration is a free and easy way to support our truly independent journalism
By registering, you will also enjoy limited access to Premium articles, exclusive newsletters, commenting, and virtual events with our leading journalists
Already have an account? sign in
Join our new commenting forum
Join thought-provoking conversations, follow other Independent readers and see their replies