Colin Powell says he'll vote for Hillary Clinton after saying Donald Trump 'insults America every day'
The 79-year-old former secretary of state endorsed Barack Obama in 2008 and 2012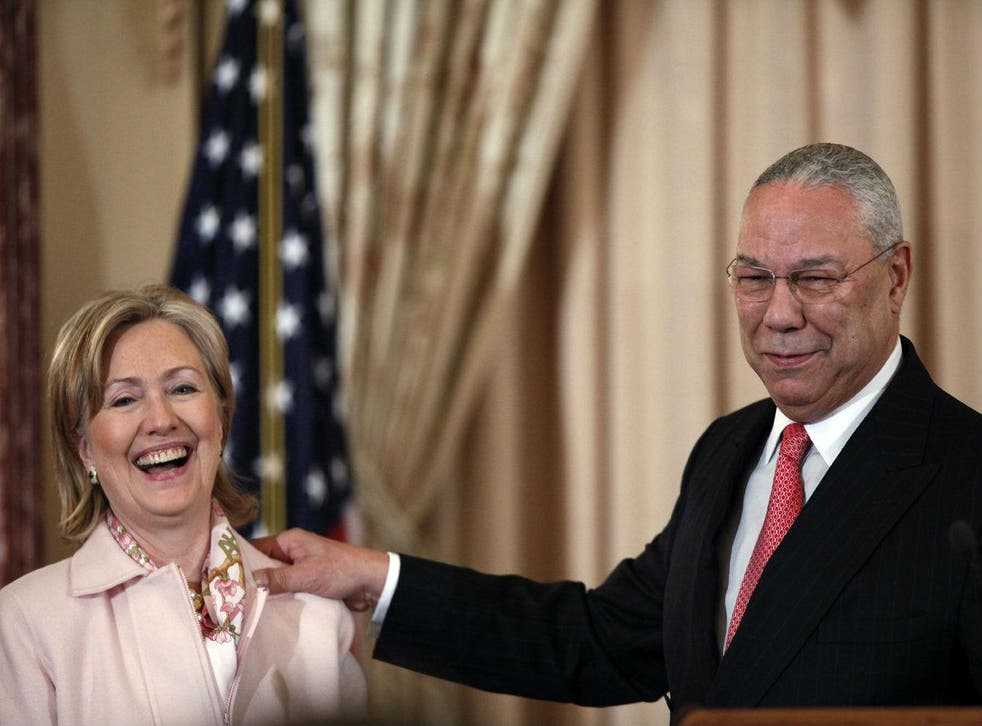 A month ago the release of hacked emails belonging to Colin Powell, revealed the former secretary of state did not have a lot of time for Republican nominee Donald Trump.
Indeed, while he was not wild about voting for Democrat Hillary Clinton, he said in one email he thought the New York tycoon was a "national disgrace."
On Tuesday, the 79-year-old Mr Powell revealed that whatever reservations he may have about Ms Clinton did not match his worries about Mr Trump. He said he would be voting for her, and not him.
Speaking before the Long Island Association, a trade group that frequently hosts political figures, Mr Powell said he was voting for Ms Clinton and praised her skills as a leader and her experience.
The New York Times said that according to Matthew Cohen, a spokesman for the association, Mr Powell said: "I am voting for Hillary Clinton."
Paule Pachter, a Long Island Association board member, said that Mr Powell was blunt.
"He said he would support Hillary Clinton and he also elaborated on several reason why he felt that Donald Trump was not the right candidate," he said. "He spoke about his inexperience, he spoke about the messages that he's sending out every day to his supporters, which really paints out country in a negative light across the globe with all our allies."
Newsday said that Mr Powell said Mr Trump "insulted America in one way almost every day".
"He has insulted Latino Americans. He has insulted African-Americans. He has insulted women. He has insulted his own party. He has insulted our allies around the world one by one. He has insulted veterans," he said.
Donald Trump predicts he will win US election
He said Ms Clinton was "friend" whom he had known for 20 years.
"She is smart. She is capable. She was a good secretary of state," he added.
"She is balanced, she has temperament and no matter what anyone says she has stamina ... I think she is fully qualified to serve as the president of the United States and will serve it with distinction."
In the emails revealed last month, Mr Powell expressed his frustration that Ms Clinton was trying to use his record of making use of a private email server to cover her own actions, which became part of an FBI probe. While he endorsed Barack Obama in 2008 and 2012, in the hacked emails he said he would "rather not have to vote" for Ms Clinton.
This summer, around 50 Republican former security officilals said that Mr Trump would risk national security if he was elected.
Register for free to continue reading
Registration is a free and easy way to support our truly independent journalism
By registering, you will also enjoy limited access to Premium articles, exclusive newsletters, commenting, and virtual events with our leading journalists
Already have an account? sign in
Register for free to continue reading
Registration is a free and easy way to support our truly independent journalism
By registering, you will also enjoy limited access to Premium articles, exclusive newsletters, commenting, and virtual events with our leading journalists
Already have an account? sign in
Join our new commenting forum
Join thought-provoking conversations, follow other Independent readers and see their replies