Prince Charles mourns unlikely cohort Joan Rivers: 'She was an extraordinary woman'
The royal pays tribute to the "original and indefatigable" comedienne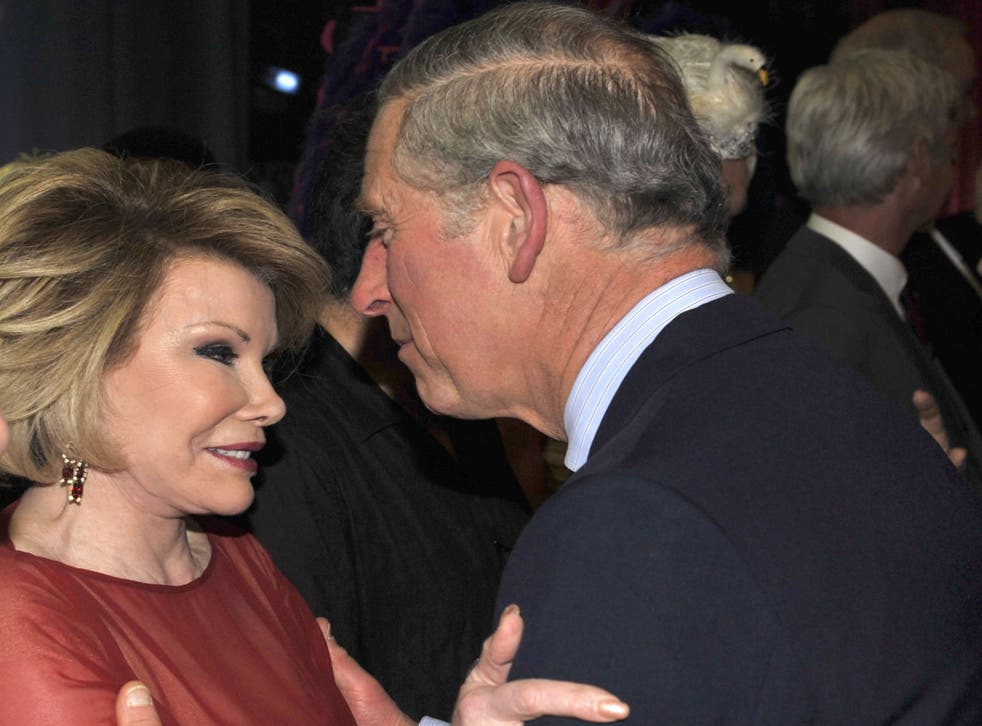 They might seem like unlikely friends, but Prince Charles has paid tribute to "extraordinary" Joan Rivers, following her death yesterday (4 September), aged 81.
The comedienne attended the wedding of the Prince to The Duchess of Cornwall in 2005.
"The Prince of Wales and The Duchess of Cornwall are deeply saddened to hear of the death of Joan Rivers," a Clarence House spokesperson said.
Charles described his late friend as "an extraordinary woman with an original and indefatigable spirit, an unstoppable sense of humor and an enormous zest for life. She will be hugely missed and utterly irreplaceable."
Rivers performed at the royal's 60th birthday in 2008 - the "We Are Most Amused" comedy gala. The two were such good friends that the Prince even let Rivers scatter the ashes of a late friend round his Gloucestershire garden, which she happened to just be carrying with her during a visit to see the future King.
"I was at Highgrove and I said that my friend Tommy had died, and I said, 'May I scatter some of his ashes in the garden?'" Joan told Hello! in 2011. "He was in shock. But he said, 'Certainly.' I had them in a bag so Tommy is scattered there."
Rivers - who was known for her scathing tongue and often controversial humour - described Charles as "charming and so humorous".
"All the passions that everyone used to laugh at him for – organic food, architecture, talking to the flowers, we're all into those things now," she once said.
Career in pictures Joan Rivers

Show all 15
"He is so far ahead of his time, and I think he will be a very good monarch. He is a very smart man and I adore him."
The comedienne died on 4 September, a week after suffering a heart attack during a routine procedure at a New York clinic, which is now under investigation by the New York State Department of Health.
"My mother's greatest joy in life was to make people laugh," said her daughter, Melissa Rivers.
"Although that is difficult to do right now, I know her final wish would be that we return to laughing soon."
Join our new commenting forum
Join thought-provoking conversations, follow other Independent readers and see their replies