Prince dead: Audio of emergency 911 dispatch call to late musician's recording studio released
The artist was found dead aged 57
Heather Saul
Thursday 21 April 2016 22:23 Comments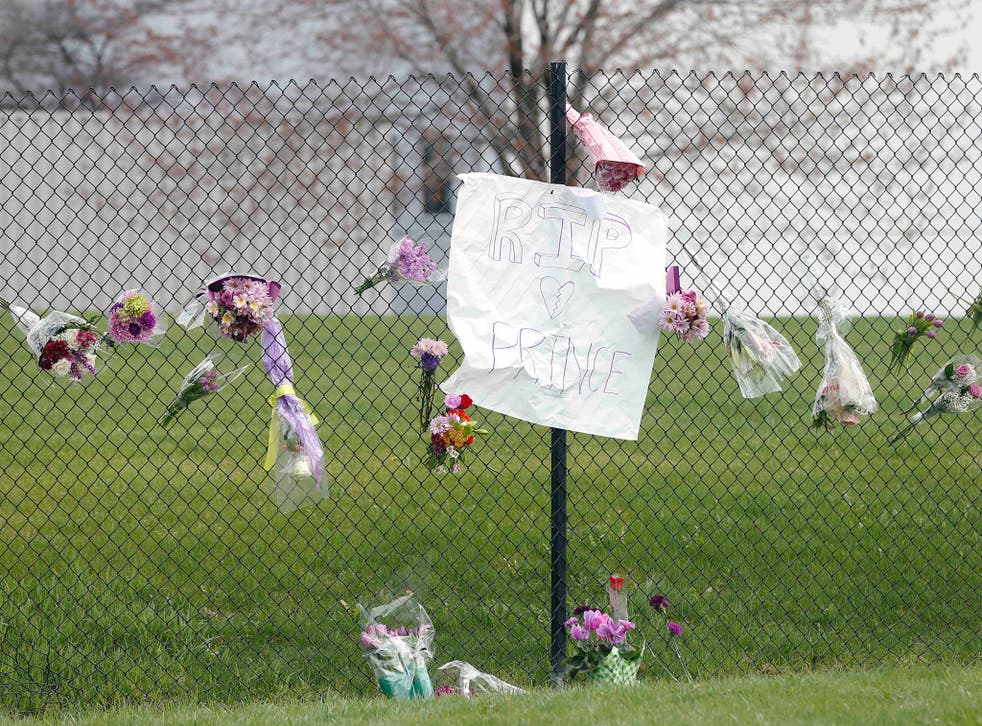 Audio footage has emerged of the emergency dispatch call made to Prince's property, where he was found dead in his recording studio.
The pioneering musician sparked fears for his health last week when his plane had to make an emergency landing in Illinois. Prince was treated in hospital and later flew home, with his spokesperson saying he had suffered from flu.
His body was found in his Paisley Park recording studio in Chanhassen, Minnesota on Thursday morning. Carver County Coroners are investing the cause of death.
In the dispatch obtained by TMZ, responders can be heard calling for paramedics to go to an address and describing a "male down, not breathing".
Prince - A Life in Pictures

Show all 10
A transcript released by Carver County Sheriff's Department of the 911 call made from Paisley Park Studios revealed how emergency services were alerted:
Emily Colestock (CCSO Dispatcher): 911, what's your emergency?
Unidentified male: Hi there, um, what's the address here? Yeah, we need an ambulance right now.
EC: Okay.
UM: We have someone who is unconcious.
EC: OK, what's the address.
UM: Um, we're at Prince's house.
EC: OK, does anybody know the address? Is there any mail around you could look at?
UM: Yeah, yeah, OK, hold on.
EC: OK, your cell phone's not going to tell me where you're at, so I need you to find me an address.
UM: Yeah, we have um, yeah, we have um, so, yeah, um, the person is dead here.
EC: OK, get me the address please.
UM: OK, OK, I'm working on it.
EC: Concentrate on that.
UM: And the people are just distraught.
EC: I understand that they are distraught, but...
UM: I'm working on it, I'm working on it.
EC: OK, do we know how the person died?
UM: I don't know, I don't know.
EC: OK.
UM: Um, so we're in Minneapolis, Minnesota and we are at the home of Prince.
EC: You're in Minneapolis?
UM: Yeah, Minneapolis, Minnesota.
EC: You're sure you're in Minnesota?
UM: That's correct.
EC: OK, have you found an address yet?
UM: Yeah, um, I'm so sorry, I'm so sorry, I need the address here.
Unidentified female: 7801
UM: 7801
EC: 7801 what?
UM: Paisley Park. We are at Paisley Park.
EC: You're at Paisley Park? OK, that's in Chanhassen. Are you with the person who's...
UM: Yes, it's Prince.
EC: OK.
UM: The person...
EC: OK, stay on the line with me.
UM: OK.
(Phone ringing)
Shirley, Ridgeview ambulance dispatcher: Ambulance, Shirley.
EC: Carver with the transfer for Paisley Park Studios, 78.
S: Paisley Park Studios. OK.
EC: 7081 Audubon Road.
S: OK.
EC: We have a person down, not breathing.
S: Down, not breathing.
EC: Yup.
UM: He's, he's...
EC: We're going to get everybody, go ahead with the transmittal sir.
Kayley McGarry, CCSO Dispatcher: Dispatch, Kayley.
S: Yeah, Kayley, this is Shirley at Ridgeview. You can cancel anybody going to Audubon, confirmed DOA.
In a statement, Carver County Sheriff's Office said deputies responded to a medical call at around 9.45am. Despite performing CPR on Prince, they were unable to revive him.
"When deputies and medical personnel arrived, they found an unresponsive adult male in the elevator," the statement said. "First responders attempted to provide lifesaving CPR, but were unable to revive the victim. He was pronounced deceased at 10.07 am."
Prince enjoyed a celebrated career spanning four decades, with albums such as Purple Rain and 1999 propelling him to international stardom. He was 57.
Register for free to continue reading
Registration is a free and easy way to support our truly independent journalism
By registering, you will also enjoy limited access to Premium articles, exclusive newsletters, commenting, and virtual events with our leading journalists
Already have an account? sign in
Join our new commenting forum
Join thought-provoking conversations, follow other Independent readers and see their replies