Princess Cristina of Spain to stand trial for tax fraud charges
Sister of King Felipe VI will be the first family member to stand trial since Spain's monarchy was restored in 1975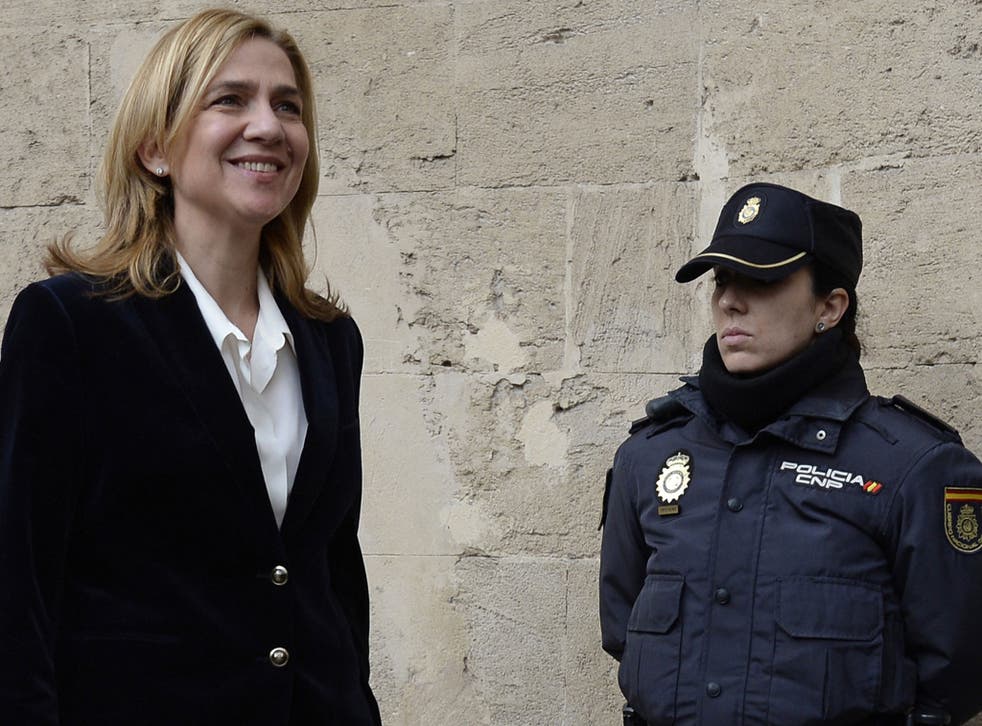 Spain's Princess Cristina will stand trial on tax fraud charges on January 11, a court has announced.
She will be the first royal family member to stand trial since Spain's monarchy was restored in 1975.
Cristina, the 50-year-old sister of King Felipe VI, was indicted as part of a four-year probe into her husband, Inaki Urdangarin, who faces charges of money-laundering and fraud.
The Balearic Islands court in Palma de Mallorca said the couple will stand trial next year along with 16 others in the case.
Cristina and Urdangarin, through their lawyers, have repeatedly asserted their innocence.
If convicted she could face up to four years in prison.
Urdangarin, a former Olympic handball medallist-turned-businessman, could face a possible sentence of up to 19 years if convicted.
Urdangarin is accused of using his title to embezzle about six million euro (£4.4 million) in public contracts through a non-profit foundation he and a business partner set up.
Felipe stripped Cristina of her title as Duchess of Palma de Mallorca - which she received on marrying Urdangarin in 1997 - earlier this year in a move to distance the royal family from the court process. Urdangarin automatically lost his title as duke.
Cristina is sixth in line of succession to the throne, and calls have increased for her to renounce her princess title and rights to the throne so as to protect the image of the monarchy ahead of the trial. The couple have not taken part in royal activities since 2011.
The case was one of several scandals to have affected the royal family under former king Juan Carlos, who abdicated in favour of Felipe last year.
On taking the throne, Felipe said he intended to restore public trust in the monarchy, and opinion polls show his popularity ratings have risen.
In a separate ruling, the Palma de Mallorca court dismissed a petition by Urdangarin's former business partner for Felipe to give evidence in the case.
Press Association
Register for free to continue reading
Registration is a free and easy way to support our truly independent journalism
By registering, you will also enjoy limited access to Premium articles, exclusive newsletters, commenting, and virtual events with our leading journalists
Already have an account? sign in
Join our new commenting forum
Join thought-provoking conversations, follow other Independent readers and see their replies