Professor Danielle George: On a mission to bring back the art of 'thinkering'
The electrical engineer from Manchester University on why we have to nurture tomorrow's scientists today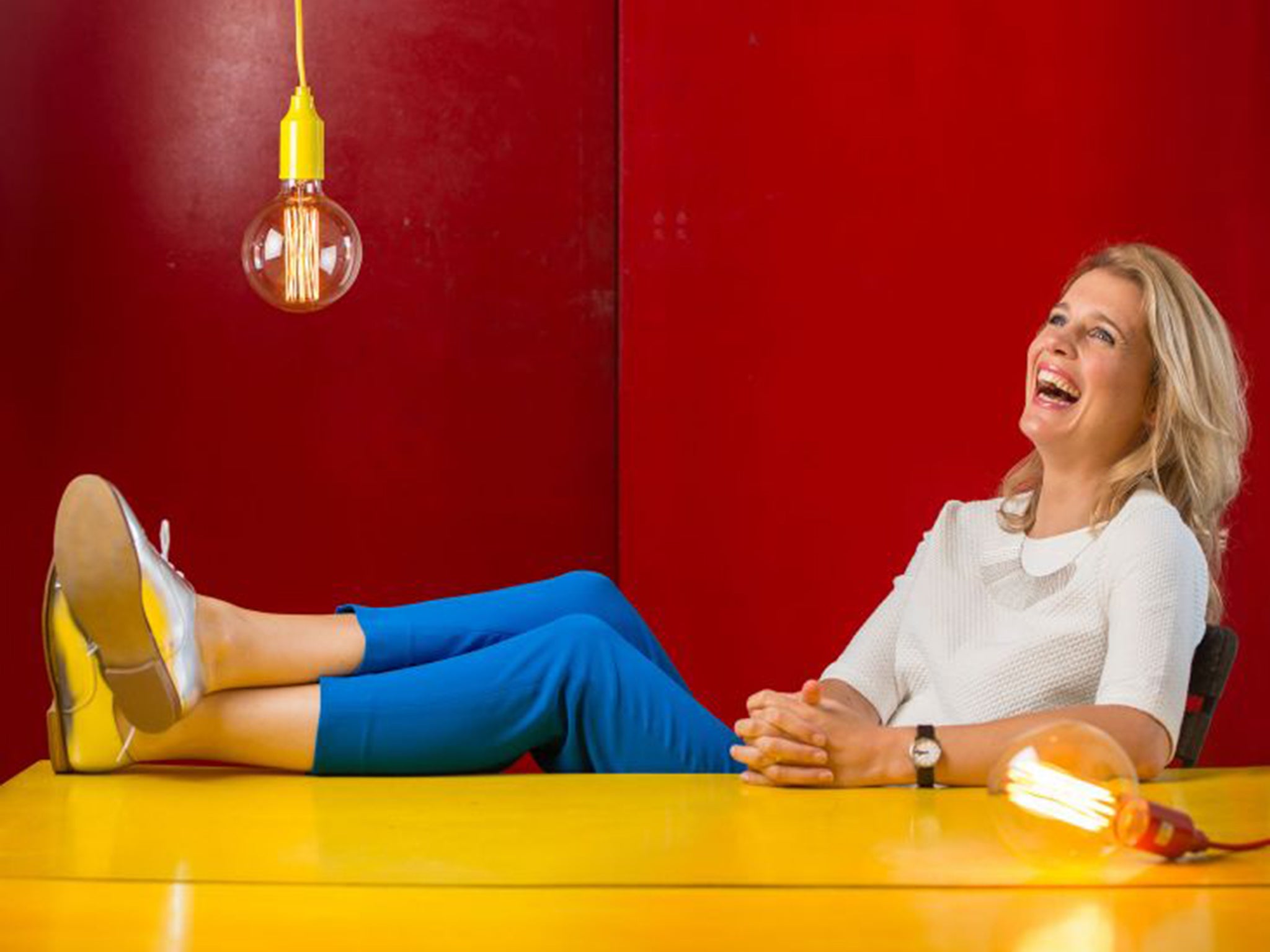 It is the last rehearsal for the third and final talk in the Royal Institution's Christmas Lectures series and the excitement is palpable. Backstage, scientists from around the world are tinkering with robots, including a spookily lifelike one with a friendly face called H5W. In the lecture room, Professor Danielle George, wearing her Christmas jumper, is having a last run-through in front of the cameras.
If the electrical engineer from Manchester University is nervous, she certainly doesn't show it.
Thirty minutes later, the auditorium fills with the chatter of the 400 excited schoolchildren lucky enough to get a ticket. Professor George reappears to huge applause, her jumper now replaced with a smart jacket, and her lecture, during which she will showcase what is thought to be the world's largest robot orchestra playing the Doctor Who theme tune, kicks off.
Mrs George is only the sixth woman to present the lectures. She is, however, the first to present them while being eight months pregnant, and the BBC television presenter Dallas Campbell was on standby as understudy in case her first child made an early appearance.
"Most people see pregnancy as enough of a challenge. I fancied having two," laughs Mrs George. She doesn't want to "make a big deal of" being pregnant, but agrees that it sends a positive message.
"Hopefully, it sends a subconscious message that as long as your baby is fine and you're feeling fine it doesn't stop you from doing anything. So you can get on with your work, still make a difference and still change the world in a positive way – and you don't have to stop for nine months because you are pregnant," she says.
The 38-year-old is on a mission to inspire the engineers of the future who will solve "the big engineering challenges that we all face" and she wants to get across to the audience the joy of tinkering or "thinkering".
In her lecture "Sparks will fly: How to hack your home", she aims to show that it isn't such a big step "between having fun in your bedroom, garage, garden shed and solving some of the big engineering challenges".
Professor George, who specialises in radio frequency and microwave communications, doesn't fully understand why Britons have lost the art of tinkering, but she believes it is to do with a lack of confidence from parents and teachers, a perception "that science and maths is hard" and fear of failure. It is also because we take many of the machines that run our lives so efficiently for granted.
"Things just work," she says. "We take the light bulb for granted because how often do the light bulbs go out? People used to tinker with cars a lot more than they do now, as we tend now to take them to a garage. But before most people knew how to change oil. Similarly, your telephone very rarely breaks down."
But she believes the generation now growing up with technology, skilled with a mobile phone from the age of two, have grown beyond the "wow factor" [surprise] at smartphones and other devices – and are now wanting to take them apart and find new uses for them.
"It's amazing if you think what these two-year-olds are going to be able to do in 10 years' time, as they are so comfortable with technology now – where is their imagination going to take them?" she asks.
A desire to "change the world in a positive way" has driven her career to date. In her day job in radio astronomy, she designs "very highly sensitive information for astronomers to capture data" and has worked with Nasa and the European Space Agency (ESA) on the development of instrumentation for researchers exploring the Big Bang. She also helped put the ESA's Planck satellite into space, which has "made the clearest map of the Universe to date".
She is also making a difference back on Earth with some of her PhD students working with farmers to develop ways in which "we can make more intelligent use of precious resources such as water".
For the lectures, she has focused on three of Britain's greatest inventions – the light bulb, the telephone and, the electric motor, to "see where our imagination can take us".
Born in Newcastle to a car mechanic father and a mother who taught special needs, she is the middle of three sisters. "From nursery, I was always questioning things," she says, and she credits her parents' encouragement as key.
"My parents never said, 'Oh, I don't know'," she says. "If they didn't know, and a lot of times they didn't, then they would buy me a book or talk to the teacher and say, 'Dan has been asking about this – where could we find some information about this?' That encouragement was key."
They bought the budding scientist her first telescope, at eight. "I loved it – [it] captured my imagination and I could see where that could take me." She remembers getting her "sisters up in the middle of the night to look at lunar eclipses". She also had encouragement from science teachers at her comprehensive, Kenton School.
"I think it is really important to note that a girl doesn't need female role models, just someone who is encouraging and inspiring and who will really help you develop as a person. But having more female role models in science and engineering can only be a good thing."
She believes the gender divide, which means that only 6 per cent of the UK's engineering workforce is female, starts at toddler stage. "We need to make sure – as parents, teachers and the public – that we don't segregate children. For example, in a playgroup where you have Lego in one corner, and all the boys go there, and dolls in the other corner, and all the girls go there," she says. "If that is their preference, that's fine, but we shouldn't influence them; we should encourage them to play with whatever they like."
Before a recent visit to a primary school, the children were asked to draw a scientist, with the only explanation given that a Mrs George was coming to talk about science and engineering. Only one child drew a woman, most "the mad scientist with the grey beard and white hair".
The Government and professional bodies, she believes, need to do more and should arrange for parents and teachers to attend workshops on the issue. "Greater social status for engineers would also help, she argues. "In Germany, if you are an engineer you are very well respected as a professional in the same way as a lawyer or a medical doctor is."
The Royal Institution Christmas Lectures will air at 8pm on BBC4 on 29, 30 and 31 Dec
Join our commenting forum
Join thought-provoking conversations, follow other Independent readers and see their replies