Alastair Campbell: Fighting his demons every book of the way
The most notorious spin doctor in UK politics has reinvented himself with remarkable success as a prolific author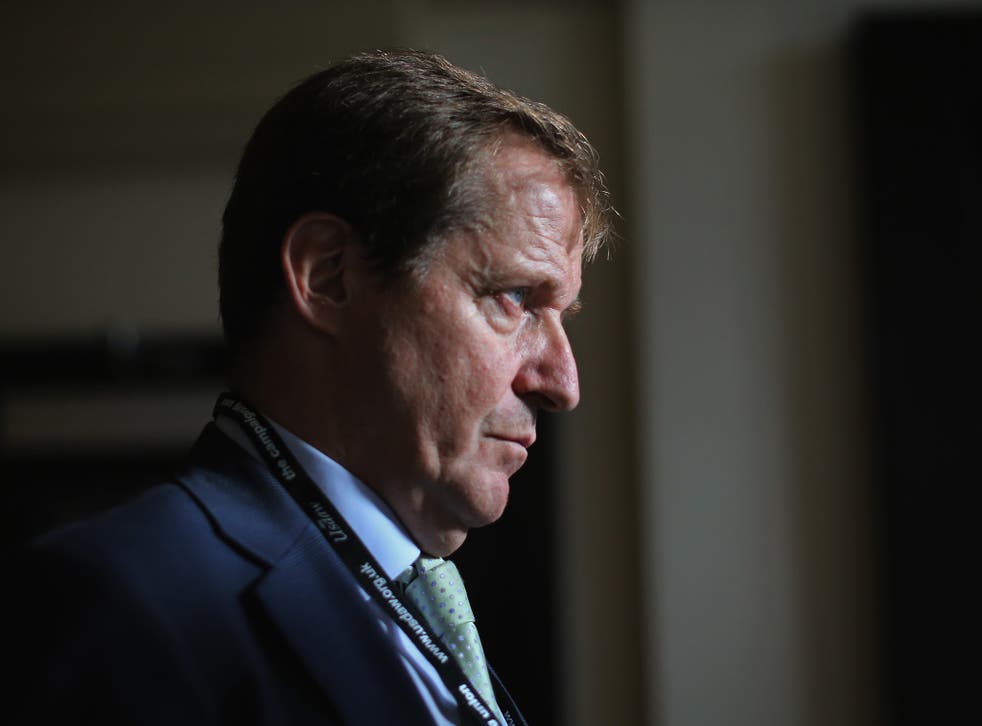 In one of the main streets in the beautiful city of Bath last week, within sight of its 500‑year old cathedral, a large poster hung from a lamppost, bearing a picture, blown up to at least twice life size, of the face of Alastair Campbell.
The reason the good people of Bath were treated to the sight of him as they did their city-centre shopping was that he was last night's guest speaker at the Bath Literary Festival. Like most speakers at literary festivals, he was there because he has a new book to promote.
Tony Blair's former director of communications began a new life when he left Downing Street in a blaze of controversy, 11 and a half years ago. He had been writing voraciously ever since he was a 22-year-old Cambridge graduate contributing to Forum magazine under the pseudonym Riviera Gigolo, but before 2003 had never published anything more than a few hundred words long. It is only in his post-Blair incarnation that he has published books, which he has churned out prodigiously, starting with the diary that he kept during nine years at Blair's side.
This week, he has published Winners and How They Succeed, which can be read as a study of what makes winners win, as a guide for those who aspire to be winners, or as 423 pages of high-class name dropping. The front cover design incorporates the names of more than 70 winners. Campbell knows or at least has met most of them.
This is someone who can boast that "Bill Clinton, when I interviewed him, said…", and "Kevin Spacey tells me a similar story…", and "I first met [the Ethiopian athlete Haile Gebrselassie] at the Great North Run in the early 2000s. Brendan Foster introduced us…", and "of all the world leaders I have met, Nelson Mandela is the one who…".
Edited extracts of his diaries from the Blair years first appeared in 2007, followed by the complete version, in four volumes, each of them at least half as long as War and Peace. Volume one, filling 740 printed pages, takes the reader only up to the day Blair took office. There are three more of similar length covering the next six years, and a separate volume entitled The Irish Diaries. He has also written a short ebook called The Happy Depressive, and three novels – making 10 books altogether, in eight years. He also has a new role as GQ magazine's heavyweight interviewer, taking on subjects such as Nigel Farage and Alex Salmond. He writes a blog, and has 292,000 Twitter followers.
All 10 of those books deal in different ways with two big subjects – the will to succeed, and the addictive personality. His first novel, All in the Mind, featured five patients of a psychiatrist who needed therapy more than they did. His third, My Name Is ..., is about a 17-year-old alcoholic. In between, he wrote Maya, which describes a relationship between a movie superstar and someone with an ordinary job. In his latest book, he emphasises how people who succeed are driven by the fear of failure – a useful psychological asset, he implies. "Winners hate losing. Winners win because they have to."
Tony Blair: A career of controversies

Show all 11
He can write with authority on these subjects because he has all the symptoms of an addictive personality driven by fear of failure. In an age when fame is seen as a key indicator of success, Campbell is more famous than anyone else in recent British history whose only political role was as an adviser. He has been lampooned on stage and screen, most notably as the model for maniacal Malcolm Tucker of The Thick of It.
Since his departure from Downing Street, he has been admirably open about the personal demons that drove him to drink and a nervous breakdown in his twenties, when he was a tabloid journalist. We have it on Tony Blair's authority that he was close to the edge again in the aftermath of the Iraq war, when he was fighting off the accusation that he had doctored the dossier that put the government's case for going to war. Ironically, he might never have been drawn into that controversy, which may come to haunt him again when the Chilcot report is finally published. In 2001, he gave up being Blair's spin doctor, intending to make himself less visible while he planned a change of career. Blair persuaded him to stay on through the Iraq war.
Outside the political pressure cooker, he is said to be happier and calmer. An interview in the Evening Standard this week inspired the headline: "Once I'd have headbutted him and kneed him in the bollocks. But I'm not so angry any more." He is also a wealthier man, who can command sums even higher than the going rate of £5,000 for a former foreign secretary. As an after-dinner speaker, he can charge between £10,000 and £25,000.
He and his long-term partner Fiona Millar set up a freelance consultancy, whose clients included the government of Kazakhstan – a connection that Tony Blair is assumed to have set up for him. That vast former Soviet republic is ruled by the same man, Nursultan Nazarbayev, who was head of its communist party a quarter of a century ago. Mr Nazarbayev is not the worst ruler in Central Asia, but he is a dictator whose family has grown very rich, and whose civil rights record has drawn international criticism.
After several years working freelance, Campbell accepted a lucrative in-house consultancy in 2012 with Portland, a public relations agency founded and run by his former deputy spin doctor, Tim Allan. Kazakhstan is one its clients, alongside various giant corporations such as Tesco, McDonald's, Vodafone and Google.
He has a lifestyle many MPs would envy, and yet, curiously, he wonders aloud whether he should have taken a different course and become an MP himself. Before the 2005 election, it was rumoured that he might try for the Labour nomination in Burnley. Though he was born in Keighley, in Yorkshire, his father, who was a vet, would take him across the Lancashire border to watch Burnley's football team play, and he is now the club's best-known supporter. But he decided not to – perhaps wisely, because in 2010, the seat was taken by a Lib Dem.
His behaviour, post-Blair, has been markedly different from that of so many Labour grandees who settle for an easy life and who seem to resent the party that no longer treats them like the important people they used to be. He could have become Lord Campbell, with a £300-a-day tax-free billet in the House of Lords, but chose not to. Of the two Miliband brothers, he rated David above Ed, and of the two Eds, he prefers Miliband to Balls, but unlike his old colleague and rival Lord Mandelson, he has never publicly criticised the Miliband-Balls duumvirate.
On the contrary, he has raised and donated vast sums of money for the party, and spoken at party events. Last month, a mass email went out saying: "Want to be in a quiz pub with me?" It was an invitation to Labour supporters to make a donation and so enter their name for the privilege of being on the Campbell quiz team. He is ferociously, tribally Labour. There was a point when the rumours of his imminent return to full-time politics were so strong that The Sunday Times rather touchingly included him in a feature about Labour's "young hopefuls", although 57 is not everyone's idea of young.
The fear of failure and of wasting his life is so strong that it might even drive back into the fray, allowing the man who proved that there is life after Downing Street to show that there yet more life after doing the celebrity thing.
A life in brief
Born: 25 May 1957, Keighley, West Yorkshire.
Family: His father was Donald Campbell, a Scottish veterinary surgeon. He has two brothers and one sister.
Education: Attended City of Leicester Boys' Grammar School before studying modern languages at Cambridge.
Career: Political correspondent at the Daily Mirror from 1982, before becoming Tony Blair's spokesman in 1994, then appointed chief press secretary in 1997 and director of communications in 2000, before resigning in 2003. Since then, he has published a number of books.
Register for free to continue reading
Registration is a free and easy way to support our truly independent journalism
By registering, you will also enjoy limited access to Premium articles, exclusive newsletters, commenting, and virtual events with our leading journalists
Already have an account? sign in
Register for free to continue reading
Registration is a free and easy way to support our truly independent journalism
By registering, you will also enjoy limited access to Premium articles, exclusive newsletters, commenting, and virtual events with our leading journalists
Already have an account? sign in
Join our new commenting forum
Join thought-provoking conversations, follow other Independent readers and see their replies