Alexei Navalny: The greatest threat to Putin
The activist inspires devotion on the streets and fear in the Kremlin. But is he just another autocrat-in-waiting?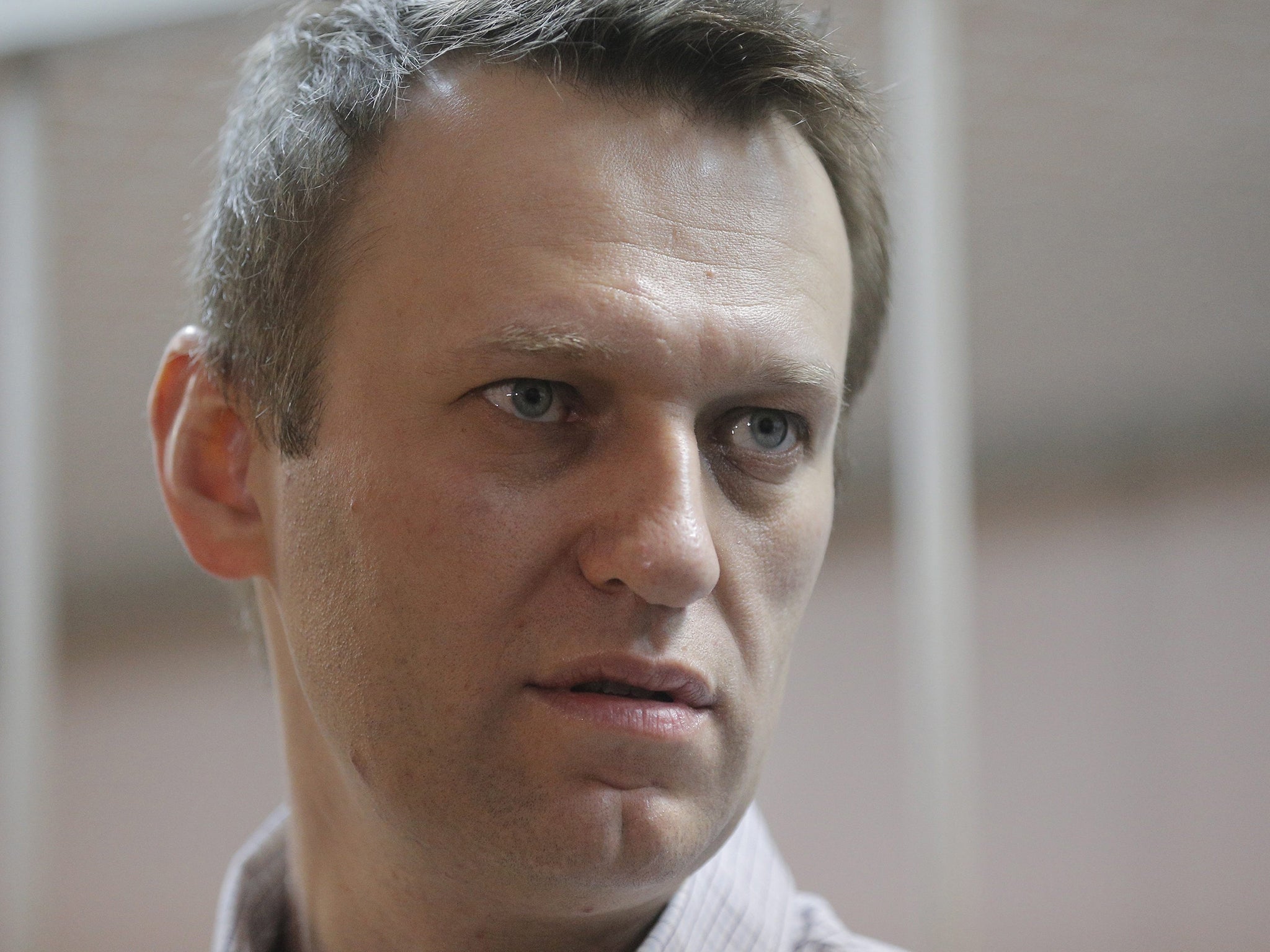 Alexei Navalny has never held political office, and is barred from ever seeking it. Vladimir Putin has never so much as uttered his name, and the president's allies dismiss him as a 'hamster from the social networks'. But he is Putin's most formidable political opponent and the most famous activist in the country, having galvanised the biggest anti-Putin protests ever seen. And this week the struggle between the two men entered a new and perhaps critical phase.
The occasion was the climax of Mr Navalny's latest trial, the latest of several strange and unconvincing law suits he has faced. This time he and his brother Oleg were accused of defrauding two companies, including a Russian affiliate of Yves Rocher, the French cosmetics company, of 30 million roubles, about £345,000. Like Navalny's previous run-ins with Russian justice, it was widely seen as another clumsy way to try and silence President Putin's most fearless and vociferous critic.
The verdict and sentencing were set for 15 January, and it was expected that guilty verdicts, probably followed by hefty prison sentences, would bring many thousands out on to the streets in protest – perhaps dwarfing those of 2012, which also centred on Mr Navalny. With the rouble plummeting and sanctions biting, Putin risked the worst possible start to 2015.
So both the timing and the substance of the trial's finale were quietly re-formatted. Judge Yelena Korobchenko brought her timetable for the trial forward more than a fortnight. The verdicts she handed down on Tuesday were, as expected, guilty ones. Both brothers were sentenced to three-and-a-half years in jail – but while Oleg was taken to prison, the sentence of Alexei was suspended.
When the news broke, Mr Navalny's fervent supporters duly hit the streets to protest, but given the short notice and the proximity of the new year holiday, they came only in their thousands. Navalny himself was arrested on his way to the protest, for breaking the terms of his house arrest.
The protesters were allowed to gather outside Red Square for two hours before being dispersed – an unusually lenient approach by the authorities to an unscheduled and unlawful demonstration. And at the end of it Putin had a result he could live with: the anti-Putin forces lacked a martyr, Navalny remaining out of jail though tightly circumscribed; Moscow was at peace for the new year holiday; and Putin's youthful and courageous antagonist was left to plot his next move.
Alexei Anatolievich Navalny was born in June 1976, the son of an army officer, and raised in closed military towns around Moscow. After taking a law degree in Moscow he began dabbling in opposition politics but in 2007 was expelled from Yabloko, the liberal and pro-Western party founded in the 1990s, for causing damage to the party, and in particular for "nationalist activities", including participation in the annual Russkiy Marsh ("Russian March") promoting the rights of ethnic Russians.
He reinvented himself as Russia's first and so far unexcelled master of the politics of the internet age. His breakthrough came in 2008 with his launch of a blog which subjected the notorious corruption of the political elite to close, forensic examination.
He revealed, for example, that executives with Transneft, a state-owned pipeline company, had embezzled £2.6bn; that inflated tenders for state contracts had resulted in losses to the public purse of £800m; and that the man Navalny described as "the poorest member" of the Duma, Russia's parliament, owned a chateau near Versailles and a flat near the Eiffel Tower. "Everyone says corruption is everywhere," Navalny said, "but for me it seems strange to say that and then not to try to put the people guilty of that corruption away."
One of his allies explained the sudden fame Navalny experienced after his blog was launched. "People just couldn't take the government's cheating and lies any more," he said, "and they found someone who was willing to do something more than sit and moan in the kitchen."
These revelations, a mastery of social networks including Twitter, and public meetings at which he revealed a well-developed talent for demagogy, thrust Navalny into the front ranks of Putin's opponents. And when he said in an off-the-cuff comment on radio that Putin's party, United Russia, was "partiya julikov i vorov" – "the party of crooks and thieves" – he provided the anti-Putin movement with the perfect catchphrase. The protests which rocked Moscow in 2011 and 2012, inspired by Navalny's revelations and rhetoric, were only dispersed with brutal police violence.
Putin's allies' dismissal of him only succeeded in inspiring the riposte, "Yes, I'm a little network hamster! And I'll gnaw through the throats of these villains!"
Vladimir Putin: Inside the Russian President's Daily Life
Show all 10
Then in 2012 Navalny took a giant step towards the political mainstream when he challenged the Kremlin's candidate Sergio Sobyanin for mayor of Moscow. Learning from the West, he raised funds and ran ads both online and off and met thousands of voters through neighbourhood meetings.
"It was the first real [election] campaign in contemporary Russia," he said later. "In many ways we copied American campaign methods." Confounding the most optimistic predictions of his supporters he obtained 27 per cent of the vote against a popular incumbent who was backed by Kremlin money; at the end, Navalny's supporters believe, the result was fudged to ensure that Sobyanin got more than 50 per cent, so there would be no run-off election.
In mid-campaign Navalny was hit by another spurious lawsuit and charged with embezzling money from a timber company. When the case concluded in 2013 he was sentenced to five years in a labour camp, but released after a single day in jail. The sentence however had the effect of barring him from ever seeking political office again.
After his latest run-in with Russian justice, Alexei Navalny remains far and away Putin's most plausible and popular opponent. Yet among the opposition ranks he stirs conflicting feelings.
Navalny's campaign for Moscow mayor focused the attention of his allies on both his strengths and weaknesses. One supporter, quoted by the Russian-American journalist Julia Ioffe in the New Republic, praised his "unerring political acumen and sharp wit" but worried about his nationalism, reflected in his boast, during a casual conversation, about how he, his wife and their two children all had blond hair and blue eyes.
Another opposition figure criticised the conventional, authoritarian framing of Navalny's election campaign. "As soon as he saw the chance to jump over the wall separating those in power from the people, he leapt with abandon," he said. "His whole story is that of a guy who doesn't believe in his base." And the base, it is claimed, returns the compliment. As Ioffe puts it, "They worry about his nationalistic streak, about where his money comes from. In short, Navalny is not pure enough…Centuries of autocratic rule have led to the expectation that a single leader can change the course of history, and yet almost every possible candidate is eventually dismissed as tainted."
At bottom, what do Navalny's politics consist of? Nationalism, his critics say, plus personality cult – just like Putin. For the time being, however, he remains much the most potent weapon the anti-Putin forces possess. Does he have the wherewithal to transform Russian politics? Or is he yet another autocrat in the making, awaiting his big break?
A life in brief
Born: 4 June 1976, in Butyn, Moscow region
Family: His father Anatoliy is from Zalissia, a village in Kiev Oblast, Ukraine and his mother from Russia. He has a younger brother, Oleg.
Education: Graduated in 1998 with a degree in Law at Moscow's Friendship of the Peoples University before studying securities and exchanges at the Finance University under the Government of the Russian Federation.
Career: He is a lawyer but also a popular blogger and political activist and is known as one of Vladimir Putin's most vocal critics. He rose to prominence after investigating the official corruption and playing a leading role in the anti-Putin demonstrations in 2011 and 2012.
Join our commenting forum
Join thought-provoking conversations, follow other Independent readers and see their replies