Amal Clooney: Making headlines for all the right reasons
The media clamoured to see the global human rights lawyer in action this week. She was simply doing her job
Peter Popham
Friday 30 January 2015 19:41 Comments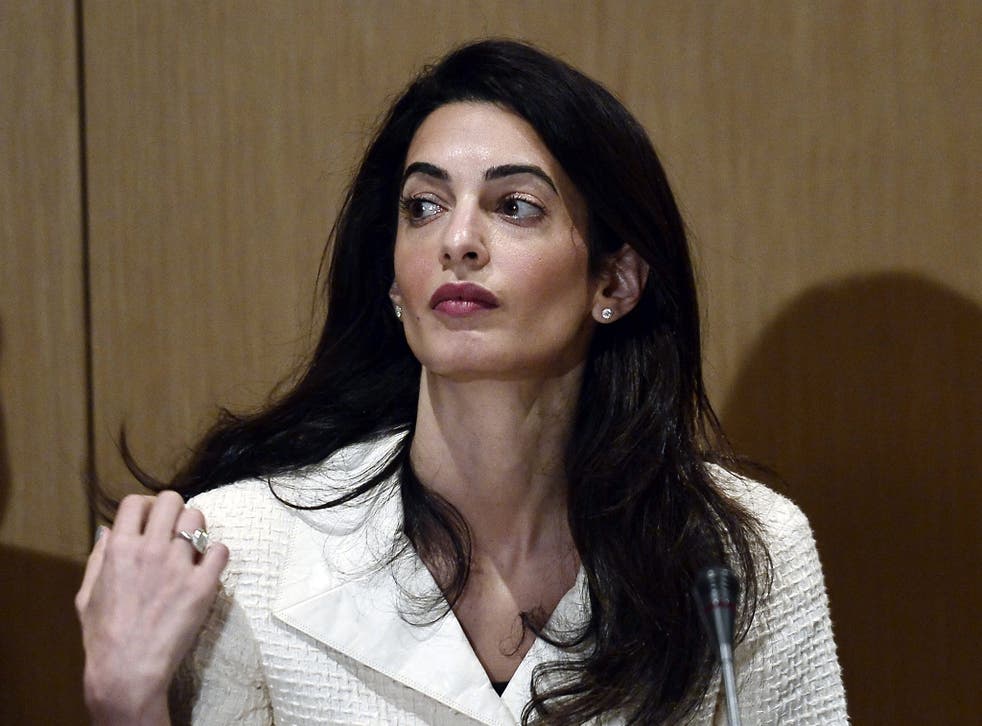 There is no doubting George Clooney's eye for beautiful women, but until October 2013 his relationships followed a certain pattern.
Actress; cocktail waitress; waitress and reality show contender; underwear model and actress; professional wrestler – each abandoned in turn, the gossips tell us, when commitment raised its ugly head. As recently as September 2013, the actor told GQ magazine in answer to a question about marriage: "I haven't had aspirations in that way, ever. I was married in 1989. I wasn't very good at it."
And now here he is, hitched – to another great beauty, to be sure, but a woman from a totally different place, in every sense, than her predecessors.
No less in the public eye than her husband, this week Mrs Amal Clooney was in the headlines on her own account, standing in a courtroom at the International Court of Human Rights in Strasbourg before an international bench of judges, wearing black lawyer's robes and "falling bands", the two plain linen rectangles that cover the shirt collar.
The subject was one of vast importance: the mass murder of some 1.5 million Armenians during the First World War – long regarded as the first genocide of the 20th century, but which her antagonist in the case, Dogu Perincek, chairman of the Turkish Workers' Party, claims was nothing of the sort.
The court was packed with far more journalists than the question at issue would normally draw, many of them from organisations whose interest in matters Turkish and Armenian is marginal at best. Geoffrey Robertson, the veteran human rights barrister and Clooney's colleague in the Doughty Street Chambers where they both work, twisted on his chair at her side. But Amal Clooney, speaking in the English vowels chiselled at St Hugh's College, Oxford, betrayed no nerves. She knew very well what she was about.
The Armenians were killed, she told the court, "with specific genocidal intent". There are photographs of the River Euphrates filled with blood. "A campaign of racial extermination was in progress against the Armenians," she insisted. Its object was "the total obliteration of Armenians". She quoted a contemporary Turkish leader's statement that there was "no room for Christians" in Turkey.
The court was hushed. God knows what some hacks were making of it. The world of Vegas cocktail waitresses and underwear models and curvaceous young women wrestling in bikinis seemed a very long way away. George Clooney had fallen head over heels for what one reporter called "the allure of the brainiac".
The daughter of a prominent and intellectual Lebanese family, her father a Druze, Amal Alamuddin was brought to London aged three with her siblings, fleeing her homeland's civil war. The family was well off: a government minister and the founder of Lebanon's airline were among their relatives, and they settled in a comfortable home in Gerrards Cross, Buckinghamshire.
In pictures: George Clooney and Amal Alamuddin's wedding

Show all 25
Alamuddin – who turns 37 next week – shone at Dr Challoner's High School in the same county, winning an exhibition to St Hugh's, the formerly women-only college which was also alma mater of Aung San Suu Kyi. Gaining a 2.1, she went on to take a master's degree at New York University. While there she received the Jack J Katz Memorial Award for excellence in entertainment law – probably the first time that her world and that of the playboy film star, twice declared "sexiest man alive" by the US's People magazine, came within shouting distance of each other.
Alamuddin was already clear that her future lay in international law, and graduation was followed by stints with the International Court of Justice and the special UN tribunals for Lebanon and former Yugoslavia. She was not only very gifted but also a workaholic of huge ambition. Over the following years she was involved in some of the highest profile international cases on the planet, including those of Yulia Tymoshenko, Muammar Gaddafi's former intelligence chief Abdallah al-Senussi, and WikiLeaks founder Julian Assange.
When she returned to London in 2010 and knocked on the door of Doughty Street Chambers, there was no doubting that she was a prize: not only a superb lawyer, but also one with unusually strong motivation. Geoffrey Robertson said that she showed strong commitment to "the basic idea that everyone is entitled to a basic level of dignity… We offered her an exceptional pupillage, which we do for exceptional people, and she indeed was exceptional."
Nor was it surprising – to those familiar with the sort of dedication that lawyering at this level requires – that Alamuddin had not yet married or even, leaving aside vague suggestions of close friendship with Eric Schmidt, the chairman of Google, paired up with a serious boyfriend. As Robertson points out, human rights law is not intrinsically glamorous work – "cramped over a desk with thousands of pages of case law to get through in an evening".
So it was perhaps inevitable that it was Clooney, not long after his split with the professional wrestler Stacy Keibler in September 2013, who made all the running. Their paths had crossed because of Alamuddin's work with Kofi Annan and Clooney's long-standing commitment to the plight of Darfur. He love-bombed her with emails, proposing that the hottest actor and the hottest human rights lawyer in the world might find something in common, and after keeping him waiting for a reply for a considerable time, she agreed to meet. They clicked. Beady-eyed Clooney-watchers pinpoint the crucial time as December 2013: George went off on a rant to the effect that Twitter was "just stupid and that anyone who was famous and had a Twitter account was a moron" – and within 24 hours, Alamuddin's small band of followers found themselves bereft of her tweets when she closed down her own Twitter account.
It was the beginning of her induction into a world of celebrity very different from anything she had previously known. Despite media whinges about the cost and extravagance of their Venice wedding last September, and forensic attention by fashion correspondents to her wardrobe, it is a world they have to date negotiated with considerable skill and discretion: very often, as this week, in the public eye, but never putting their foot in it.
It's been said of Clooney that his girlfriends always enter his world, but he never enters theirs. But with his wife, these settled traits are bound to change. He has deferred to Alamuddin's desire to continue her work – hence their £10m conjugal home on a four-acre island in Sonning, Berkshire, a fast car ride away from the London courts. In addition, can we now expect some attempt at synergy between their two careers?
George's commitment to human rights has shone through in film after film: conversations around the breakfast table are likely to be earnest. The legendary leader of Lebanon's Druze community, Walid Jumblatt, a close friend of the couple, has suggested that Clooney might make a film about the embattled Druze minority, based on The Last of the Mohicans, "and with me as Geronimo". Stranger things have happened, this marriage among them.
A life in brief
Born: 3 February 1978, Beirut, Lebanon.
Family: Father is businessman Ramzi Alamuddin and her mother, Bariaa, a journalist. Married to George Clooney.
Education: Dr Challoner's High School, Bucks. BA in jurisprudence from St Hugh's College, Oxford. Master of Laws from New York University School of Law.
Career: Worked for a New York law firm before working on UN tribunals for Lebanon and Yugoslavia. Barrister at Doughty Street Chambers, London, since 2010.
Register for free to continue reading
Registration is a free and easy way to support our truly independent journalism
By registering, you will also enjoy limited access to Premium articles, exclusive newsletters, commenting, and virtual events with our leading journalists
Already have an account? sign in
Join our new commenting forum
Join thought-provoking conversations, follow other Independent readers and see their replies