Andrew Lansley: 'It would let people down if I just walked away'
It's been a tough year for the Health Secretary, but he maintains that he has no intention of quitting over his botched NHS reforms. Matt Chorley meets Andrew Lansley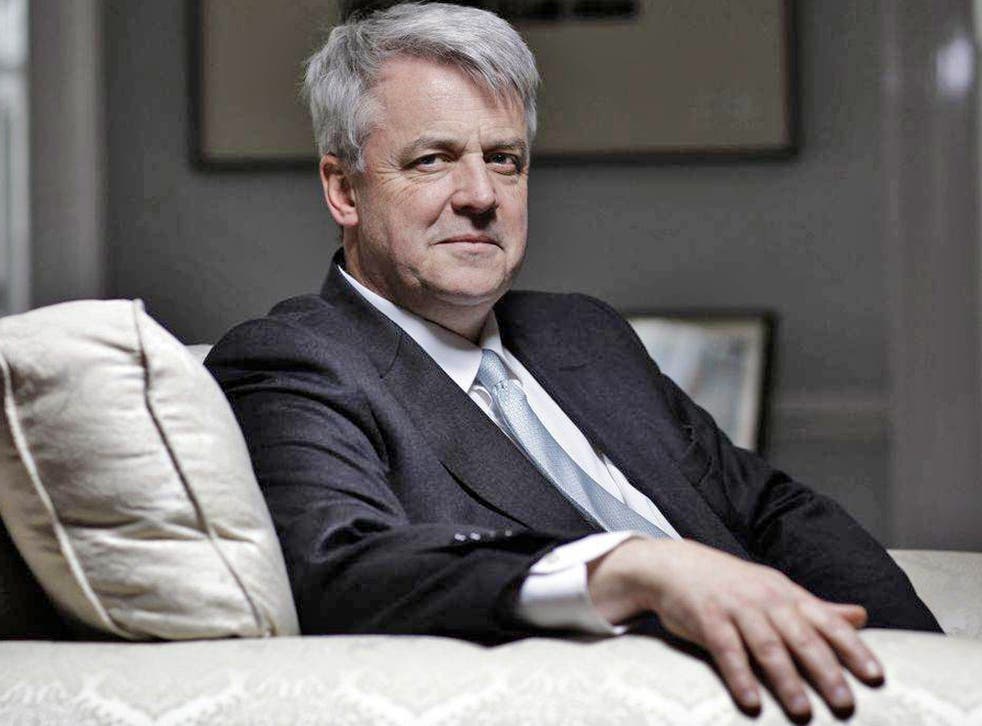 On Andrew Lansley's desk there is a metal moneybox wrapped in an oversized £5 note. It is labelled "NHS Efficiency Savings Tin". It is going to take a fair amount of loose change to reach the savings target for 2014-25. Twenty billion pound coins, in fact. Though the Health Secretary is confident the savings plan is on track, he concedes it will be an "enormous challenge".
So why then, did he embark on an ambitious overhaul of the National Health Service, which angered almost every group of doctors and nurses in the land, handed the Liberal Democrats their biggest policy win, triggered claims of privatisation by the back door, and led to the dubious honour of having a rap written for him, including the memorable chorus: "Andrew Lansley, greedy, Andrew Lansley, tosser, the NHS is not for sale you grey-haired manky codger...".
With a trademark arched-eyebrow and masterly understatement, Lansley plays a straight bat: "You don't come into government thinking it is going to be easy. You have to make a decision, and some of my predecessors – no names – have decided 'the less I do, the less trouble I might get into'."
By contrast, the MP for South Cambridgeshire, who turned 55 last Sunday, could not have found himself in more trouble in 2011. Having promised no top-down reorganisation of the NHS, he embarked on a package of reforms which would abolish primary care trusts and strategic health authorities, and hand £60bn in health spending to family GPs while clearing the way for more competition. A shift from "targets to outcomes": less about how long you wait (though those targets are still being met, he insists) and more about whether or not you get better at the end of treatment.
Meshing Tory and Lib Dem demands, the reforms became muddled and appeared to contradict the coalition agreement. Eighteen months on, the Bill is still crawling through Parliament, having been attacked, spun, re-written and bolstered by new guidance, frameworks and benchmarks. When this newspaper broke the story in April that the Health and Social Care Bill was to be "paused" by David Cameron, the Government was in chaos. As the crisis threatened to engulf the Health Secretary, the one-time head of the infamous research department at Tory HQ who masterminded the 1992 general election appeared to have lost his political judgement. Downing Street believed that Lansley was on the verge of resignation.
Eight months on, a picture of relaxation as he counts down the days until spending Christmas with his family on Anglesey, he denies ever considering his position. "I wouldn't do that. You mustn't believe what you read in the papers. There are a lot of people who tell me on a personal basis that they agree with what I am doing and it would let them down if I just walked away from it."
And here lies the difficulty with Andrew Lansley; he is apparently unable to see any problem with his reforms. The charge sheet is long, but he has an alibi for each: "We made clear what we were going to do before the election .... The bureaucracy stays for ever, so changing that is essential .... Quite a lot of people who told me before the election how much they agreed with what we were saying suddenly found it was inconvenient and difficult after the election." The plans will, he says, bring much-needed stability to the health service, putting professionals and clinicians permanently in the driving seat.
Every hospital is scheduled to become an independent foundation trust by 2014, but several cannot, because private finance initiatives (PFIs) used to build new hospitals left them with unsustainable debts. In the new year, Lansley is expected to announce how the Government will rescue those in the most serious trouble. "There is something like 20 of them that have financial problems associated with their PFI projects, and about half a dozen where on the face of it they could not deal with their PFI on the basis of their performance this year. We are going to have to root out poor performance and reward good performance. But for some of them, not a bailout – but we are going to have to reset them." The backlash was "inevitable", he says. "The chairman of the BMA council told me, 'Yes, we are opposed to what the Government is doing. We are opposed to whatever the Government is doing.'"
Holding the health brief in opposition since 2004, few doubt Lansley's in-depth knowledge of the NHS, which makes the apparent miscalculation of the presentation of his plans all the more surprising. "I have knocked around for a long time," he says. Two decades ago, as the Major government teetered in the fall-out from the Maastricht treaty, he attended daily crisis meetings in Downing Street. "This is nothing compared to that," he says, twirling his spectacles. "Of course it's pressured, but it's what you do in government."
Now a new European crisis threatens to destabilise a Conservative Prime Minister. Lansley defends Nick Clegg's decision to criticise publicly David Cameron's negotiating tactics, because he "cannot submerge strongly held Liberal Democrat positions. He has got to be out there saying, 'I am the leader of my party and this is what I think.'" But he saves his strongest praise for his own leader – "David Cameron has always been immensely supportive" – perhaps mindful that anyone in the Westminster village playing fantasy reshuffles pretty soon has Lansley heading for the back benches. Lansley himself insists support from party colleagues has been "immense", but this year his net approval ratings among Tory grassroots supporters surveyed by ConservativeHome slumped from 46 per cent in January to only 28 per cent.
And yet he is cool as a cucumber: you wouldn't bet the contents of his savings tin against him surviving. Whether the NHS survives this latest upheaval is another matter.
Curriculum vitae
1956 Born 11 December, in Essex, son of Irene and Thomas, President of the Institute of Biomedical Science who helped establish non-medical scientists in the NHS.
1979 After reading politics at the University of Exeter, joined the Civil Service, rising to Private Secretary to then Trade and Industry Secretary, Norman Tebbit.
1985 Married Marilyn Biggs. They have three daughters, but divorced in 2001. He married Sally Low in 2001, and they have one son and one daughter.
1990 Joined the Conservative Research Department, and ran the Tories' victorious 1992 general election campaign, for which he received a CBE.
1997 MP for South Cambridgeshire.
1999 Joined shadow cabinet under William Hague as shadow Chancellor of the Duchy of Lancaster. Later, promoted to shadow Health spokesman.
2010 Secretary of State for Health.
2011 Andrew Lansley Rap, opposing his NHS Bill, gets 450,000 YouTube hits.
Join our new commenting forum
Join thought-provoking conversations, follow other Independent readers and see their replies