Andy Burnham: 'It's a genie out of the bottle moment'
The shadow Health Secretary is furious at the coalition's plans for NHS reform, but reckons this is the one issue that could trigger David Cameron's downfall. Matt Chorley meets Andy Burnham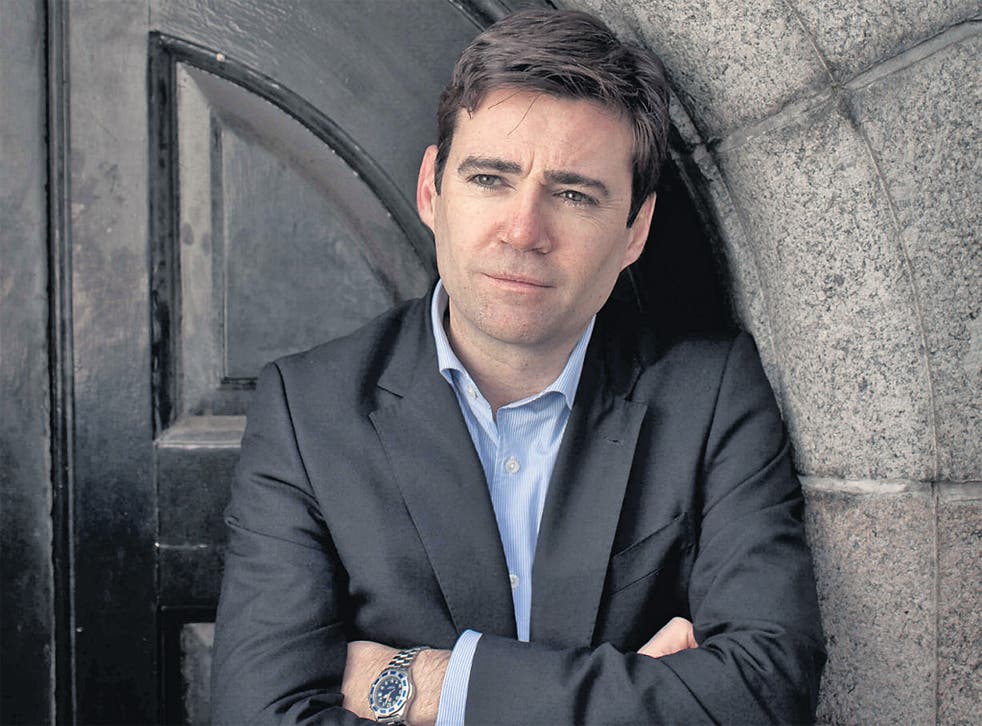 Andy Burnham is a man on a mission. He plans to save the NHS, and could just save his leader in the process. The shadow Health Secretary is credited with finally putting Labour at the heart of the huge political row over the Government's health reforms, and putting some lead in Ed Miliband's pencil just as his leadership seemed to be flatlining.
Burnham sat next to Miliband throughout Wednesday's Prime Minister's Questions, almost universally regarded as one of the Labour leader's best, when David Cameron was left noisily – but ineffectually – trying to defend his overhaul of the National Health Service.
Burnham denies Labour has been slow to exploit the coalition's woes, which began in the summer of 2010. The 42-year-old die-hard Everton fan, who played in New Labour's infamous Demon Eyes football team with Ed Balls and David Miliband, reaches for a football metaphor. "I'm a prima-donna striker. I'm well known for letting others put in the hard graft, and I like to do nothing for 89 minutes and then..." He tails off, mindful perhaps that we are nowhere near the stage of cup-final glory.
There's little doubt that the NHS has become the big political football of the day. With the final whistle nearing, Burnham undoubtedly talks a good game but it will take more than some fancy footwork to get one past his nemesis, Andrew Lansley, the beleaguered Health Secretary.
He compares Lansley to Fabio Capello, who quit as England manager last week. Both are "technocrats". In the NHS, as in the dressing room, you need someone who can "build up confidence in people, bring out the best in people".
As passionate about football as politics, he wants Harry Redknapp – "a very, very decent, warm man" – to take over the England job. The football chat illustrates Burnham's ability to do a good impression of a human being: son of a BT engineer and a receptionist, he wears his northern heart on his sleeve and – despite membership of the Oxbridge-educated, adviser-turned-minister New Labour set – he seems normal, a trait so rare in Westminster that it seems worth mentioning.
Where Lansley goes on about "collaborative leadership" and "clinical commissioning", Burnham's language is direct: the reforms spell the "end of the NHS as we know it". They will create a "huge postcode lottery".
Of the Health Secretary, he says: "I think he's a poor politician... He doesn't instinctively understand what makes people tick in the NHS. I don't think he's got a feel for people on the ground."
The two men have history. Burnham spent almost a year as Health Secretary at the tail end of Gordon Brown's premiership and experienced Lansley up close. They fell out spectacularly after the now cabinet minister used the contents of private cross-party talks over the future of social care to launch an election campaign accusing Labour of plotting a "death tax". Burnham is studiedly polite, saying the episode shows "poor judgement" on Lansley's part – but clearly it still rankles. And while this is not payback time, he does allow himself to say: "There has to be some integrity otherwise you will come a cropper."
For a time, he says, there was a "feeling of inevitability" about the reforms, that "opposition was futile". Now Labour's Drop the Bill campaign has caught fire – after Miliband's PMQs triumph, 10,000 people signed an online petition opposing the reforms and his declaration that he will repeal the legislation if elected is emboldening those in the party who have complained of a sense of drift. Miliband, says Burnham, was "speaking for the country" when he told Cameron on Wednesday: "Every day it becomes clearer the health service is not safe in his hands."
Ending Whitehall control of costs and spending will lead to more waste: "Health isn't like another business. A hospital can't put up the full signs... It has to absorb, absorb, absorb pressure, and when it can't accept any more it has to get [help from] the hospital down the road." The NHS works best when different parts work together, not against each other, he says. And launching a major overhaul of the service at a time when it must save £20bn by 2015 "is putting it at huge risk".
His other big warning is that giving GPs control of budgets changes for ever the doctor-patient relationship: "The reason why the NHS is important is it's still one area of national life where people come before profit. When you walk through the door the professional sees the person, not the business opportunity. It's a genie out of the bottle moment. Once you have let that thought out, it's corrosive around the system."
This is tough talk masked by disarming looks: he is known in Westminster as "Bambi Burnham" and has women swooning over his famous eyelashes. In an online chat with Mumsnet late last year, he was asked: "What's the secret of 'Andy Burnham Sexy Eyes'?" Messageboard user Swedes2 thought it was "a thin application of Rimmel eye pencil in Tory Blue, very close to the lower lash line". He is not rising to this. "Maybe it's Maybelline," he jokes, blinking self-consciously.
For a year he shadowed Michael Gove at Education, and while Labour opposed much of what the Tory was doing with free schools and academies, Gove was simply delivering on what he promised before the election. But the health reforms, he says, are "the precise opposite" of what Cameron promised when he said he would end top-down reorganisation. "He surrounded himself with images of the NHS to say: 'I'm a different kind of Tory, I'll look after it; I'll protect it; I won't reorganise it'. He has gone back on that. It's disastrous for his political project. It was the biggest symbol of the 'Nasty Party' – that they would privatise, cut, marketise the NHS. It goes to heart of whether he can be trusted as a man and whether his project has integrity. The position he is in is potentially lethal. This issue can make this man a one- term prime minister."
Small wonder, then, that Miliband has a spring in his step for the first time in months, with a campaign that chimes with the public – defending a national institution – and local elections less than three months away. "We are taking this fight to the streets," Burnham declares.
He ran for the Labour leadership in 2010, but came a distant fourth. During the campaign he played up his health credentials, including plastering the slogan "Defend our NHS" across his battle bus. But in early promotional photos he gaffed, standing in front of the first three letters of "Defend". With likeable self-deprecation, he jokes: "I think Lansley took that advice a bit literally."
Register for free to continue reading
Registration is a free and easy way to support our truly independent journalism
By registering, you will also enjoy limited access to Premium articles, exclusive newsletters, commenting, and virtual events with our leading journalists
Already have an account? sign in
Register for free to continue reading
Registration is a free and easy way to support our truly independent journalism
By registering, you will also enjoy limited access to Premium articles, exclusive newsletters, commenting, and virtual events with our leading journalists
Already have an account? sign in
Join our new commenting forum
Join thought-provoking conversations, follow other Independent readers and see their replies