Aretha Franklin: Return of the Queen of Soul
At 69, the Queen of Soul has survived surgery and a traumatic break-up to record her first new album in a decade. In a rare interview, she talks to Rob Hoerburger about her music, her glory days – and why she is still looking for love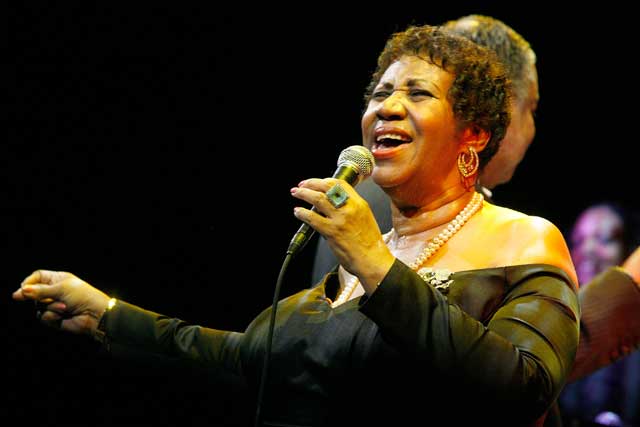 Aretha Franklin is sitting alone with a Coke. It is 25 March, the night of her 69th birthday, and all around, guests are filing into the Park Room at New York's prestigious Helmsley Park Lane Hotel just off Central Park, bobbing to live music from the vibraphonist Roy Ayers or the mambo prince Tito Puente Jr. Franklin has given herself big birthday parties before, but this one has a certain urgency.
A few months ago, in December, she announced she'd undergone an unnamed surgical "procedure", and word spread that she had pancreatic cancer (which she denied); other reports speculated that she'd had gastric-bypass surgery to get control of a weight problem that appeared to push her over 18 stone (which she denied). The organisers of the Grammy Awards had quickly put together a tribute for her, and the sudden and shocking weight loss displayed in a taped thank you played during the ceremony in February only kept advance-obituary writers scrambling for whatever superlatives were left to describe a career that has included 18 Grammys, upward of 75 million record sales, being the first woman inducted into the Rock and Roll Hall of Fame and a Presidential Medal of Freedom.
But now there she sits at a front table, in a flowing silk gown, with the kind of resurrection glow you see on stained-glass windows in churches. Open and accessible to all, Franklin seems to be saying, "Come, poke your fingers into the space where a third of me used to be." "I almost walked by her in the hall," says a friend who has known her for more than 15 years, "that's how much I didn't recognise her."
Slowly, well-wishers make their way to her. Tony Bennett, trailed by the record producer Phil Ramone, presents her with a drawing he'd done of her. Bette Midler and her husband stop by Franklin's table. Clive Davis, music-biz éminence grise, appears long enough to be pelted with business cards and photo-op requests. Smokey Robinson, a friend of Franklin's since their youth in Detroit, sits down for a spell. Also in attendance are the odd talk-show host (Gayle King, Wendy Williams) and the odd guest period (the Sopranos actor Michael Imperioli, who sits at a side-table with his date).
Finally, after an hour or so, Franklin rises and walks over to the food stations, where she half-fills her own plate with lobster on blue-corn tortillas, smoked-salmon mousseline and baked ham made from her own recipe. She has plenty of company while she eats, including the Reverend Al Sharpton, but there are a few more moments when she sits strangely by herself, as if the guests, even some of her best friends, feel the need to dance gingerly around her.
When her birthday cake, which almost fills a small table, is rolled out, the crowd parts again, and she makes her way to it across the room, just as the DJ, who is spinning in between the live performers, plays "Respect". Franklin shimmies her shoulders and sings along for a few bars with her 24-year-old self as she gets ready to blow out the candles. Not long after that, she and a retinue of six or eight process out. It has been a long night and a long few months, and she looks tired, but also content, and ready for another spring.
"May I recommend something?" Franklin asks after we slide into a banquette in the side-room of the three- Michelin-starred restaurant Jean Georges, a few blocks from the hotel. "The shrimp and avocado salad. I've had it four times this week." It is a warm day in early May, and we are meeting to talk about her first album of new material in almost eight years, A Woman Falling Out of Love (available in the UK on import only, via amazon.co.uk. It comes on the heels of Take a Look, a box-set of her pre-superstardom years, 11 CDs of gestating genius). That she has agreed to an interview is a bit of a surprise. Franklin has been notoriously evasive of the press since a Time magazine cover article in 1968 suggested, at the very moment she was becoming a national icon, that she was also a battered woman, claiming that her husband at the time "roughed her up." We were, in fact, supposed to meet earlier in the week; I got as far as the lobby of her hotel before she cancelled (she later blamed a miscommunication with her publicist).
She introduces me to her security team – Mr So-and-so, meet Mr So-and-so – and draws on that filter of formality throughout our lunch if a question cuts a little too close. And I've been told beforehand that she will not discuss the nature of the medical procedure or anything reported in The Queen of Soul, an unauthorised biography by Mark Bego which, like most unauthorised biographies, sometimes presents its subject in less-than-flattering lights.
She orders tea with sweetener ("Splenda, lots of Splenda") and we talk about New York, the city where she spends most of her time outside her home city, Detroit, and where she has had her greatest recording glory. We are only steps away from the site of the old Atlantic Studios, where she recorded most of the torrent of hit singles from 1967 to 1968 that included not just "Respect" but also "Chain of Fools," "Think" and "(You Make Me Feel Like) A Natural Woman".
"I first came here when I was a teenager in the 1950s with my dad," she says. (Her father was the Reverend CL Franklin, one of the first celebrity charismatic preachers.) "You remember certain things about the city that aren't here any more. There was a great little steak place next to the Apollo where I'd go between shows to have my lunch and dinner." She reminisces about food joints, record stores, "knockout" men she ran into – one of whom was Sam Cooke, the R&B and pop legend and lothario.
Cooke was just one of the many prominent, powerful men in whose presence Franklin has thrived, along with her father; the Reverend Martin Luther King Jr (who, like Cooke, was sometimes a guest in the Franklin home); the record executives John Hammond, Jerry Wexler and the aforementioned Clive Davis; and most recently the president of the United States. Franklin performed "My Country 'Tis of Thee" at Barack Obama's inauguration. She didn't speak to Obama on that occasion, but they did meet during his presidential campaign at "an undisclosed location" with 10 other "notable people". "You know what he said to me? 'You look good.' I was already beginning to lose weight, and it was an affirmation of all my efforts. And then he sang 'Chain of Fools', and I thought, 'He's really hip. Real down, and real up.' And he's got a walk like nobody else."
Franklin has been married twice. The second of her marriages, to the actor Glynn Turman, ended in divorce in 1984, the same year her father died. (She has four sons, ranging in age from early forties to mid-fifties.) Her most recent busted romance was the inspiration for A Woman Falling Out of Love. "He was a younger man, though not so young that I'd be considered a cougar," she says. "He was a man of very high principles and integrity." I ask her what she means by this, but she refuses to be specific. A "careless" comment, uttered by Franklin, ended it. "Falling out of love is like losing weight," she adds. "It's a lot easier putting it on than taking it off."
Sooner or later, almost everything we discuss comes back to food, and it is clear that Franklin is as obsessed with it as she ever was, only now that obsession extends to how not to eat it. She says she has lost six stone through a combination of her mystery surgery and dieting. "I learnt," she says, "that I wouldn't starve if I had one hot dog instead of two." She took some advice from her former rival Natalie Cole about not eating after 6pm. "At first I thought she was crazy, but it works, it really works."
The talk about her weight loss brings us to her surgery, though in the end all she will say is that it was a required procedure, that it was not "minor", and that when she knew she had to have it, she put out the call for prayer. The Reverend Jesse Jackson and Stevie Wonder, among others, flew to her side. "I was concerned," she says, "but I wasn't afraid. My faith in God is too great for that, and my family and close friends gave me great support, and here I am."
The recently released box set Take a Look compiles Franklin's recordings from 1960 to 1966, beginning when she was 18. It includes jazz, supper-club standards, silky soul, blues, pop and just about every other genre that existed in the early 1960s. If the sessions, recorded for Columbia, didn't quite capture lightning in a bottle, they set the stage for "Respect" and the other sandblasting soul tracks that followed.
Franklin will not claim a favourite era of her career. Not the Columbia nor the Atlantic years, nor the period she spent with Davis at Arista, where the results were sometimes schlocky (cheesy electro-pop duets) but still often sublime (playful comeback hits such as "Jump to It" and "Freeway of Love"). "I've never recorded anything I didn't like," she says. "Well, maybe one time" – though she won't say what that one song or album was. She has sung "Respect" thousands of times without tiring of it, and acknowledges that the song has become "a national anthem". It has also become a party dance-floor cliché, but its significance over the years cannot be overestimated: the song was a cultural document of the civil-rights era, with loud reverberations for African-Americans, for women, for gay people, for anyone, really, who felt neglect or subjugation. But when I ask her why the song had had such an impact, she just replies, blithely, "I guess everybody just wanted a little respect."
It is almost time for Franklin to leave for a fitting at Oscar de la Renta – new clothes for her new shape – but before she goes, she says, suddenly animated, "We haven't talked about the movie!" A film of her life story is in development, "with a huge budget of $50m, $60m". Denzel Washington has been mentioned as a possibility to play her father, she reveals proudly, and she had imagined Halle Berry playing her, though Berry ultimately demurred because she can't sing. ("I never expected her to sing," Franklin says.) The former American Idol contestants-turned-hit recording artists Jennifer Hudson (who won an Oscar for Dreamgirls) and Fantasia Barrino have also been considered, and Franklin names them both as modern singers she enjoys.
About a week after our interview, on a Sunday afternoon, my mobile rings. Franklin, it emerges, has thought of something else she had wanted to talk about: the high-school dropout rate. The issue seems random, but it has great personal resonance for the singer: she tells me that her only true regret was allowing one of her sons to quit school. (She herself dropped out of school to give birth to her first child in her mid-teens.)
After she exhausts the topic, she just wants to chat. She is on her custom-made bus on the way to Chicago to appear on The Oprah Winfrey Show – one of the series' final shows – and wants to talk about the weather, literally. "What's the temperature in New York?" she asks.
Here is a woman who has fulfilled every professional expectation that has been had of her since she was a teenage prodigy in her father's choir loft; a woman for whom the word "legend" can be applied without grade inflation. Yet she is also a woman who still gets lonely on a bus, who feels she has to keep secrets, who blushes when the president compliments her appearance, who's still out there looking for love – and confident that she'll find it.
During our lunch, I had asked her who the love of her life had been, wondering whether it was perhaps one of her famous former beaus, such as Dennis Edwards, the Temptation who was also the final performer at her birthday party. Franklin wrote one of her biggest hits, "Day Dreaming", about him, and the song contained one of her most poetic lines: "When he's lonesome and feelin' love-starved, I'll be there to feed it." At her party, Edwards sang, at Franklin's request, "The Way We Were", and she joined him for the line, "Memories may be beautiful, and yet..." It could have been a sticky moment in a cheesy ballad, but their voices, though a little patchy, were still full of rumble and froth. "The love of my life?" she'd said to me, mockingly aghast. "I'm much too young to answer that question."
Join our commenting forum
Join thought-provoking conversations, follow other Independent readers and see their replies