The Independent's journalism is supported by our readers. When you purchase through links on our site, we may earn commission.
Ashley Williams makes way from waiter to Wembley with Swansea City
Swansea captain tells Sam Wallace about his journey from working at Beefeater to tomorrow's League Cup final – via his infamous clash with Robin van Persie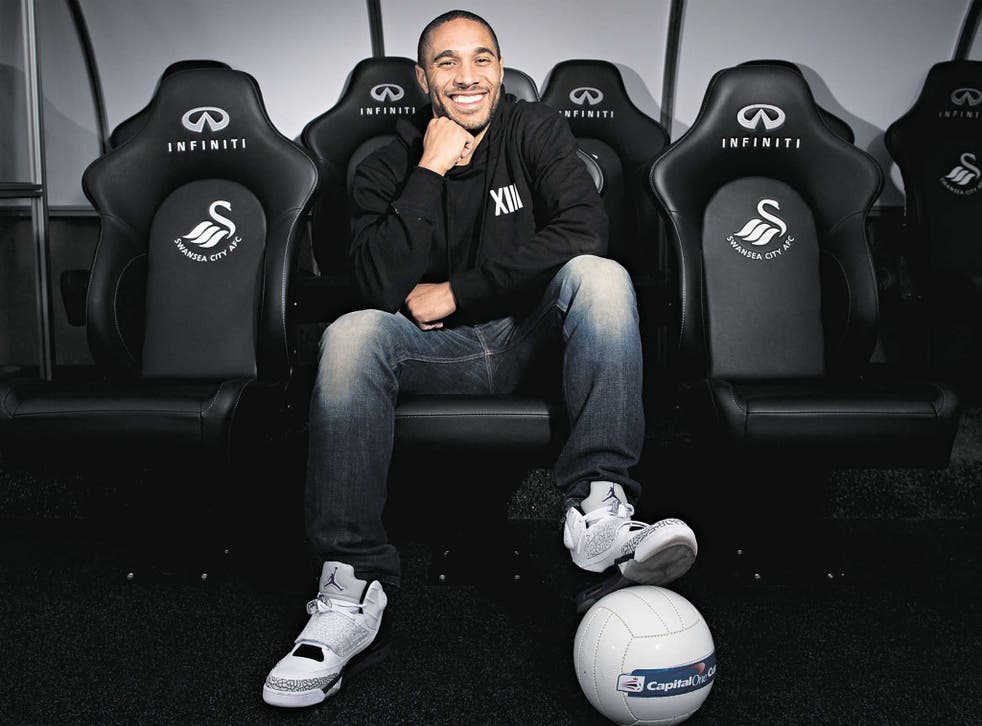 Ashley Williams can remember his days playing for Hednesford Town when the coach back from away games would stop for fish and chips and the occasional can of beer. He has been in all four professional divisions as well as the Conference and once worked on the high-striker stall at a theme park.
Tomorrow he will lead Swansea City out at Wembley in the Capital One Cup final where they are overwhelming favourites to beat League Two Bradford City and win the first major trophy of the club's 101-year existence. For Williams, life just gets better and better.
At 28, and now the captain of Wales, he has established himself as one of the leading lights in Michael Laudrup's team to the extent that Arsenal, and his former manager Brendan Rodgers at Liverpool, consider him a potential signing. Not bad for a boy from Tamworth who was rejected by West Bromwich Albion, aged 16, and just hoped to make some money from playing the game.
At the Liberty Stadium this week Williams reflected on the season. There has been that extraordinary cup run and a current league position of eighth under Laudrup. There was the monumental victory over Chelsea in the Capital One Cup semi-final, and the ball-boy incident, not to mention Sir Alex Ferguson accusing Williams of almost killing his star player in December.
Williams has an amusing post-script to the Robin Van Persie incident when he kicked a ball at the Manchester United striker's head from close range – accidentally, he says – which, according to Ferguson "could have … killed" the Dutch striker.
"The main thing for me is that it knocked my own goal off YouTube," Williams says. "So when you type my name in now it doesn't come up with an own goal. That was a good thing. It was kind of strange. By him [Ferguson] saying what he did made it a lot more than it would have been anyway."
And the reaction on Twitter? Yeah, it was funny because it was 50 per cent Manchester United fans hating me and 50 per cent were Arsenal fans saying 'Sign for us, we love you'. I still get it now. Even today an Arsenal fan tweeted me 'Legend, come and sign for Arsenal'.
Williams knows Rio Ferdinand well and explained to him after the game that it had been an accident. "The next day he [Ferdinand] said he spoke to Van Persie and tried to say I had done it as an accident. But Rio said he [Van Persie] is still fuming. It happens. I don't really care. I don't lose too much sleep about it. It's just one of those things."
He was outspoken too about Luis Suarez, describing the Liverpool striker as a "serial diver" in a book he collaborated on about playing in the Premier League. That also blew up, although Williams says he has been in contact with Suarez via text message to explain the context and there is not a problem between the pair. He also says that Suarez is the best player he has faced in the top division.
As befits a man who has had to work hard for his football career, Williams is independent-minded and open. The Van Persie and Suarez episodes have shown him the effect one relatively small incident can have on perceptions of him now that he is established in the Premier League. He looks at his friend and Wales team-mate Craig Bellamy whose profile is determined by his behaviour on the pitch rather than the work he does off it.
Williams says: "I always said to [team-mate] Garry Monk before I came here, I used to hate him! I had never met him but watching him I just thought that and he's one of my best mates now. It's the way it is. I don't know if other people do it but I watch the telly and think 'What a p****!' He's probably actually fine.
"I know for a fact people do that with me! People say 'Oh such-and-such was saying you are a p**** and I had to say you are actually all right'. Most people do what they have to do to win a game, whether that is arguing or influencing the ref. I couldn't care what people think. Obviously off the pitch, it's nice to be liked."
With his wife Vanessa, he started a children's charity "WillsWorld", and the couple who have two young sons, Xavier and Raphael, have helped out with local causes. It was an idea that came to them as Williams began his ascent through the divisions, starting with Stockport County 10 years ago, and his first pro deal.
He was there with Adam le Fondre, Anthony Pilkington and John Ruddy, all of whom have reached the Premier League themselves, as well as Matt Duke, Bradford's goalkeeper. Williams is enthusiastic about the lower leagues. "There are players down there, who would probably need good coaching, who could easily do a better job than some players in the Premier. There's a lot of talent down there. It's quite hard, if no one gives you the chance, what can you do?"
A contract at Stockport allowed him to play full-time and he could leave behind a variety of short-lived careers including petrol station attendant; a waiter at a Beefeater restaurant ("Not for long, I was rubbish") and a role at Drayton Manor theme park.
"Now we moan about stuff, 'Where's this? Why do we have to walk over there?'" he says. "At Hednesford our warm-up was to run to the primary school, train, run back with all the balls. That was the first team! I always watched the flair players but I liked to watch centre-halves, Rio, Sol Campbell and John Terry. Watching strikers, I thought: 'Oh, I could mark him, I could do better than this player'. When I first got to the Premier League, I told myself, 'OK, now is the time to put up or shut up, you've said you could do it all these years'.
"I couldn't imagine doing anything else. I come from Tamworth and I didn't want to go back to Tamworth. You think people want you to fail anyway. I didn't want to.
"People think, 'He's gone now, he thinks he's this, that and the other but he'll be back in six months'. When I first went I felt that. People are genuinely happy for me now. It worked for me, it helped me, it drove me on."
He has noticed that when he plays well in a televised game, like the two legs of the semi-final against Chelsea, his profile goes up. "So people say they are the best performances and I say 'Well, I did well at Rochdale away too'."
The Swansea phenomenon began under Roberto Martinez, who signed Williams, initially on loan. It was Rodgers who, having succeeded Paulo Sousa in July 2010, got them promoted and now the players are in the presence of true European football greatness on the training ground with Laudrup.
"He [Laudrup] obviously doesn't run about as much but on the ball his touch is ridiculous, his vision and passing are so good it is unbelievable," Williams says. "He tries to tell us what to do, and we're thinking 'If we were you, we could do it!' His personality is laid-back. What you see is what you get. It's been refreshing.
"We all loved Brendan and would never knock Brendan. And when the gaffer [Laudrup] came in it was a bit of a shock and a bit of a change. We are really enjoying it now. The Spanish boys say 'What's the problem? This is how it always is'. But it wasn't for us.
"Brendan was not 'controlling' but he had control of the team. The [current] gaffer gives us more freedom, not too many rules around the place, treats us like adults. We've got a good group, no one takes the p*** out of him. His laid-back character has worn off on the team. We don't worry too much about games, we just get on with it."
Having qualified to play for Wales through his late Welsh maternal grandfather, Bill Rowlands, Williams played against England at Wembley in 2011 as well as playing there for Swansea.
Should they win tomorrow then he and Monk, the club captain, who may be back in the side tomorrow, will lift the trophy together. For once, Swansea are not the underdogs, although for a man who has never taken anything in football for granted that will not change his approach one bit.
Capital One is providing thousands of Bradford City and Swansea City supporters with free coach travel to the Capital One Cup final. 'Capital One Convoy': www.facebook.com/capitaloneuk
My other life
I watch basketball most days and Miami Heat are my team. Others have jumped on it once we started winning but I was there when Miami didn't win any games. Basketball is my other sport. I'm the best at the club. The Spanish boys like to think they can play but they can't.
Join our new commenting forum
Join thought-provoking conversations, follow other Independent readers and see their replies