Baroness Shreela Flather & Anita Anand: 'She'd act like a typical Indian auntie, haranguing me to find the right man and settle down'
The Baroness and the presenter first met more than 20 years ago at the Indian High Commission
Adam Jacques
Sunday 11 January 2015 01:00 Comments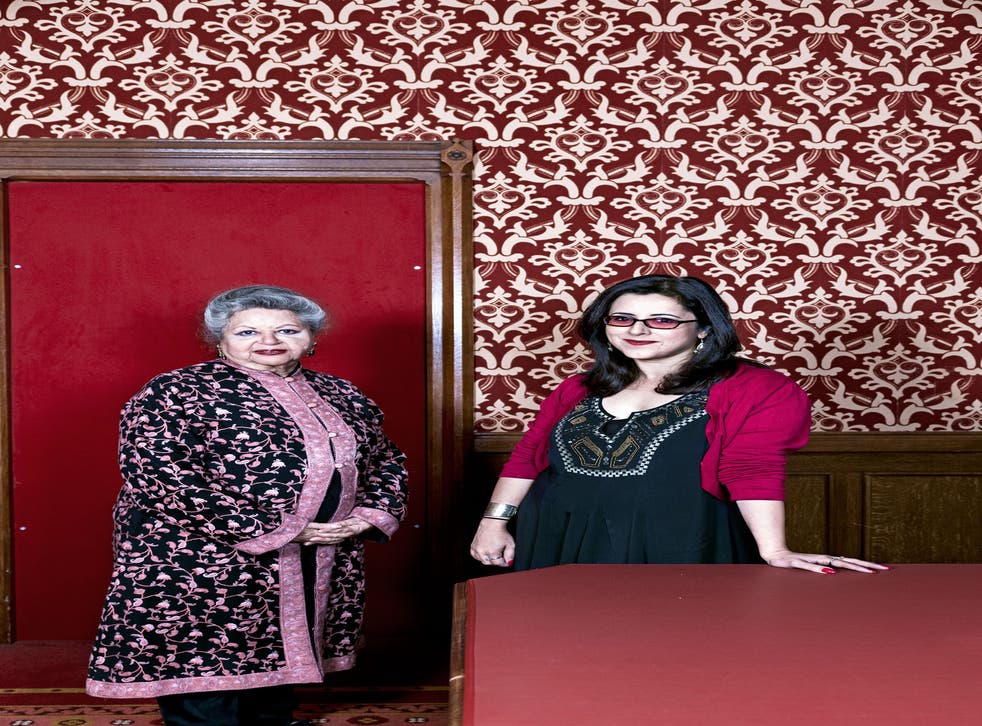 Anita Anand, 42
After becoming one of Britain's youngest TV news editors at 25, for cable channel Zee TV, Anand (right in picture) has gone on to work across the BBC, presenting programmes such as 'Daily Politics' on BBC 2 and Radio 5 Live's 'Drive' slot. Since 2012 she has presented Radio 4's current-affairs show 'Any Answers'. She lives in south London with her husband, the scientist and author Simon Singh
I first met Shreela more than 20 years ago, at a large reception full of important people, at the Indian High Commission. I was a cub reporter at TV Asia, while still at university, and she had recently been made a peer by the Conservative Party. The first thing I noticed about her was her laugh – it is very distinct and infectious, like a little girl giggling. The second thing was that she was surrounded by men fawning over her – and she was loving every minute. Both things remain true today.
A mutual friend introduced us; I was a bit shy; she was like the Empress of the Universe. She sort of sized me up and must have decided she liked me, because she spent the next 40 minutes telling me who she thought were the good and "simply awful" people in the room. I had a soft spot for her from that moment: she's wonderfully indiscreet.
Shreela was the first female Asian peer, and as I was a fledgling political reporter, our paths crossed a lot. She always seemed to be kicking off about something. Over the course of five years I noticed that we spent more time talking as we de-rigged the cameras than we had doing the interview. When my job changed and I was no longer covering the same beat, there was no pressure to be professionally distant, so we met for lunch every few months. We've never really talked about politics; it's the least interesting part of our relationship. She's told me about being part of the first wave of immigrants to Britain and how her grandfather was a close friend of Gandhi.
She would make me howl with laughter as we went through the House of Lords. She knows everybody – from Black Rod to people in the cafeteria – and is always flirting with dusty old legends of Parliament. I'm shocked that she's not been thrown out: she's by far the most raucous person there.
There are things that I disagree with her about, but even with those episodes [such as in 2011, when she accused the Bangladeshi and Pakistani immigrant communities of having large families in order to claim more benefits], I respect her for walking her own line. She has clashed with many people I am fond of, and though they can disagree with what she says, they never find her disagreeable.
She used to act like a typical Indian auntie, haranguing me to find the right man and get married – someone "clever, with a backbone". We have shared important milestones. She was at my wedding, taking her place on the family table (delighted that I had finally settled down) and I was at her small but wonderful 80th birthday.
Baroness Shreela Flather, 80
Baroness Flather became the first Asian woman to be created a life peer, in 1990. Known for her outspoken views on cultural and societal values, Flather resigned the Conservative whip twice, and currently sits as a crossbencher. She is patron of a number of charities, including the British branch of Child in Need India. She lives in Maidenhead with her husband, the QC Gary Flather OBE
I'm much older than Anita but I'm very drawn to people who I can have a good laugh with about the silliest things. I don't recall the exact function where we met but know why I was attracted and what connected us: laughter.
She was working for Zee TV as a journalist and she often asked me to be part of a panel or to be interviewed on a subject. As I got to know her, I started asking her if she was meeting anyone nice. I wanted her to meet a special man, as I was worried: she's intelligent and special, but as with a lot of fantastic Asian girls with careers, they discover it's not easy for them to find husbands in the Asian community who measure up. Many are self-centred, and think their wife owes them. So it was wonderful when she met someone special.
I always flirt with everyone – mostly if they are young and handsome. Life is going to finish, so I take every opportunity to enjoy it. I'm the same in the House of Lords: I make jokes and have fun with the chaps there. It's easier to do that than with woman, as I find most women don't do one-liners much, though all my friends, such as Anita, are slightly out of control in this respect, saying inappropriate things, laughing and joking. I remember once having lunch in the Lords dining room with Anita and [the actor] Art Malik. All the way through the three of us were honking with laughter and we turned the air blue, to the extent that people moved away from us!
I only really care about women these days, and how are they are treated, particularly Asian woman in India. So I was thrilled to be included in the acknowledgements of Anita's new book [about Sophia Duleep Singh, goddaughter of Queen Victoria].
Though Anita and I are very different politically— I think we need political correctness like a hole in the head – you don't have to agree with someone to like them.
I think we have a similar approach to life; we enjoy what we can, but underneath we are both serious people. She is a beautiful, warm, and a fun human with a big brain.
She has her whole life ahead of her and a career to watch. I'm older, the only benefit of which is that I'm freer to say and do what I think is right than she is. People criticise me for it, but if my conscience is clear, I'm happy.
'Sophia: Princess, Suffragette, Revolutionary', by Anita Anand, is out now (£20, Bloomsbury)
Register for free to continue reading
Registration is a free and easy way to support our truly independent journalism
By registering, you will also enjoy limited access to Premium articles, exclusive newsletters, commenting, and virtual events with our leading journalists
Already have an account? sign in
Join our new commenting forum
Join thought-provoking conversations, follow other Independent readers and see their replies