The Independent's journalism is supported by our readers. When you purchase through links on our site, we may earn commission.
Bradley Wiggins is king of the Mods
If Bradley Wiggins wins the Tour de France this week, he'll become the greatest ever sporting Mod. Will Dean launches a scooter salute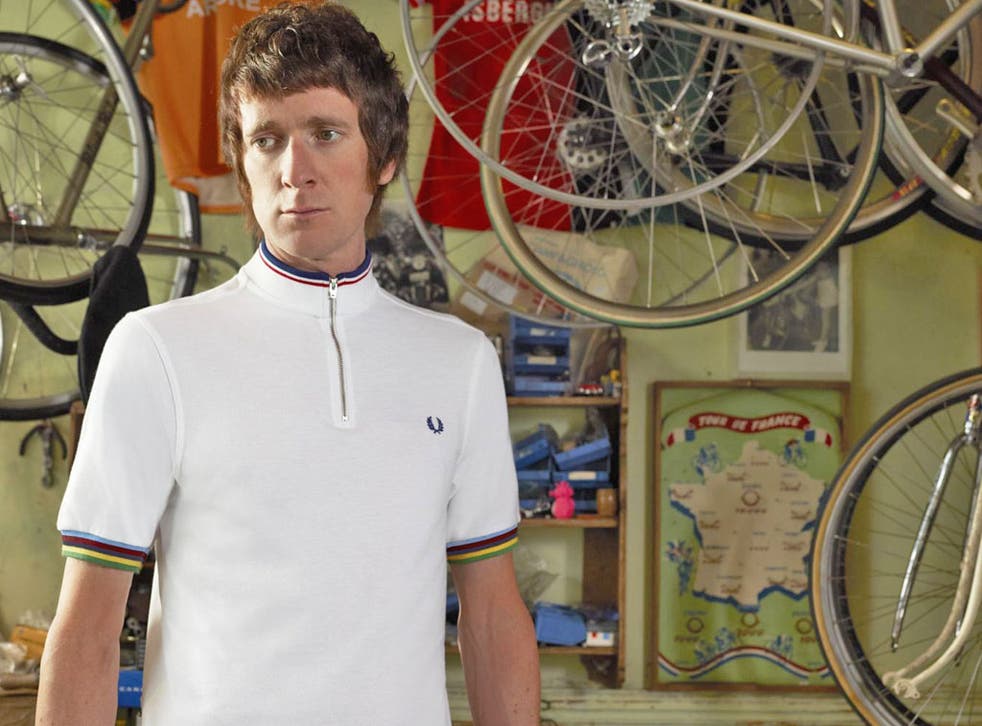 It's probably fair to say that Bradley Wiggins can't really experience all elements of authentic Mod culture. If he were to regularly stay up 'til 3am at the Twisted Wheel while dancing to Northern Soul and necking amphetamines, it's likely that the Chorley-based cyclist wouldn't be leading this year's Tour de France.
But when it comes to everything else, Wiggins is quintessentially Mod. The helmets, sunglasses and uniforms of road cycling can make it difficult for casual fans to tell cyclists in the peloton apart when they're flying past, but Wiggo's signature Paul Weller-style sideburns immediately mark him out in Sky's black and blue. His recently acquired yellow jersey makes things a lot easier now, too...
Combine that with a professed love of classic guitars, a scooter collection that began with a silver 1979 Vespa PX125, a love of sharp tailoring, a "fetish" for brogues and Adidas Originals trainers and Wiggins may well be the Moddiest man ever to play sport. For the 2012 tour, he was even presented by a custom-made seat from Italian firm Prologo with a graphic of himself on an Union Jack-painted scooter. All Mod cons, basically.
As if to hammer the point home, Fred Perry – the British fashion label whose clothes has dressed mods since the early Sixties – recently launched a range of Wiggins cycling shirts, replete with the famous coloured stripes of the UCI (Union Cycliste Internationale) on the end of the sleeves.
Team Sky's official photographer, Scott Mitchell (also a Mod), previously followed the Belgium-born cyclist for the book On Tour With Bradley Wiggins and – alongside the shots of Wiggo's stunning cyclist's physique there are obvious nods to his Mod stylings – no more so, than a shot in which the triple Olympic Gold medal winner is perched on a scratched Vespa in a vintage England football shirt. But what does the Mod community think of having one of their own out in front in France?
"Very few modern-day Mods appear in the public eye, so those that do tend to be over-scrutinised from those within the Mod scene," says David Walker of the website Modculture. "Wiggins has been under the spotlight for some years now, but there has rarely been a bad word heard about him when it comes to his relationship with 'Mod'." A lack of modernist grandstanding has helped Wiggo's appeal spread beyond cycle fans, too, says Walker. "You do get the idea that Wiggins simply loves many of the things associated with Mod. He's never walked around in a parka, shouting 'I'm a Mod' and never used 'Mod' as a means to any credibility. That's certainly endeared him to the Mod scene."
But Mod, or not, cycling fan or not – most people are in agreement that having a Brit headed towards the Champs-Élysées in yellow is wonder: "It's great seeing a Brit tearing up the Tour de France," says David Walker. "It's even better if he has a decent haircut."
Register for free to continue reading
Registration is a free and easy way to support our truly independent journalism
By registering, you will also enjoy limited access to Premium articles, exclusive newsletters, commenting, and virtual events with our leading journalists
Already have an account? sign in
Register for free to continue reading
Registration is a free and easy way to support our truly independent journalism
By registering, you will also enjoy limited access to Premium articles, exclusive newsletters, commenting, and virtual events with our leading journalists
Already have an account? sign in
Join our new commenting forum
Join thought-provoking conversations, follow other Independent readers and see their replies