Brian May: Badger's best friend
Rock god, astrophysicist – and now animal-rights campaigner. His is a career like no other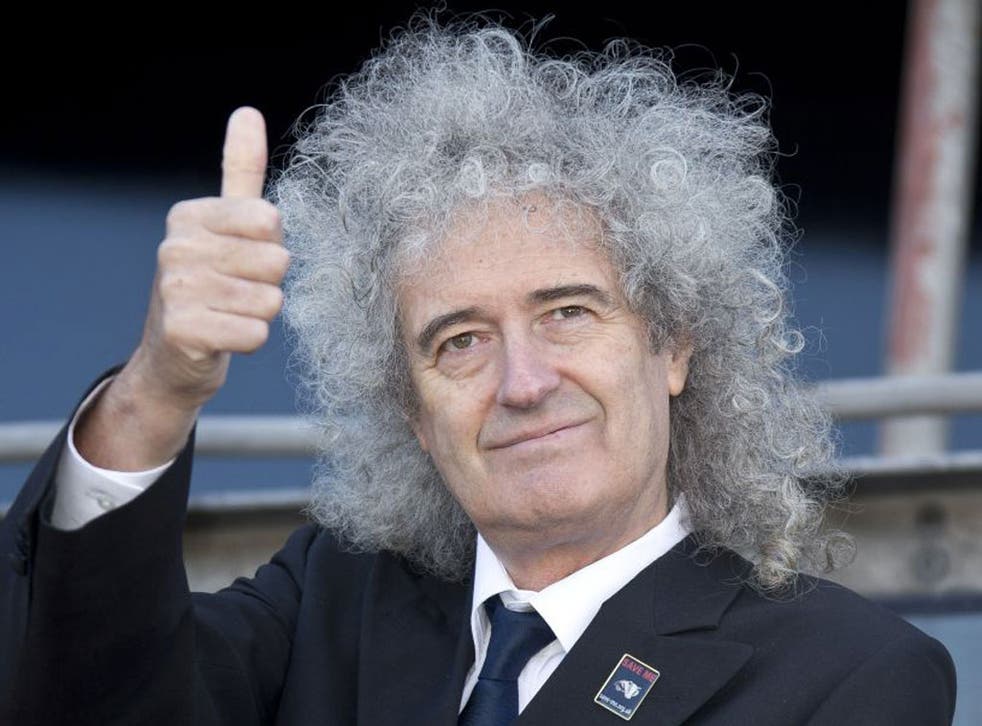 Wherever the badgers of Britain congregate this weekend for the badger equivalent of a good time, they'll be taking the unusual step of raising a toast to a human being: a lanky middle-aged man with an extravagant pompadour of grey-white curls that frame his face like the periwig of his fellow musician, George Frideric Handel. In a frankly surreal convergence of sympathies, the new champion of British badgers is the rock guitarist Dr Brian May CBE.
The animals are under threat from woodland genocide. Last week, Owen Paterson, the Government's new Secretary of State for Environment, Food and Rural Affairs, granted a licence for a "trial cull" of badgers – about 50,000 of them – to go ahead in Gloucester over the next four years. Farmers will now be able to shoot the hitherto protected species on sight. They'll be allowed to because it's believed by many that badgers carry the bovine TB virus which kills thousands of cattle every year.
Brian May feels their belief is misguided. For two weeks, on morning TV, daytime radio, online blogs and in local newspapers, he's been putting the animals' case with a passion that has surprised commentators. He has pestered the Farmers' Union. He has harassed the hapless Mr Paterson, and chivvied Jane King, the editor of Farmers' Weekly. He's shown himself extremely adept at badgering.
A lifelong Tory voter until 2010 – because of their policy on fox-hunting and badger-culling – he says David Cameron has "declared war on the innocent badger against the vast majority of public opinion, on non-existent evidence that badgers are… weapons of mass destruction". He thinks bovine TB has increased as part of a widespread "perturbation" in the countryside, and recommends mass vaccination of cattle as the only remedy.
On Thursday, May came out fighting. He and other "Team Badger" supporters called for a boycott of dairy products from farms in parts of the West Country where badgers are being culled. May declared he would cease drinking milk "the moment that the first badger is shot".
On Wednesday, he appeared on Channel 5 news, alongside his long-time adversary, Adam Quinney of the National Farmers' Union. As he spoke with fervent eloquence ("I think the human race has a very bad way of dealing with the rest of the creatures on this planet and this is a typical example. You can put a value on a cow, of a few thousand pounds. But they put no value at all on a badger which is a wonderful, sentient being"), his face bore a look of weary melancholy, undercut by his ensemble of tight jeans, dazzling white shoes and that extraordinary hair that hung around his cheeks like Spanish moss.
At 65, May is a paradigm of the grumpy rock star. But you cannot examine his career for long without noticing how eclectic are his interests and how recondite his passions. He is the only multimillionaire rock star with a PhD on the subject of interplanetary dust, the only university chancellor (of Liverpool John Moores) whose records have sold 100 million worldwide. In 2002, he appeared on the roof of Buckingham Palace to play his wayward arrangement of the national anthem to kick off the Queen's Golden Jubilee celebrations; he had a starring role in the Olympic Games closing ceremony, but he's also appeared on The Sky at Night several times and held his own against Sir Patrick Moore.
On Desert Island Discs, the track he chose above the others was "Saturn" from The Planets suite by Holst. On his website, interspersed with the thunderous rhetoric about badgers, is a tribute to Stanley Long, a pioneer in the history of stereo photography, whose 3D image cards (available free in Weetabix packets) awoke in young Brian a passion for 3D, "something which was to be a fascination for me all my life".
He was born in Hampton, a Thamesside London suburb, in 1947. His father Harold played the banjo ukulele and taught the young Brian (an only child) his first chords. At eight, he began playing guitar. At Hampton Grammar School, he precociously formed a band called 1984 (after the Orwell novel) with his friend Tim Staffell. At home, aged 16, with the help of his father, he designed and built his own guitar called the Red Special, using wood from an 18th-century fireplace. As he later explained: "The tremolo arm's made from an old bicycle saddlebag carrier, the knob at the end's off a knitting needle and the springs are valve springs from an old motorbike." Incredibly, this Heath Robinson contraption has remained his guitar of choice all his life, and was his chosen luxury on Desert Island Discs.
Music and academia wrestled for mastery in his teens. He went to Imperial College London to study maths and physics, researched red-star astronomy, but went on playing. In 1968, at 21, he formed Smile with Staffell and another friend, Roger Taylor, on drums. Staffell left after two years, but May and Taylor were joined by John Deacon on bass – and a flamboyant Zanzibar-born Indian Parsi singer called Farrokh Bulsara, with an astonishing four-octave range. It was Bulsara who named the new band Queen (the decidedly straight May had reservations about the name) and called himself Freddie Mercury.
In the early 1970s, Queen hit the glam-rock world of T Rex, Slade and David Bowie like a thunderstorm. Their third album, Sheer Heart Attack, introducing Mercury's coloratura vocals (especially on "Killer Queen") and May's fluent, stratospheric lead guitar, was a transatlantic success in 1974. A year later, the long, mystifying, acyclic "Bohemian Rhapsody", from the album A Night at the Opera, hit No 1 and stayed lodged immovably in the affections of British rockers for ever after. May's explosive guitarwork on "Rhapsody" – especially at the climactic bars leading into "So you think you can stone me and spit in my eye?" – inspired millions of air guitarists. In a Radio 2 poll 10 years ago, it was voted the most popular British song ever.
May also proved adept at songwriting. Over the 22 years of Queen's life, he wrote (with pleasing mathematical symmetry) 22 worldwide hits, most notably the stadium anthem "We Will Rock You", "Fat Bottomed Girls", "Tie Your Mother Down" and "Hammer to Fall". For an academic astrophysicist, he showed a fine sense of drama in his songs, with their strong melodies and stadium-shaking choruses. And he masterminded the arrangements in We Will Rock You, the theatre rock show which this year celebrates a decade of packing 'em in at London's Dominion Theatre.
In 1986, the EastEnders actress Anita Dobson reached No 4 in the pop charts with a song called "Anyone Can Fall in Love" based on the soap opera's theme tune written by Simon May. It was produced by Brian May (no relation) and was the start of years of emotional turmoil. When they met, he'd been married for 14 years to Chrissie Mullen, the mother of his three children, Jimmy, Louisa and Emily. When May and Dobson got together (he and Chrissie separated in 1988), he was hounded by the press, an experience he wrote about in the song "Scandal". The death of his father Harold hit him hard, as did Freddie Mercury's illness. He later told interviewers that he'd been severely depressed in the late 1980s and early 1990s, and had even contemplated suicide.
In November 2004, when Queen were inducted into the UK Music Hall of Fame, Paul Rodgers, the ex-vocalist with Free in the 1960s, joined May and Taylor on stage as a singer. Their collaboration worked so well that they toured the world and made an album together. May also found time in 2006 to co-author an illustrated book on astrophysics entitled BANG! The Complete History of the Universe. A year later, he returned to Imperial College to finish the doctoral thesis that he'd had to interrupt in order to pursue his music career. He was awarded a full PhD. In 2010, he published A Village Lost and Found, a tribute to the works of T R Williams, the stereoscopic photographer (remember May's keenness on 3D?). In 2010, he formed a group called Save Me (the title of one of his songs) to protect all animals against cruel or degrading treatment. Which brings us up to date.
Musician, astrophysicist, author, songwriter, animal rights activist, Brian May is a true renaissance man; he combines arty creativity with a restless fascination for scientific enquiry. But in 2010, he told an interviewer that he'd rather be remembered for his animal rights work than for his music or scientific work. So why is he so keen on badgers? He's never answered it precisely. We can only assume that, when you've conquered the world of rock music, albums, stadiums, movies and theatre, and crafted globally sung songs about rocking everyone and being the champions, it's time you did something for the scapegoat, the innocent and the doomed. That's not hard to understand, is it? I mean, it's not rocket science…
A Life in Brief
Born: Brian Harold May, 19 July 1947, Hampton, Middlesex, England.
Family: Only son of Ruth and Harold, a draughtsman. Married to Chrissie Mullen 1974-88; they have three children. Married actress Anita Dobson in 2000.
Education: Attended Hampton Grammar School. Has a BSc in physics and mathematics and PhD in astrophysics, both from Imperial College London.
Career: One of the founding members of Queen in 1971. Has gone on to become a solo artist and animal-rights activist. He is the co-author of a number of astrophysics books. Was awarded the CBE in 2005.
He says: "In the beginning I had no money and I never cared. Then I made some, and I never really cared about that much either."
They say: He's an amazing character, just a great person." Dappy of rappers N-Dubz, who recently collaborated with May.
Join our new commenting forum
Join thought-provoking conversations, follow other Independent readers and see their replies