Bruno Loubet: 'I am not vegan or vegetarian, but beef is out'
The French chef was classically trained, but he is changing the menu for the sake of our grandchildren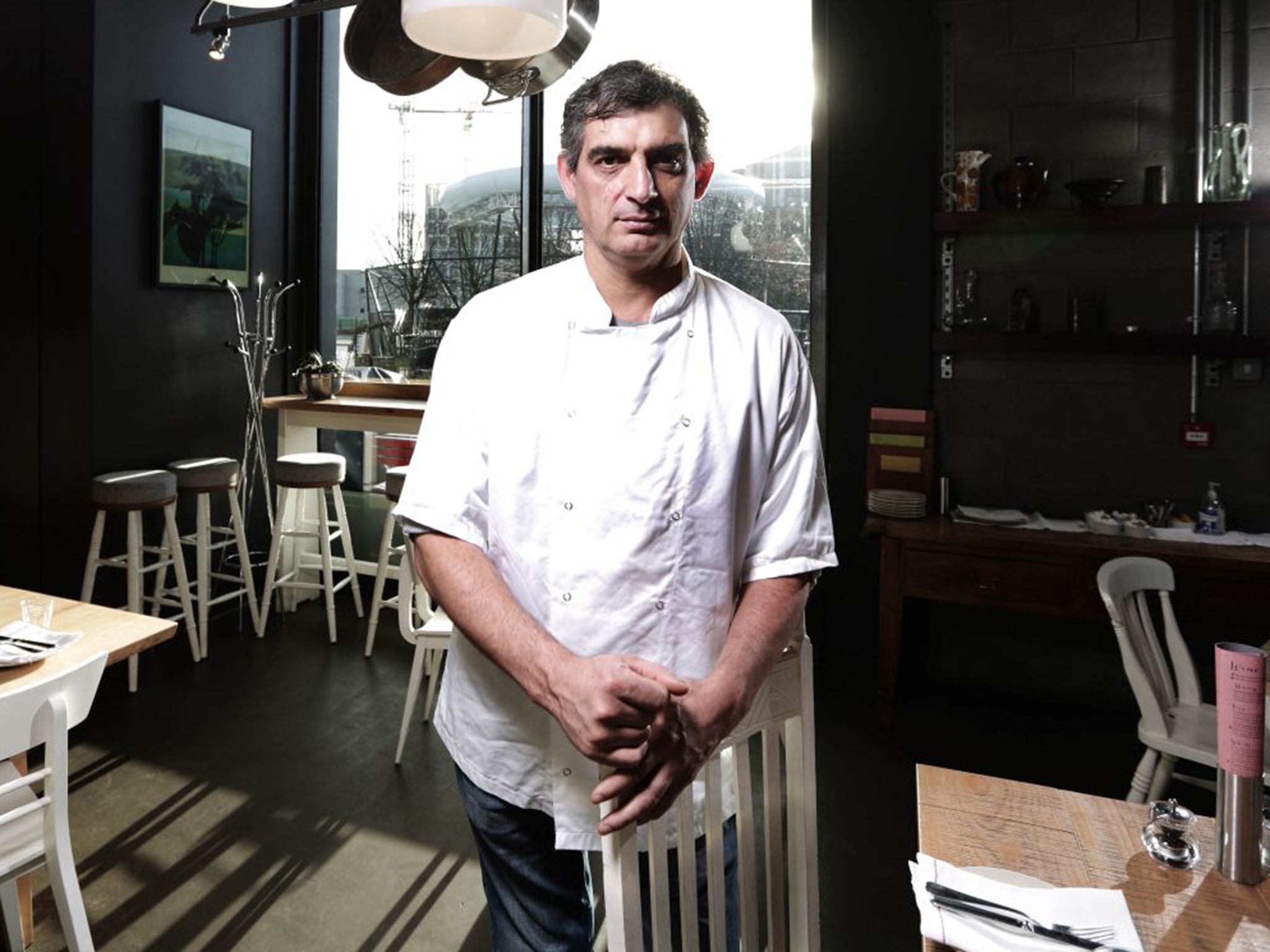 Bruno Loubet, the Michelin-starred French chef famed for his classical meat dishes, is banning beef from the menu at his restaurant Grain Store.
The large, bright 200-seat restaurant, which opened in King's Cross, London, 18 months ago, has already garnered attention for making vegetables the main attraction while fish or meat take second billing. Grain Store, named London Restaurant of the Year last year at the Sustainable Restaurant Awards, uses free-range meat, sustainably sourced fish, and herbs as well as edible flowers from a community garden located next door.
But now Loubet is going one step further and plans to cut beef – which currently features in just one dish at Grain Store – from the restaurant's spring menu.
Loubet believes that, given the damage that the beef industry does to the planet ( 10kg of grain is needed to produce 1kg of beef), by serving beef, he is undoing all the good done by having a sustainable restaurant. "If I didn't I would be untrue to everything," the 53-year-old said. "I have not eaten beef for three months. I do eat it if I am in the restaurant somewhere. I am not vegetarian or vegan but I eat much less meat."
Although Loubet's career trajectory may seem at odds with his current tastes, he is really returning to his roots. The chef "grew up eating vegetables", one of seven children, in Bordeaux, where meat was an occasional treat and much of the family's diet was made up of vegetables grown in the garden or foraged. Now, the only time he relaxes is when he is in his garden in Bedfordshire, and he feels "a strong connection to the land". He had a dream of creating a restaurant like Grain Store 20 years ago, "but 20 years ago, it was a crazy idea, so I kept it to myself".
Instead, he followed the traditional French cuisine route, making his name at Raymond Blanc's Manoir aux Quat'Saisons and at Inn on the Park, at the Four Seasons, where he earned a Michelin star within a year. He opened the hugely successful Bistrot Bruno in Soho and L'Odeon before moving to Australia for eight years with his wife and three daughters.
In 2010, a year after returning to Britain, he opened Bistro Bruno Loubet at the Zetter Hotel, with his partners Mark Sainsbury and Michael Benyan. With the Zetter Group also focused on sustainability (Sainsbury is one of the founders of the Sustainable Restaurant Association), Grain Store seemed the logical next step. And this time, the UK was ready.
"Looking back, it was a bit of a risk. Nobody had done this before and it's a big space," he says. "A lot of people told me, are you sure about this? But we have been busy very quickly. And now a lot of chefs are flirting with having a vegetarian degustation menu. There are a lot of courses based around vegetables. You can see this influence everywhere."
Loubet is "very proud we managed to bring this idea that you can eat very well by eating much less meat and have exciting colourful tasty food on your plate". It was a "big idea" to bring to the public.
Not only the menu is sustainable. The furniture at the restaurant is reclaimed, waste is kept to a minimum and there is a computerised extractor system which switches off if there is no heat going in.
Loubet believes chefs such as Jamie Oliver, who has been talking far more about vegetables in recent months, recognise that serving less meat at restaurants "is the future". Other famous chefs (who he declines to name) tell him privately that they don't eat much meat at home, "but they won't say anything publicly – why?"
Loubet's wife Catherine has become vegan since research for the Grain Store project led her to appreciate the heavy environmental impact of a meat- and-dairy-based diet. Loubet himself has dropped 10kg after reducing meat. Becoming a grandfather – his eldest daughter Laeticia has a five-month-old girl – further reinforced those beliefs.
"I do say to people, if nobody does anything now, your grandchildren will not live the way you live," he says. "It sounds like a dark picture but it is a reality that not many people want to face. We will arrive at a point where some people don't have enough water because of climate change."
Carnivores need not despair: meat is not entirely coming off the menu yet and Bistro Bruno Loubet continues to serve rib-eye steak and pig's trotters. But it is obvious that Loubet's main focus is to get even better at cooking without meat and to open more Grain Stores in the future. Perhaps even a vegan restaurant.
"This is what I believe in and I enjoy cooking like this," he says passionately. "It is more challenging."
Join our commenting forum
Join thought-provoking conversations, follow other Independent readers and see their replies