Camilla Schneideman & Lara Pulver: 'I realised the flapjacks I gave her were hard as rock, but she graciously asked for the recipe'
Schneideman is a close university friend of Pulver's husband Raza Jaffrey and the pair struck up a friendship when Pulver organised a surprise birthday party
Adam Jacques
Sunday 29 March 2015 02:00 Comments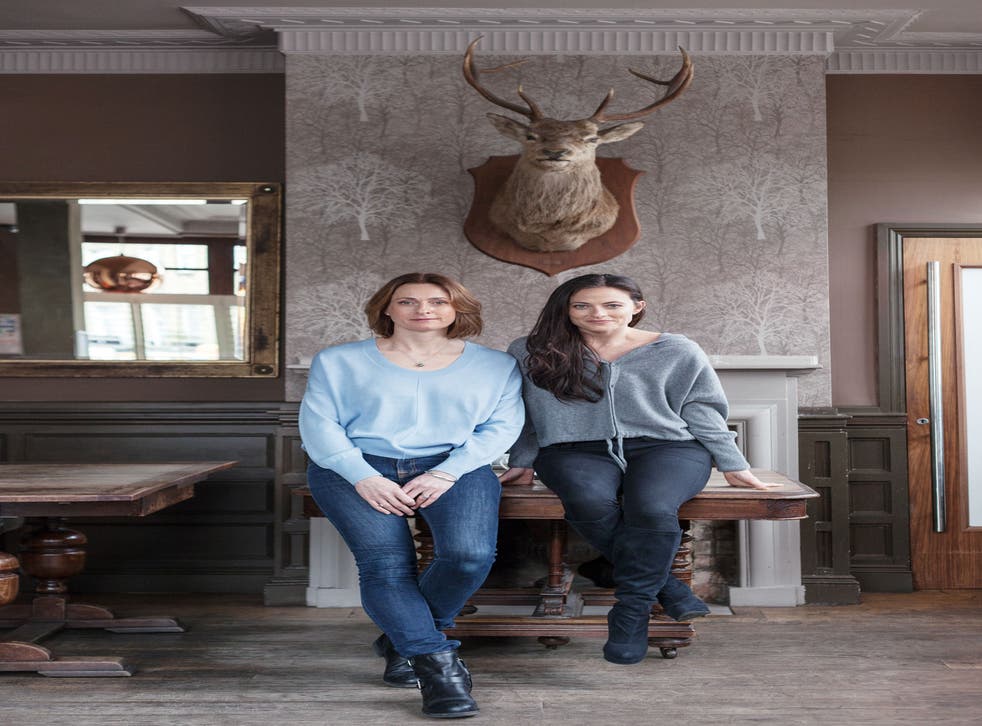 Lara Pulver, 34
An actress, Pulver (right in picture) made her name on the stage in productions including 'Chicago', 'Gypsy' and 'Parade', for which she was nominated for an Olivier Award, and has appeared on TV in series including 'Robin Hood', 'True Blood', 'Fleming' and 'Sherlock'. She lives in Los Angeles with her husband, the 'Homeland' actor Raza Jaffrey
Millie is a close university friend of my husband. Their friendship came from their mutual love of food: every night for dinner, Raza would turn up at Millie's place and she would cook. About three years ago, after I'd known Raza for only six months, I decided to organise a surprise birthday lunch in London for him. I wanted to get his nearest and dearest together, as we're not in the UK that often. So I sent an email to his friends, including Millie.
I was anticipating meeting a woman – a director at Leiths, a mother of two – who was someone very different to me. But we found that we had a lot in common in our approach to life, and we stayed in touch.
I was shooting Da Vinci's Demons for TV in Wales later that year when Millie invited us to her family's holiday home on the west coast for bonfire weekend. It was an incredible time. She's a no-fuss cook; she just adds a handful of ingredients to a pot and out comes this fragrant, amazing food. For one dinner, Camilla made a delicious chicken, ginger, garlic and coriander dish, and we all sat around helping to chop the vegetables, chatting and catching up.
The biggest embarrassment for me was the grain-free flapjacks I brought for her. I realised too late that they were as hard as rock, but she graciously sent an email asking for the recipe.
We're from very different backgrounds: food is part of her upbringing, while my mum can't stand to cook: she raised me and my sister by herself and financially things were so tight that meals were whatever she could make happen. But five years ago I realised that actually health – and food – are vital, and it was a revelation to me.
Now, food for me is about quality time; getting people around a table. It's what Millie stands for, too: whatever your culture or background, food is such a priority – having the family sit around eating that meal.
Raza and I got married last year, and for our wedding breakfast we added an eastern twist. After the meal, my first instinct was to run up to Millie's table to see if it got the thumbs up; I wanted her reaction most of all.
Only a year ago, Millie told me about the time Raza first mentioned he was dating me. He told her he had met someone, and that this girl had made him butternut-squash soup when he'd had a cold. The second he said that to Millie, she said to him, "She's a keeper!"
Camilla Schneideman, 41
The managing director of Leiths School of Food and Wine and founder of the Divertimenti Cookery School, Schneideman has also appeared on the UKTV shows 'Great Food Bites' and 'Great Food Live'. She lives in west London with her husband and two children
I'd seen Lara on TV when she was in Sherlock [as dominatrix Irene Adler], and I imagined that meeting her would be quite intimidating. That's one of the disadvantages of fame: you can draw conclusions about people before you've even met them.
She'd bravely decided to arrange a surprise lunch for her boyfriend. I was Raza's closest friend at university. We studied drama together though we became close as I liked cooking: he'd left a nurturing mother and liked the comfort of civilized life, and I cooked for him.
So I met Lara at the lunch, in the summer of 2012. She was doing something difficult: circulating in a room full of people she didn't know very well. But when we met, I found her incredibly friendly and warm.
My husband's family has a little cottage down in Wales, in Cardigan Bay – the most beautiful place on Earth. I was down there a few months after we'd met, and discovered that Lara was in Swansea filming. So we invited Lara and Raza, who was with her, and they jumped at the chance to stay.
I'm always joking with Lara – and Raza – about the "no-carbs-after-five" rule: they have similar requirements as they have to stay fit and healthy. So while they stayed I took the carb elements out and made a provincial beef stew one night, which was warmly received. Simple food was a big part of the weekend: over cooking, Lara told us about her challenging family history. I always say that chatting in this environment can be so therapeutic: my most meaningful moments come over a chopping board.
We started corresponding by email – Lara would ask for recipes. Back in LA, she's cooked a lemony chicken dish for her friends that I'd made for her; I love it when a recipe travels.
They had their wedding the day after Boxing Day last year. In the lead-up, Lara had some fun things to involve the guests: Raza is notorious for his moves on the dance floor, so for the first dance she taught me this routine for us all to join in on at a certain moment when a Rick Astley song came on. I learnt it and joined in just as "Never Gonna Give You Up" played. It was hilarious.
Lara is obviously an extrovert, but she's not a loudmouth or a show-off. We inhabit very different worlds: mine is a world of being a working mum and juggling everything else, and I struggle to have time to be as glamorous as I'd like, whereas she's travelling and acting all over the world. But we share this intrinsic feeling of wanting to make people happy and at ease; through work, but also at home, too. We both want to look after the people we love – and we do it through food.
Lara Pulver is appearing in the musical 'Gypsy' at the Savoy Theatre, London WC2 (savoytheatre.org), until 18 July
Register for free to continue reading
Registration is a free and easy way to support our truly independent journalism
By registering, you will also enjoy limited access to Premium articles, exclusive newsletters, commenting, and virtual events with our leading journalists
Already have an account? sign in
Join our new commenting forum
Join thought-provoking conversations, follow other Independent readers and see their replies