Cardiff striker Craig Bellamy: 'Dad says he will now die happy. It was so emotional'
The Cardiff City striker explains the tears and relief of guiding home-town club to top flight
Phil Cadden
Thursday 18 April 2013 13:03 Comments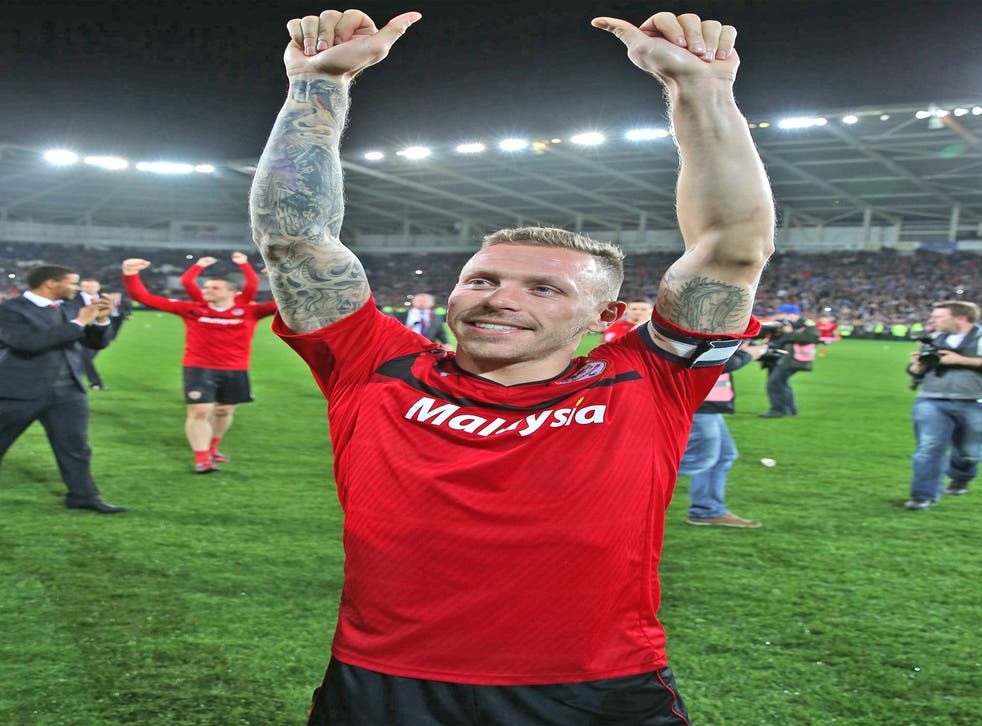 The outpouring of emotion was there for all to see as Craig Bellamy, Cardiff City's talisman, fulfilled a life-long ambition by helping his home club clinch promotion to the Premier League on Tuesday night.
When the referee, Scott Mathieson, blew the final whistle against Charlton to seal the Bluebirds' return to the top flight for the first time in 51 years, the Wales striker sank to his knees and burst into tears. It was a striking image which summed up perfectly what achieving dreams can mean to people in any walk of life.
Bellamy, who rejoined Cardiff for a second spell from Liverpool on a free transfer last summer, had spoken recently about giving something back to the city where he grew up. That, of course, was the long-waited prize of a place in the promised land and the impact that will doubtless have on the next generation.
Certainly, the 33-year-old and his Cardiff team-mates – who have been forced to carry the tag of "nearly men", particularly over the last four years – could not have delivered a bigger present to this part of south Wales.
Yet, amid the chaotic scenes at the Cardiff City Stadium following the goalless draw which guaranteed automatic promotion, there was one man whom Bellamy sought out for special praise and wanted to make proud – his dad, Doug, who was alive the last time the Welsh club graced the top division.
"It was an emotional night because I had people I truly love around me to share this with me," revealed Bellamy, who has already played in the Premier League for more than a decade of his career.
"To see my dad afterwards and all the heartache he has been through over the years. I have lost count how many games I used to go to with him to watch Cardiff on a Tuesday night. He'd pull me to the side to say we were leaving 10 minutes before the end, and say we would never go back.
"Then on the Saturday we would be there again. For him to see this and for his son to play a part in that makes it even more special. Dad said to me, 'I will die a happy man'. It really hit home to me."
Bellamy suffered play-off heartache with Cardiff during his previous year-long loan from Manchester City back in 2011. Other members of the squad such as captain Mark Hudson, David Marshall, Kevin McNaughton, Stephen McPhail and Peter Whittingham have gone through more failures, but, following his return home, Cardiff's prodigal son carried the weight of expectation.
"I can't really describe the feeling at the final whistle," Bellamy said. "Before the game, I wanted to soak up the atmosphere and be excited, but at the back of my mind I was thinking, 'This is Cardiff. This doesn't quite go as simple as that'.
"So when it was over I dropped to my knees as I was so exhausted but also due to the utter relief. I can't explain it but I am grateful for playing a small part in this club's future – and past.
"Over the years we've gained momentum as a football club, pushing in the right direction, but that final push and that Premier League hurdle we have not quite managed to reach due to teams being better than us.
"But this year we have been the best team in this league and got promoted. That was our objective.
"It hasn't really sunk in yet," Bellamy added. "That will probably happen in pre-season. But there is no other league like the Premier League.
"I have been very fortunate that I've played 11 seasons in the division and it is an immense league with the quality of players and the quality of clubs. The way it is highlighted is the place to be. This city and club has been craving for it. That first kick-off will be special."
With Cardiff joining south Wales rivals Swansea City in the top flight, Welsh clubs will next season make up 10 per cent of the Premier League, something which Bellamy thinks will only be "positive" for football to the west of the Severn Bridge.
In order for the Bluebirds to follow the fine example of Swansea's adaptation in their two-year stay among the elite, owner Vincent Tan must back manager Malky Mackay with funds to compete. But the Malaysian billionaire has revealed the club could spend up to £25m this summer.
"It is a great feeling, but we need to strategise well to stay there for a long time," said Tan. "We'd like to spend some money – maybe £20 to 25m. Others have spent a big amount of money and don't do well, so we will try to spend smartly. Malky is a fantastic manager and we have a great working relationship."
Tan also feels his controversial decision to change the kit colour from blue to red as part of a radical re-branding has been vindicated. "Lucky red," enthused Tan. "I am happy Malaysia has helped to contribute this."
Register for free to continue reading
Registration is a free and easy way to support our truly independent journalism
By registering, you will also enjoy limited access to Premium articles, exclusive newsletters, commenting, and virtual events with our leading journalists
Already have an account? sign in
Join our new commenting forum
Join thought-provoking conversations, follow other Independent readers and see their replies